When it comes to breakfast, I'm the worst.
It's probably easy to imagine that I wake up every morning to make myself omelettes stuffed to the max with fresh veggies and melted cheese that oozes out of the folds like a little egg volcano. And being that homemade meals are kinda my thing, there are always plenty of soft blueberry muffins with sugar crystals glistening atop, or slices of sticky french toast casserole, or layers upon layers of thin buckwheat crepes to choose from, should I decide to switch things up.
Buuuuuut that's not the case at all.  If you're now picturing me cursing my "snooze" setting as I drive to work, sobbing into my 6th granola bar breakfast of the week, or perhaps practically mainlining iced coffee and pretending it counts as a meal, you're getting warm.  I just feel like I hardly ever have the time or the hunger for breakfast during the workweek.
(Please don't use this confession against me in the future.)
On weekends though?  Weekends are a whole different ball game.  One that includes plates upon plates of breakfast indulgences.  Sometimes I do the typical pancakes, eggs, and sausage.  Other times, I get a bit more creative, with Chorizo Green Chile Breakfast Skillets or B.L.A.T. Croque Madames.  But my all-time favorite?  Well, it's got to be Bacon Egg & Cheese "Everything" Egg Rolls.  Hands down.
Pillowy-soft scrambled eggs loaded up with cheese, crisp bacon, and chives are snuggled up inside of a crunchy, everything-bagel-seasoned egg roll wrapper and served warm with your favorite condiments for dipping. (Hot sauce is my go-to for eggs!)  Have you ever heard of a more perfect breakfast dish?

Honestly, I'd make these for myself every weekend and not think twice about it, but they'd be awesome for brunch get-togethers, or early tailgates, or really as an appetizer for any time of day.  Give me these for dinner, even, and I will be a happy gal.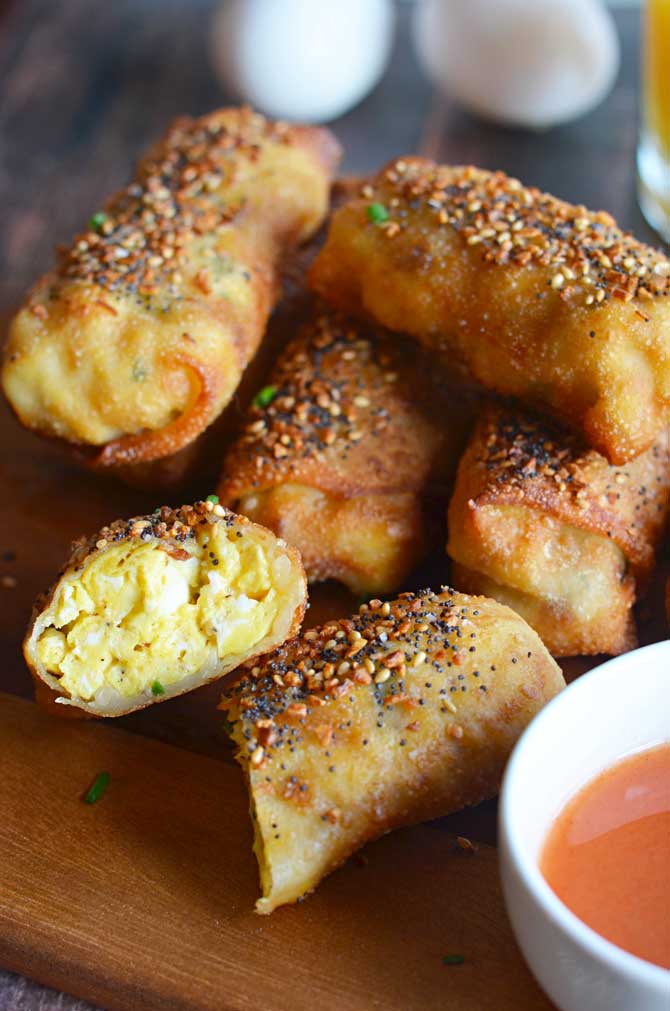 Seriously, give them to me.
Print
Bacon Egg & Cheese "Everything" Egg Rolls
---
Author:

Total Time:

30 minutes

Yield:

6

1

x
4

slices bacon

5

eggs, divided

¼

cup

milk
Salt and pepper, to taste

½

cup

cheddar cheese, shredded

1

bunch chives, chopped

6

egg roll wrappers

2 teaspoons

poppy seeds

2 teaspoons

sesame seeds

2 teaspoons

dried onion flakes

2 teaspoons

dried garlic flakes

1 teaspoon

kosher salt
Oil, for frying
---
Instructions
In a medium-sized skillet over medium heat, cook the bacon until crispy. Crumble and set aside. Pour off all but about a teaspoon of the bacon grease.
In a medium-sized bowl, whisk together 4 of the eggs, the milk, and salt and pepper until frothy.
In the same skillet that you cooked the bacon in, scramble the eggs over medium heat. Just before the eggs completely set up, mix in the crumbled bacon, shredded cheese, and chives. Continue to cook until the cheese has melted and the eggs have set.
Remove the eggs from heat and set aside. Take the remaining egg and separate, reserving the egg white. Mix the egg white with a tablespoon of water.
Fill up each egg roll wrapper with about 2 tablespoons of filling for each roll. To do this, place the wrapper on the table so that it looks like a diamond. Place the filling down the center of the wrapper. Roll the left corner over the filling, and press to tuck underneath the filling slightly. Brush the top, bottom, and right corners with the egg white and water mixture. Fold the top and bottom corners in, and then continue to roll towards the right until the egg roll is sealed. Continue until all egg rolls have been filled.
In a small bowl, combine the poppy seeds, sesame seeds, dried onion, dried garlic, and kosher salt. Mix well.
Brush the top of the egg rolls with the egg white and water mixture and sprinkle with the everything seasoning. Be liberal with it!
Heat about 1" of oil in a large, heavy-bottomed skillet over medium-high heat. When the oil reaches 350 degrees F, place in 3 of the egg rolls, seasoned side down. (You can tell the oil is ready when you stick the handle of a wooden spoon in the very center of the pan, and the oil begins to bubble around it.) Cook until golden and crisp, turning to brown evenly. Remove the egg rolls from the oil and let drain on a paper towel while you fry the next batch.
Serve warm with condiment of your choice!
Prep Time:

15 mins

Cook Time:

15 mins