These cookies are my most popular recipe ever, and for good reason. But I went ahead and messed with them anyway.
After years of making them, I've very slightly tweaked the recipe (to be seriously perfect, because I'm obsessive), but the original recipe will be preserved in the notes section for all who prefer it. I've also taken new photos and included a how-to video, so if the page looks different to you, don't worry, you're still in the right place. And what a delicious place it is.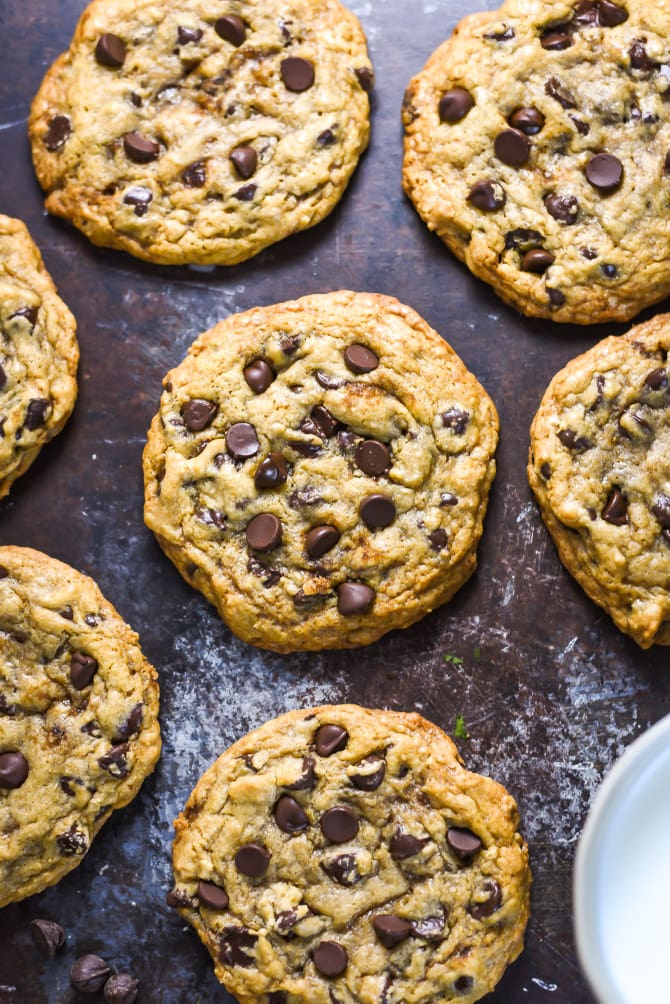 My mom has been making the same chocolate chip cookies for over 20 years. They're a hit around the holidays and they fly off the plate faster than anything else we put out for our Christmas spread. That's especially impressive if you know how enormous our Christmas spread typically is.
Everyone begs for the recipe (in between shoving them in their mouths, of course). I also gobble them down-- in fact, I probably gain 5 lbs every winter from those cookies alone. I can't stress it enough: I loooove those cookies.
But these are not those cookies.
These chocolate chip cookies made my mom decide that she will be abandoning her recipe that she's used for over 2 decades. These cookies are so good that I've dubbed them "The Best Chewy Café-Style Chocolate Chip Cookies". These cookies are so soft and chewy that after sitting out on the counter uncovered overnight (woops) they were STILL SOFT AND DELICIOUS IN THE MORNING. In fact, I think they were even softer the second day!
That's some chocolate chip cookie voodoo right there.
A few years ago, when I first wrote this post, I spent an entire day trying to perfect my chocolate chip cookie recipe-- which resulted in a LOT of "close but not quite there" batches. After 11 hours of testing, I finally found it. I posted it here. Countless thousands of people tried it, and hundreds let me know that it was their favorite cookie recipe of all time.
Then I came back to it this year and decided to test it just a little more, to see if I really couldn't improve upon the already-great cookies at all. So I spent 6 days (YES, SIX) testing batch after batch, literally making myself sick from cookies, obsessing over every teensy tiny ingredient. And honestly, what I found is that my old recipe was almost flawless... but with just a couple of changes, it would truly earn the title of "The Best".
I call these cookies Café-Style because they're giant, and they have that bumpy top that you always see on the mouth-watering cookies behind the café counter. It's quite easy to create, actually-- all you have to do is roll your cookie dough into a ball, tear it in half, and smush the two halves together, torn-side up. Voila! Bumpy, lumpy, rustic-looking cookies.
The real magic here isn't in the bumpy tops, though. It's the softness and chewiness of the cookies. I found that the softest cookies are created when a) you use corn starch, b) you use melted butter, c) you chill your dough before baking, d) you take the cookies out of the oven early and let them cool on the baking sheet, and e) you adjust your cooking time based on your oven in your kitchen. Those are really the keys! Give it a try and see what a difference it makes.
BY THE WAY. If you love these, you should also check out my recipe for The Best Chewy Café-Style Peanut Butter Cookies!
Print
The Best Chewy Café-Style Chocolate Chip Cookies
---
Author:

Total Time:

57 minutes

Yield:

20

cookies

1

x
Description
Adapted from Cook's Illustrated
---
2

cups

+ 2

tablespoons

all purpose flour

1 teaspoon

baking soda

2 teaspoons

cornstarch

1 teaspoon

salt*

1 ½

sticks (6 oz) butter, melted and cooled

1

cup

dark brown sugar, lightly packed*

½

cup

granulated sugar

2

large eggs

2 teaspoons

vanilla extract

1 ½

cups

dark chocolate chips, plus more for topping*
---
Instructions
In a medium-sized bowl, whisk together the flour, baking soda, cornstarch, and salt. Set aside.
In a large bowl, beat together the cooled melted butter and the sugars with a hand-mixer for about one minute. Then, add in the eggs and vanilla extract. Beat until just combined.
Slowly add in the dry ingredients and mix briefly, just until there are no flour clumps left. Fold in the chocolate chips.
Cover and refrigerate the dough for 30 minutes to an hour.
Remove the dough from the refrigerator and preheat the oven to 350°F, making sure you have the racks in the middle of the oven. Line two baking sheets with parchment paper.*
Scoop ¼ cup of cookie dough at a time and roll into balls. Then, tear the balls in half by pulling gently on both sides. Smush the two halves together again, but this time have the lumpy, torn sides face upward. Place on the prepared baking sheet, making sure the cookies have plenty of space to spread. You should be able to fit 6-8 cookies on each tray.
Bake for about 10-14 minutes, rotating half-way through, or until the cookies have spread out and the edges are golden, but the centers of the cookies still look soft and undercooked. Every oven is different, so I recommend starting with just one or two cookies on the tray to see what baking time works best for you!
Let the cookies cool on the baking sheets until the cookies are firm enough to remove, about 15 minutes. As the cookies are cooling, press additional chocolate chips into the tops for a more bakery-style look.
Repeat with remaining batches, until all cookies are baked. Enjoy with a cold glass of milk!
Notes
Take my advice about the test batch of 1 or 2 cookies. You can have the greatest cookie recipe in the whole world, but the time will vary depending on your oven! The key to perfect cookies is knowing how to adjust for your kitchen, as I mentioned in the post.
* The original version of this recipe called for ½ teaspoon of salt rather than 1 teaspoon, light brown sugar rather than dark, and baking at 325°F rather than 350. I've found that the results are better and more reliable in the updated version, but feel free to use the old recipe if you prefer.
Prep Time:

45 mins

Cook Time:

12 mins