I come from a family of avid taco lovers. We eat tacos of some sort at least twice a week (in fact, we had tacos last night), and every single week, when I ask my brother what I should make for the blog, he tells me to make tacos.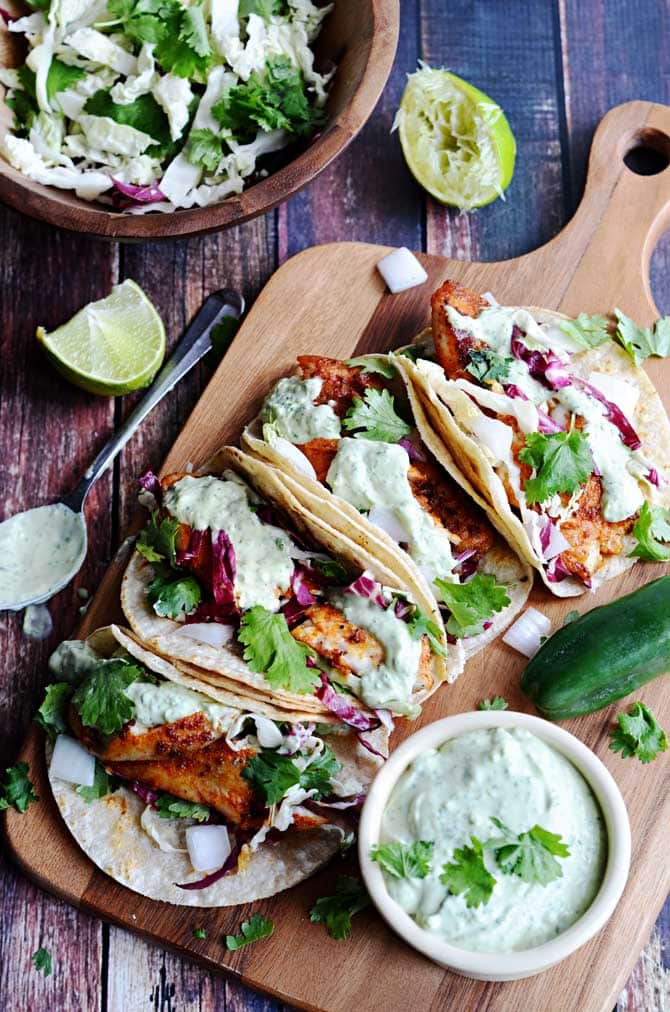 The only thing that rivals my family's love of tacos is their love of fish of any kind. I'm the odd (wo)man out there, though, because fish usually just ain't my thang. I'll eat sushi, I'll eat mollusks, and I really do love crustaceans, but I'm very, very picky with fish.
A few weeks ago, we had three birthdays in my family-- my mom's, my brother's, and my aunt's. I asked what they wanted to celebrate their special days, and of course they decided on Fish Tacos.
They're very predictable people.
So I decided I'd make some Blackened Fish Tacos and throw on some Avocado-Cilantro Sauce, because everything tastes better with avocado. I figured I wouldn't be a huge fan, because uhm, fish.
But I was wrong. These were some of the best tacos I've ever had! Am I allowed to say that without sounding full of myself?
Probably not, but I'll say it again anyway. This time with added emphasis.
THESE WERE SOME OF THE BEST TACOS I'VE EVER HAD.
The fish was so flavorful and spicy, but the heat was mellowed out by the slaw and creamy avocado dressing. All together it was just a ton of amazing tastes and textures, but so light and perfect for a hot summer's day spent by the pool (which, trust me, is exactly how my family spent the remainder of the day).
If you're a fish taco fan, you've got to give these a try! Even if you aren't, you might be converted to one like I was and then find yourself eating 4 of these tacos shamelessly as your family rushes to grab some before you devour them all. Or something like that.
Buuuuut before you dig in, make sure you take a photo to commemorate what will become your favorite fish taco recipe. Tag it on Instagram with #hostthetoast so I can see 'em with all the fixins!
Print
Blackened Fish Tacos with Avocado-Cilantro Sauce
---
For the Blackened Fish:
1.5

lbs

tilapia fillets

1 ½ teaspoons

smoked paprika

1 teaspoon

garlic powder

1 teaspoon

dried oregano

1 teaspoon

onion powder

½ teaspoon

cumin

½ teaspoon

salt

½ teaspoon

brown sugar

¼ teaspoon

cayenne pepper

2 tablespoons

canola oil

12

corn tortillas
For the Slaw:
½

red cabbage, sliced thin

¼

green cabbage, sliced thin

½

medium-sized onion, diced

½

cup

cilantro
Juice of

1

lime
For the Avocado-Cilantro Sauce:
½

cup

sour cream

1

ripe avocado, pitted and skinned

¼

cup

cilantro, chopped
Juice of

1

lime

1

jalapeno, chopped and seeded
Salt, to taste
---
Instructions
In a small bowl, combine the smoked paprika, garlic powder, dried oregano, onion powder, cumin, salt, brown sugar, and cayenne pepper. Sprinkle the mixture over both sides of your tilapia fillets, and then rub the seasonings in.
Combine all of the Avocado-Cilantro Sauce ingredients in a food processor or blender. Pulse until well-combined.
Combine all of the Slaw ingredients in a large bowl and mix well.
Heat the oil in a heavy-bottomed pan over medium-high heat. Once heated, add in the tilapia (a few at a time if you can't fit them all at once). Cook for 4-5 minutes on each side, or until the outside is blackened and the fish flakes apart easily.
Remove the fish from the heat, and if desired, warm the corn tortillas in the same skillet over medium heat, cooking for about 30 seconds on each side.
Break up the tilapia into 2-3" pieces. Stack the tortillas in twos. Distribute the fish evenly between the 6 sets of tortillas, and top with Slaw and Avocado-Cilantro Sauce. Serve.
Notes
Blackening spices are very fragrant, so turn on your overhead fan while you cook the fish.