If you're craving spicy Asian food, these Chili Garlic Noodles with Crispy Tofu are saucy satisfaction in a bowl. Make it a big bowl, by the way, because you're going to want to load up. The noodles can be served hot, cold, or at room temperature and-- bonus-- they taste even better when made ahead of time so all of those intense flavors can mingle.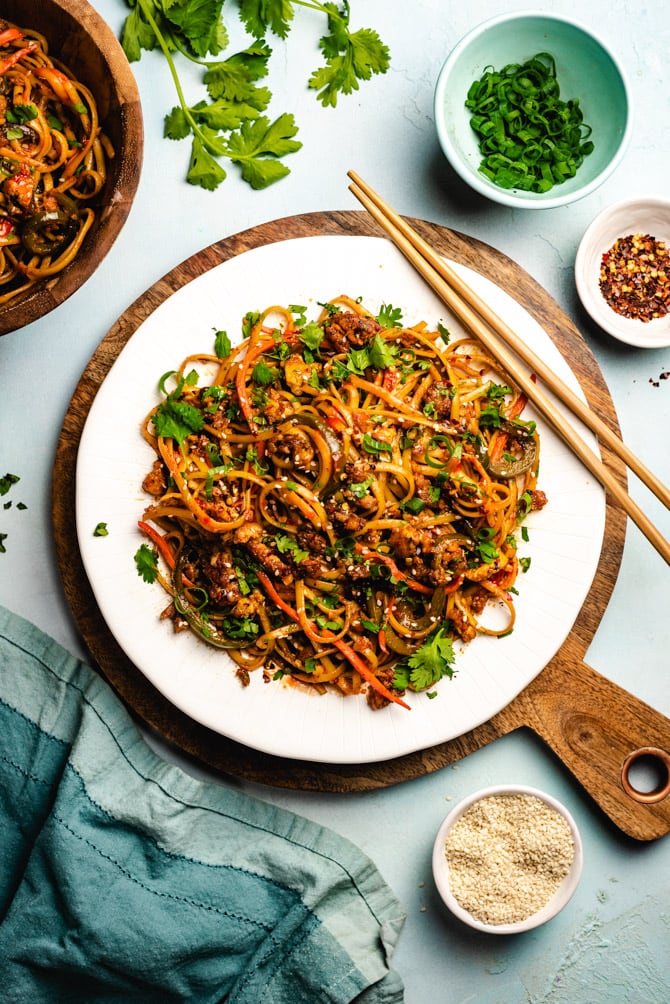 As any eternally hungry gal can tell you, noodles are the ultimate ol' reliable fix. They're inexpensive, quick and easy, probably already in your pantry, and you can make just about any kind of meal around them. 
That being said, some uses are better than others. The absolute best way to transform those noodles into something special? Don't hold back-- Crank the flavor intensity to 11, baby!-- and load them up with an unabashedly spicy, garlic-loaded, deeply savory sauce.   
And since we're searching for perfection here, add in some protein to fill you up and make those noodles a proper meal. I like to use tofu in Asian recipes, especially my go-to crispy tofu that you might remember from the (also very spicy) Korean-Inspired Crispy Tofu Tacos. There's just something about the way that crispy, crumbly texture pairs with a smooth, spicy sauce that gets me drooling. 
All together, these Chili Garlic Noodles with Crispy Tofu have it all for anyone whose tastebuds are tiny heat-seeking missiles, whose weeknight takeout cravings would be better satisfied at home, or whose meal-prepped lunches could use a little more excitement. Scratch that. A lot more excitement.
WHAT YOU NEED FOR THE BEST CHILI GARLIC NOODLES
You know how I was just talking about the many great things about noodles? Versatility is definitely one of them. Not only can you start off with just about any kind of recipe, but there is an infinite amount of tweaking you can do once you get going. That's especially true when it comes to this recipe for Chili Garlic Noodles.
So instead of simply listing the exact ingredients I used, I'll also outline a bit of a guide so you can switch things up to work for you. Here's what you need:
Noodles.

I know, I know, this is pretty ambiguous. There are so many types of noodles: Rice noodles, wheat noodles, egg noodles, and more. But there's no wrong answer here-- as long as your noodles are long and slurp-able, they'll work. You don't even have to use Asian noodles! So grab whatever box or bag you've got shoved in the back of the pantry and put them to good use. For the batch I photographed here, I used linguini.
Protein.

Like I said, tofu is my favorite protein go use in this recipe, but don't feel tethered to it if you have some shrimp, chicken, or pork in the fridge with a fast-approaching "Use By" date. Whatever you decide to use, be sure to crisp it up nicely to add some textural interest to your otherwise silky noodles.
Cornstarch.

Tossing the tofu (or whatever protein you decide to use) in cornstarch to get a thin dusting all over will help it to crisp up significantly more. Also, if you find that your sauce is a bit thin, you can always add in a 50/50 mix of cornstarch and cold water, called a slurry, to the sauce as it cooks to encourage it to thicken.
Salty and Savory Sauces.

You'd think the most important ingredients in Chili Garlic Noodles would be... well... the chili, garlic, or noodles. And you might be right. But it might also be the salty and savory ingredients such as soy sauce, oyster sauce, and fish sauce that actually are working the magic behind the scenes here. I know that oyster sauce and fish sauce might both sound pretty unappetizing, but they're signature Asian ingredients that will add an incredible depth of flavor (and don't worry, no actual

fishiness

, seafood-haters). 
Chili.

To make this sauce, you need chili paste or sauce of some sort without too many additives. If you've got sriracha in the fridge, that will do, but I personally use sambal oelek, which is an Indonesian chili paste that is a little closer to the flavor and essence of fresh chilis. For added heat, feel free to add chili oil (my favorite) and/or chili flakes if you can handle it!
Sugar.

A little sugar goes a long way in balancing the more extreme flavors of this dish. A teaspoon or so is all you need.
Garlic.

You can't have Chili-Garlic Noodles without garlic. I use 12 cloves, which is about a whole head of fresh garlic. Don't be shy.
Veggies.

I love to add some thinly sliced bell pepper and carrot to this recipe, but you can really use up whatever veggies you've got in the fridge, as long as they make sense in a stir-fry. Broccoli, cabbage, green beans, snow peas, and mushrooms would all be great options!
Garnishes.

Garnishes are the best part. Okay, not really, but they sure make the noodles look pretty. I like to use green onion, cilantro, and sesame seeds.
EAT IT AT ANY TEMPERATURE
I consider myself a cold pizza connoisseur, so it should be no surprise that I like chilly Chili Garlic Noodles. But even if you're not usually a a lover of leftovers plucked fresh from the fridge, these noodles might be the exception, especially on a particularly hot day. (Yes, yes, autumn's almost here, but don't be blinded by the promise of pumpkin spice-- here in NJ we've still got near-90 degree days ahead of us.)
These Chili Garlic Noodles with Crispy Tofu are great straight from the pan, steaming-hot, but they also taste great if left out at room temperature for a party or potluck, or if grabbed out of the fridge for a quick lunch at work.
CHILI GARLIC NOODLES WITH CRISPY TOFU = THE PERFECT MEAL PREP DISH
Speaking of quick lunches at work, this recipe is definitely ideal for making ahead. Not only does the whole "tastes good at any temperature" thing help a ton, but even more importantly, the longer this dish sits the better it tastes. Giving the sauces' many pungent flavors time to mingle and meld together results in an even better bowl of noodles the next day and the day after that. This recipe stays good for up to 5 days in the fridge, so feel free to make a big batch and enjoy it all week long.
MORE SPICY ASIAN-INSPIRED RECIPES
Print
Chili Garlic Noodles with Crispy Tofu
---
Author:

Total Time:

55 mins

Yield:

8

servings

1

x
1

pound

(16 ounces) boiled noodles
One

16

-ounce block extra-firm tofu

3 tablespoons

low sodium soy sauce

3 tablespoons

oyster sauce

2 tablespoons

red chili paste (such as sambal oelek)

1 tablespoon

fish sauce

1 teaspoon

granulated sugar

2 tablespoons

cornstarch, plus more as needed
Canola oil, for frying

12

cloves garlic, minced

3

green onions, sliced, white and green parts divided

1

bell pepper, thinly sliced

1

medium carrot, thinly sliced
Chili oil and/or chili flakes, to taste
Sesame seeds, to top
Cilantro, chopped, to top
---
Instructions
Rinse the boiled noodles with cold water and set aside.
Line a rimmed baking sheet with paper towels. Rinse the tofu, slice it into 1-inch-thick slabs, and lay them on the prepared baking sheet. Top with more towels. Cover with another baking sheet, then press the tofu by placing a heavy book or cast iron skillet on top. Set aside for 30 minutes.
Meanwhile, in a small bowl, mix together the soy sauce, oyster sauce, red chili paste, fish sauce, and granulated sugar. Set aside.
Using your hands, crumble the tofu into a medium bowl. Add cornstarch and toss until evenly coated. Heat a thin layer of oil in a large wok or skillet over medium-high heat until shimmering. Add the tofu and cook until browned and crispy all over, turning and breaking up the pieces with a wooden spoon as it cooks. Use a slotted spoon to transfer the tofu to a plate.
Add more oil to the pan, if necessary, and briefly sauté the carrot and bell pepper until slightly softened, about 3 minutes. Set aside with the tofu.
Add the garlic and the white parts of the green onion to the pan and saute until fragrant, about 30 seconds. Stir in the sauce mixture Cook until the sauce is thick enough to coat the back of a spoon, about 2 minutes. If you're having trouble getting the sauce to reach a good consistency, mix 1 tablespoon of cornstarch with 1 tablespoon cold water to form a slurry and mix it into the sauce, then continue to cook until thickened. Add the boiled noodles to the pan, as well as the prepared tofu and vegetables. Stir until well-coated. Sprinkle with chili oil or chili flakes, if desired, for extra heat. Serve topped with the green parts of the green onion, cilantro, and sesame seeds.
Prep Time:

40 mins

Cook Time:

15 mins