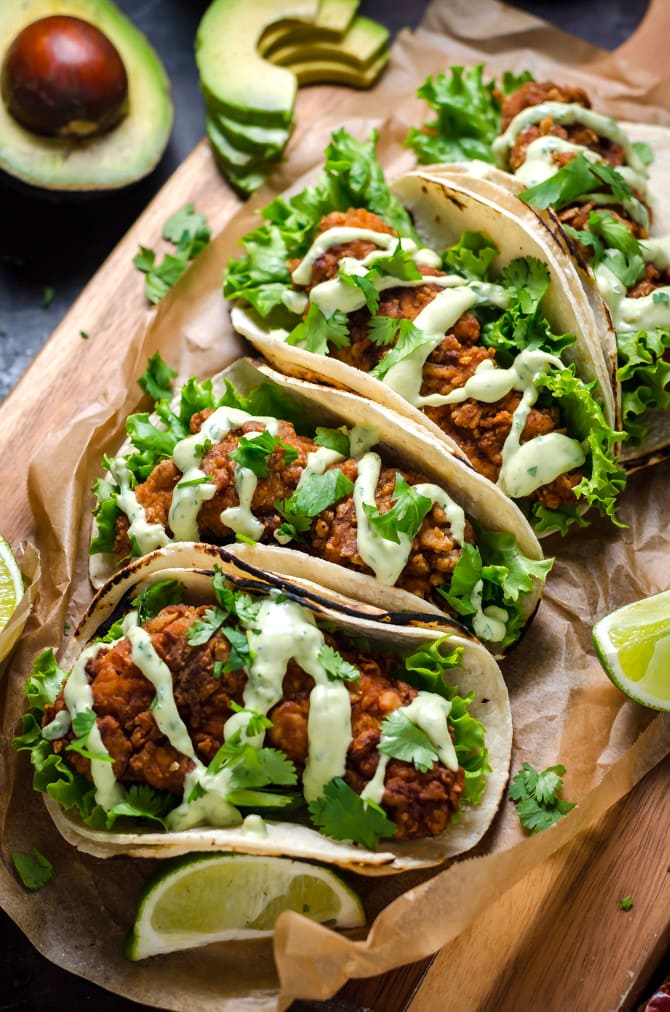 I'm not sure of the technical way to measure the greatness of a meal (if such a thing exists), but I want to say that it's probably "how likely would it be that I'd happily-- maybe even eagerly-- eat this on an already painfully full stomach?"
Because you know what? I spent this weekend raiding the buffet tables at two separate events as if the very act of eating was going out of style, and when I got home-- despite the fact that I had already unbuttoned my pants because I was so stuffed-- I still was eyeing the container of leftover Crispy Chicken Tacos with Avocado Buttermilk Ranch in the fridge.
Okay, more than eyeing. Yes, after a brief moment of trying to convince myself that I was *stronger* than shove a couple of tacos down when I was already full, and after opening and closing the refrigerator a total of six times, I did it. I ate the Crispy Chicken Tacos. And I have no regrets about it, because had I left them in there for another day I know my housemate would have eaten them. Sometimes you've gotta share, but sometimes you've gotta fight for what's yours, you know?
Life lessons by Morgan.
Typically tacos contain shredded, diced, or ground meat, but I got the idea recently to make my taco filling in one big piece-- by using chicken tenders. Now, before you're like "Wow Morgan, what are you, 5 years old?" let me clarify that I'm talking about chicken tenders that are buttermilk brined and majorly amped up with a chile-spiked batter. Who wouldn't enjoy a crispy, crunchy, Mexican-seasoned strip of fried chicken tucked inside of a toasted tortilla along with fresh lettuce; a creamy, homemade avocado buttermilk ranch; and a sprinkle of fresh cilantro?
Man, talking about these tacos is making me wish I saved some of those leftovers...
Now, I don't often keep buttermilk on hand in the fridge, so when I buy it for a recipe, I like to use as much of it as possible so I don't wind up letting it go to waste. One of the great things about these Crispy Chicken Tacos with Avocado Buttermilk Ranch is that it uses buttermilk in three ways-- first, to brine the chicken; second, to drizzle in the breading to create craggly bits; and lastly, to make the ranch!
And if you still don't feel like picking up buttermilk for whatever reason, I actually have a little tip for you: Add a tablespoon of lemon juice of vinegar per cup of regular milk and let it stand for 5 to 10 minutes. Now you have a faux-buttermilk to use instead!
By the way, this recipe makes more Avocado Buttermilk Ranch than you need for your tacos-- so save the remainder and use it on salads, as a dip, or as a sandwich spread. I used my leftover Avocado Buttermilk Ranch to make a quick pasta salad with some corn, black beans, pepper jack cheese, and chopped tomatoes. 👌👌👌
Don't these Crispy Chicken Tacos with Avocado Buttermilk Ranch make you feel totally ready for summertime? Don't they make you smile? Don't they make you want to eat them despite the fact that you totally already ate a full meal like 25 minutes ago? I'm telling you, that's how you know they're great.
Print
Crispy Chicken Tacos with Avocado Buttermilk Ranch
---
Author:

Total Time:

1 hour 30 minutes

Yield:

12

tacos

1

x
For the Brine:
2

pounds chicken breast tenderloins

1

cup

buttermilk

1 teaspoon

salt

1 teaspoon

paprika

½ teaspoon

cayenne pepper

½ teaspoon

garlic powder
For the Breading:
1

½ cups all purpose flour

1 tablespoon

chili powder

1 tablespoon

cumin

½ tablespoon

baking powder

1 teaspoon

paprika

1 teaspoon

salt

½ teaspoon

black pepper

¼ teaspoon

garlic powder

¼ teaspoon

onion powder

¼ teaspoon

oregano

¼

cup buttermilk
Oil, for frying
For the Avocado Buttermilk Ranch
1

haas avocado, halved, pitted and peeled

1 ¼

cups

buttermilk

1 teaspoon

apple cider vinegar

2

cloves garlic, minced

¼

cup

chopped fresh chives

¼

cup

chopped fresh dill

¼

cup

chopped fresh parsley
Kosher salt and black pepper, to taste
To serve the Tacos:
24

corn tortillas, toasted

1

cup

chopped lettuce

⅓

cup

chopped fresh cilantro
---
Instructions
In a large bowl, combine the chicken breast tenderloins and brine ingredients. Mix well and toss to coat the chicken tenders entirely. Cover and refrigerate for 4 hours or overnight.
In a separate large bowl, whisk together the flour, chili powder, cumin, baking powder, paprika, salt, black pepper, garlic powder, onion powder, and oregano. Drizzle with buttermilk and mix with a fork to create craggy pieces.
Line a baking sheet with foil. Remove the chicken from the buttermilk brine a few at a time and transfer to the breading. Firmly press the chicken tenders into the breading so they get fully covered. Set the breaded tenders on the prepared baking sheet.
Allow the breading to set for a few minutes while you make the Avocado Buttermilk Ranch. In a large bowl, mash the avocado. Add in the remaining ranch ingredients and whisk, breaking up any chunks as you go, until the ranch is completely smooth. Set aside.
Line another baking sheet with a few layers of paper towels. Add oil to a large, high-sided pot such as a dutch oven until the oil reaches about 1 inch high. Heat over high heat until oil is shimmering. Using tongs, place several chicken tenders in the hot oil without crowding the pan. Fry until deep golden brown on the bottom side, about 3 minutes, then flip repeat for the opposite side. Using tongs, carefully remove the fried chicken tenders from the oil and set on the paper towel lined baking sheet to cool. Repeat for the remaining chicken tenders.
Serve the chicken tenders in doubled-up toasted corn tortillas with chopped lettuce, fresh cilantro, and the Avocado Buttermilk Ranch.
Prep Time:

1 hour

Cook Time:

30 mins