When I'm in a creative slump, I always go to my friends and family for recipe inspiration. What does my cousin Ashley tell me to make every time? Hawaiian Chicken.
Every. Single. Time.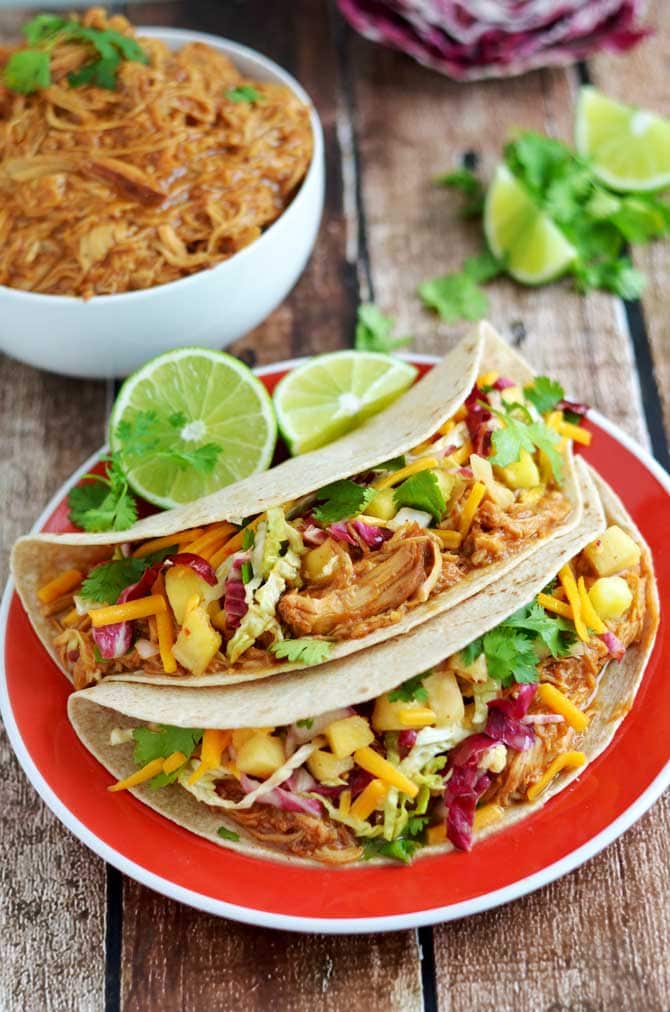 Even though she's been telling me to make Hawaiian Chicken for over a year now (seriously), I kept putting it off because… well… I have no idea why. Now that I've made it, I can see no justification for waiting this long. Pineapple juice, soy sauce, ginger, garlic, brown sugar, vinegar, sriracha, and honey barbecue sauce all flavor the chicken in this super saucy recipe, and you'll find yourself loving every last bit of it, just like I did. I mean, YUM. There is no better word to describe it.
Sorry for doubting you, Ash.
Anyway, when I originally threw this together in the crock pot (or slow cooker, or whatever you like to call it), I thought I was going to scoop it onto some buns and make little sliders (which would be DE-LISH, obviously). I got everything together, chopped up and mixed up the Pineapple Slaw, and then it hit me. Tacos. Gosh, I love tacos. Once I got the idea, I couldn't get rid of it, so the tasty pulled chicken and crunchy slaw wound up nestled between flour tortillas with a sprinkle of sharp cheddar. Are you drooling? I'm drooling.
But really there is so much you could do with this chicken if you have leftovers after making your Crock Pot Hawaiian BBQ Chicken Tacos with Pineapple Slaw. Put it on salads. Eat it on sandwiches. Top a pizza with it (and bacon and some pineapple chunks). Serve it over pineapple stir-fried rice. If you have more great ideas, let me know, because I'm looking for excuses to make this again ASAP.
Oh, and since we're talking about getting creative with this recipe, feel free to use some pork shoulder in place of the chicken for Crock Pot Hawaiian BBQ Pulled Pork. In fact, I just might have to do that next…
Give this recipe a go and you'll see for yourself why I'm dying to make it again.
Print
Crock Pot Hawaiian BBQ Chicken Tacos with Pineapple Slaw
---
For the Hawaiian BBQ Chicken:
3

lbs

boneless skinless chicken breast

1 1/2

cups

unsweetened pineapple juice

1/2

cup

honey BBQ sauce (I used Sweet Baby Ray's Honey BBQ)

1/3

cup

soy sauce

1/4

cup

rice vinegar or apple cider vinegar

1/4

cup

brown sugar, lightly packed

2

cloves garlic, minced

1 teaspoon

minced ginger

1

–

2

tablespoons sriracha

12

flour tortillas

1

cup

sharp cheddar cheese, shredded
For the Pineapple Slaw:
1/2

small purple cabbage, sliced thin

1/4

medium green cabbage, sliced thin

1/4

fresh pineapple, cored and diced

1/2

small red onion, diced

2 tablespoons

cilantro, chopped

1/4

cup

unsweetened coconut milk

2 tablespoons

fresh lime juice

1 tablespoon

sriracha

1 teaspoon

brown sugar

1/4 teaspoon

salt
Crushed red pepper, to taste (optional)
---
Instructions
Spray a crock pot with non-stick cooking spray.
Combine the pineapple juice, soy sauce, BBQ sauce, vinegar, garlic, ginger, brown sugar, and sriracha in a large bowl and whisk until well combined.
Place the chicken breasts in the slow cooker and cover with the pineapple juice mixture.
Cover and cook on low for 7-8 hours.
Combine all of the slaw ingredients in a large bowl and toss to combine. Cover and refrigerate until ready to serve.
When the chicken is fully cooked, shred with 2 forks in the sauce and toss. Let it absorb the sauce for another 30 minutes and then serve with the slaw on the flour tortillas and with a sprinkle of cheddar cheese!