It takes less than 10 minutes to make delicious candied pecans thanks to a simple stovetop shortcut. Use this versatile glazed pecan recipe in salads, cheese boards, baked goods, and more.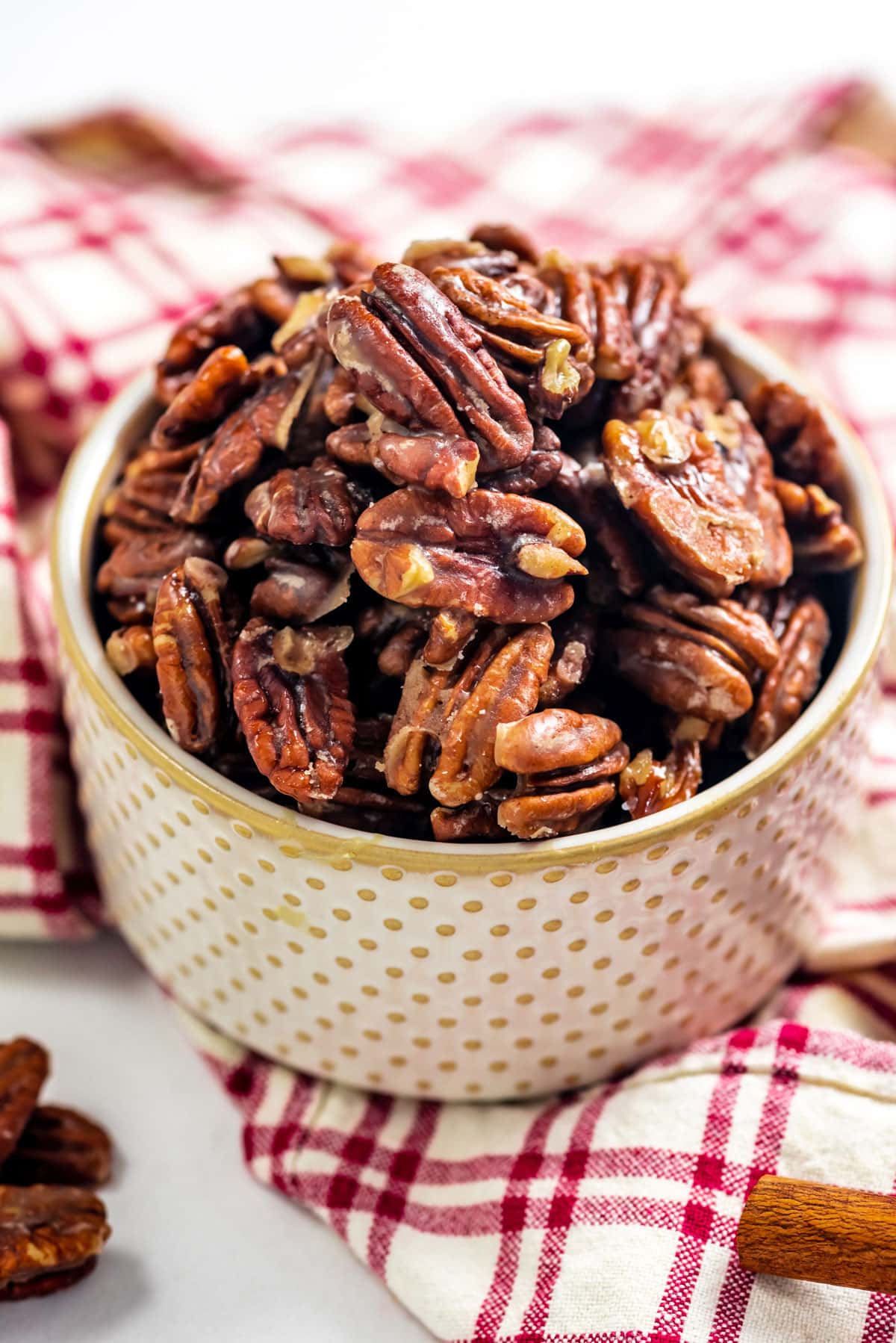 CANDIED PECANS IN JUST 10 MINUTES
The simplest tip I have for making everything taste better - especially throughout the holiday season - is to spend 10 minutes making these stovetop candied pecans and put. Them. on. Everything.
Seriously, what pile of pancakes wouldn't be enhanced with a sprinkle of candied pecans beneath the syrup? What salad wouldn't be better studded with sweet and crunchy nuts? Could you resist a sprinkle of sugary pecans on your morning oatmeal, or maybe on your roasted veggies at dinner? 
Maybe you could, but you shouldn't. Because this is one of those ingredients that so easily can take a pretty good meal to the "epic" level. 
That is, as long as they even make it to meal time. They're pretty hard to stop snacking on. (I say, while typing with slightly sticky fingers from depleting my own candied pecan reserve while I work.)
WHY YOU'LL LOVE THESE STOVETOP CANDIED PECANS
They're extremely quick and easy to make.
They can be used to enhance a huge variety of dishes or simply eaten as a snack.
They make fantastic gifts for the holidays.
They can maintain a fresh flavor for weeks.
WHAT YOU'LL NEED FOR THIS RECIPE
Sugar.

I use 2 types of sugar for these candied pecans-- granulated sugar and light brown sugar. This way, the candy mixture gets a fair amount of moisture and toffee-like flavor while still taking on a bright, brittle finish.

Butter.

Adding butter creates a glossy, delicious caramel that can more easily coat the pecans.

Water.

Water will help the sugars distribute around the pan so they are able to caramelize more evenly, and will allow for a slightly thinner candy shell on the nuts.

Cinnamon.

This is optional, but just a bit of cinnamon can add a lot of warmth to the candied nuts without being overwhelming. 

Sea salt.

When added to sweets, salt will bring extra flavor and contrast.

Pecans.

Of course you need pecans to make candied pecans. But why are pecans my favorite nut to candy? Pecans are especially sweet, buttery, and rich, which makes them especially suited for sweet preparations.
CAN I USE OTHER NUTS WITH THIS METHOD?
Yes, you can absolutely use this recipe to make other types of candied nuts. It will work especially well with almonds, walnuts, peanuts or macadamia nuts without requiring significant adjustment to the recipe. 
HOW TO MAKE CANDIED PECANS ON THE STOVETOP
Traditionally, candied pecans are made in the oven and feature whipped egg white in addition to the sugars and seasonings that create the brittle candy crust. However, despite the fact that it's not hard to do, that method requires multiple bowls and nearly an hour to prepare. 
The stovetop method of making candied pecans (which are also often referred to as "glazed pecans") slashes the time required significantly, so you can whip it together as you prepare the rest of your meal without hogging critical oven space. 
Create the caramel glaze.

Combine all of the ingredients except for the pecans in a skillet over medium heat and cook until a smooth caramel forms. 

Add the pecans.

Mix the nuts in until they're fully coated and fragrant.

Let cool.

Transfer to a lined baking dish and allow the candied pecans to set.

Break apart and eat.

Snap the pieces apart and use immediately or store for later!
POTENTIAL VARIATIONS
Hot & Spicy.

For a spicy version, add cayenne pepper, to taste, to the caramel base. I'd recommend a range of ½ to 1 full teaspoon for 2 cups of pecans. Chili powder can also make for a tasty, smoky alternative, especially along with a little lime zest!

Orange Zest.

Used in a variety of nutty recipes, orange zest can add a delicious brightness to your candied pecans.

Chinese 5 Spice Powder.

These warm spices will really elevate your candied pecans, doubly so when used in addition to orange zest. 

Vanilla.

A bit of vanilla extract can go a long way in candied nut recipes. Feel free to add some in here, if desired!

Maple Syrup.

Swap out some of the brown sugar for maple syrup for an equally delicious option!
HOW CAN I USE CANDIED PECANS?
There are a seemingly limitless amount of recipes that can be made better with candied pecans. I'll give a few of my favorite examples:
Salads. I love using candied pecans in recipes like this Honey Crisp Apple Salad with Cider Vinaigrette!
Ice Cream.

Nearly any flavor can be made better with a bit of candied pecan on top! 

Autumn Vegetables. Add candied pecans to roasted brussels sprouts, green beans, or mashed sweet potatoes for crunch!
Baked Goods. Sprinkled or pressed on top of cakes, pies, cookies, or brownies, these candied pecans will take your desserts to the next level. 
Breakfast Foods.

Imagine these on top of maple oatmeal or a stack of pumpkin pancakes! They're also great when mixed into granola.

Charcuterie Boards.

Wine, cheese, sliced meats and candied pecans = the perfect spread.

Christmas Presents.

Divide the pecans in glass jars with ribbons and a small notecard card as a sweet gift for the holidays.
HOW TO STORE CANDIED PECANS
Glazed pecans can last quite a while when stored properly. When transferred to an airtight container, you can keep them on the counter for up to 2 weeks and they'll stay fresh. If you'd like to keep them for longer, store in the refrigerator, where they will stay good up to 3 weeks, or freeze for up to 3 months to thaw and enjoy later.
WATCH THE VIDEO
Print
Easy Candied Pecans (10-Minute Stovetop Recipe)
---
Author:

Total Time:

10 minutes

Yield:

8

1

x
¼ cup

granulated sugar

¼ cup

light brown sugar

2 tablespoons

unsalted butter

2 tablespoons

water

½ teaspoon

ground cinnamon

¼ teaspoon

sea salt

2 cups

pecan halves
---
Instructions
Line a baking sheet with parchment paper (or a silicone baking mat) and set aside.

Combine granulated sugar, light brown sugar, water, ground cinnamon and butter in a nonstick skillet over medium heat.

Stir frequently until the sugar is fully dissolved and a light caramel begins to form, about 3-4 minutes.

Pour in the pecans and stir to coat fully. Then spread the pecan mixture over the prepared baking sheet. Let cool until solidified, about 5 minutes.

Gently break the pecans apart. Use immediately or transfer to an airtight container.
Prep Time:

5 mins

Cook Time:

5 mins