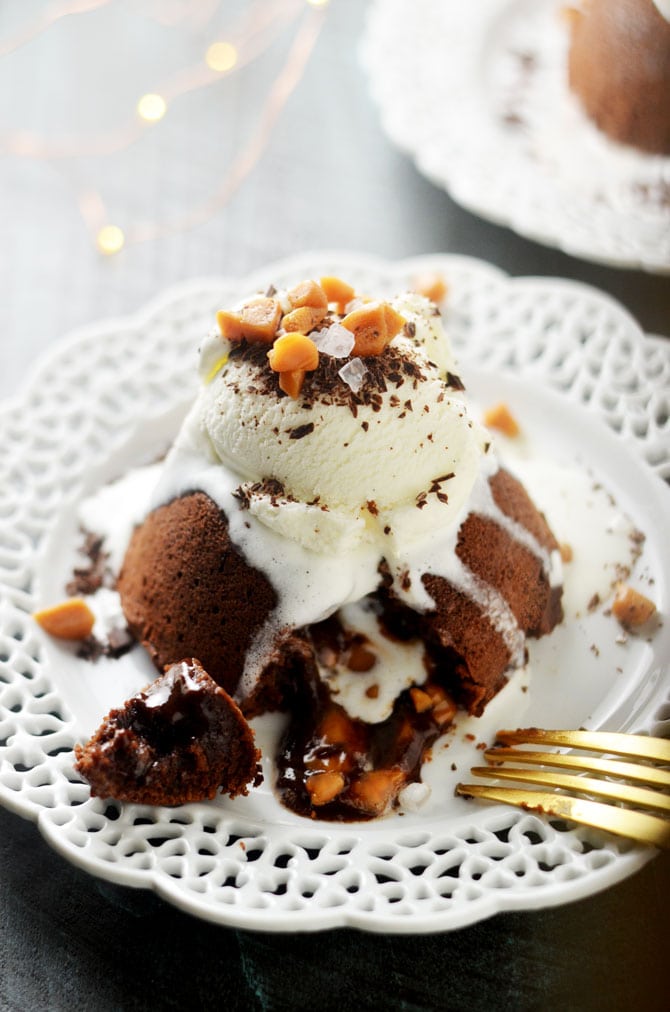 Do you remember those classroom motivational posters? You know what I'm talking about-- the ones that read "Believe And You Will Succeed," or "If You Can Dream It, You Can Do It," or some other feel-good phrase that made us elementary-aged children super self-assured.
Well, my biggest life goal at that age was to be a dinosaur when I grew up. Yet here I am, completely and utterly Cenozoic. So...
I definitely know what it's like to be immersed in the "try and succeed" mindset. I'm guilty of following the advice of those old posters by setting ridiculously high and often unattainable goals. And unfortunately, as a result, many a Valentine's Day past has been ruined. (Yes, I'm blaming it on the posters.)
For example, one year I decided that I'd "just wing it" when cooking scallops for the first time for  an attempted romantic dinner. Ew. There was also the year when I tried to make a chocolate cake with a strawberry mousse heart in the center, but I wound up with a strangely-colored swamp-dessert. And I can't forget the infamous time that I basically maced my whole house by burning a V-day peppercorn-crusted steak. Hey, it took a lot of mistakes to get to where I am now-- failure is just the first step on the road to success.
Yes, I did take that from a motivational poster.
But realistically, no one wants to mess up on Valentine's Day, when you're trying your best to create something special for your someone special. That's what makes these Easy Salted Caramel Molten Lava Cakes perfect for the biggest of date nights. The molten lava cakes are so much simpler to whip together than you'd ever expect, and they're both impressive and delicious enough to woo your Valentine.
One simple mixture of chocolate, butter, powdered sugar, eggs, and flour makes both the chocolate cake portion and the chocolate "lava" for the Easy Salted Caramel Molten Lava Cakes. Just pour it into your ramekins and bake, and they will become cake-like on the outside and stay fudgy on the inside with no fuss at all.
Because I absolutely adore the combination of chocolate and salted caramel, I press a few quartered soft caramel candies into the batter and cut up more to top the finished lava cake with (after scooping on some vanilla ice cream, of course). Chopping up the chocolate to form the cake mixture usually leaves me with some chocolate "dust" or shavings, so I sprinkle those over my lava cake too. Then I add just the tiniest pinch of sea salt over each cake, to amplify the flavors.
Check out the video below to see the whole process:
See? It's not hard at all. I'm telling you, you can do it. And not in that cheesy faux-motivational kind of way. You really can do it.
Oh and when you give these Easy Salted Caramel Molten Lava Cakes a go, don't forget to take a photo and tag #hostthetoast on Instagram or Twitter. I can't wait to see yours.
Print
Easy Salted Caramel Molten Lava Cakes
---
Author:

Total Time:

22 minutes

Yield:

2

1

x
4 tablespoons

(

½

stick) butter

2

ounces

dark chocolate, chopped

½

cup

powdered sugar

1

large egg +

1

egg yolk

3 tablespoons

all purpose flour

8

soft caramel candies
Vanilla ice cream, to serve
Coarse sea salt, to top
---
Instructions
Preheat the oven to 425 degrees F.
Liberally butter the insides of two ramekins and set aside.
In a large, microwave safe bowl, combine the remaining butter and the chopped dark chocolate. Reserve any chocolate dust or chocolate shavings for topping at the end.
Microwave the chocolate and butter mixture for a minute and then stir. If not fully melted, microwave in 15 second intervals and stir until smooth.
Add in the powdered sugar and whisk to combine. Whisk in the egg and egg yolk, and then whisk in the flour. Whisk until no white streaks remain, but be careful not to over-mix.
Pour a quarter of the batter into each buttered ramekin. Cut 5 of the caramel candies into quarters and divide them between the two ramekins, placing them in the center of the batter.
Pour the remaining batter over the caramels.
Place the ramekins on a baking sheet and then bake for about 12 minutes, or until the edges pull away from the ramekins but the center is not completely cooked through. Let sit until cool enough to handle, about 2 minutes.
Flip the ramekins over onto the serving plates. Gently tap the tops until the lava cakes dislodge from the ramekins. Remove the ramekins from the plate.
Chop up the remaining caramel candies into small pieces. Place a scoop of ice cream on top of each lava cake and them sprinkle the caramel pieces, reserved chocolate shavings, and a small pinch of sea salt on top. Serve immediately.
Prep Time:

10 mins

Cook Time:

12 mins