This recipe has also been featured on Serious Eats.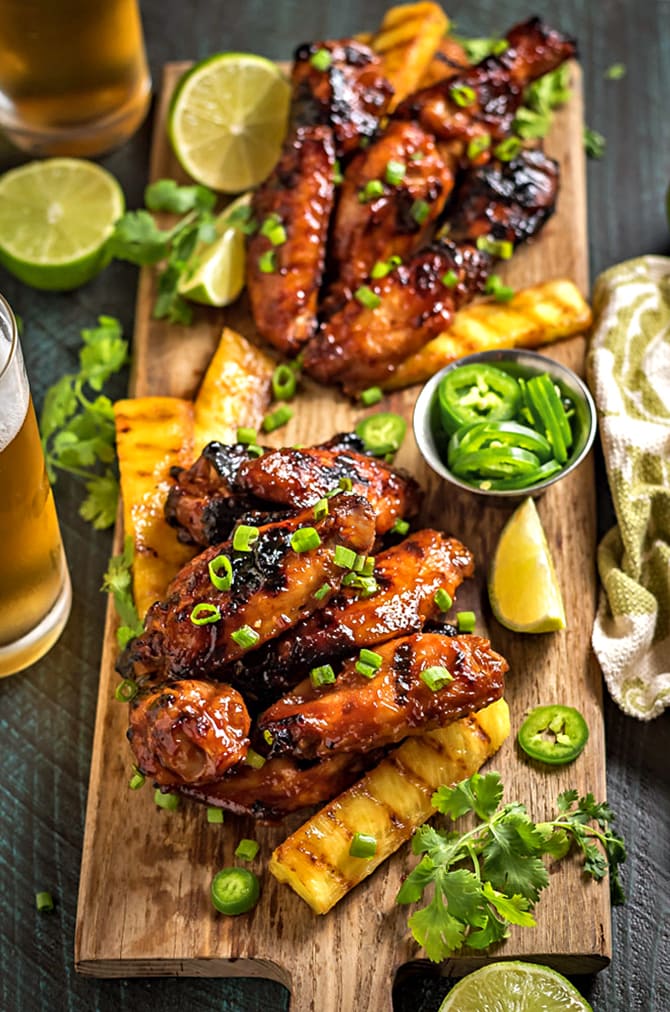 Consider this my petition against the end of the so-called "grilling season".
Everywhere I looked over the past couple of days, there were articles and advertisements proclaiming that Labor Day Weekend was our last chance to grill up some burgers and dogs, enjoy the sunshine, and host a backyard get-together.
You guys, that's absolute nonsense.
There are still plenty of BBQs to be had, warm days to enjoy, and delicious foods to grill up before it gets too chilly to invite people over to hang out outside. Why not host backyard get-togethers into October? Why forget about the greatness of grilling during football season, whether it be at tailgates or at home? Why not fire up the grill to make dinner any time of the year?
Heck, I'd trudge out in the snow to grill if I had to. Can you think of a better why to brighten up the dreary days in the dead of winter than firing up the grill for Hawaiian Huli Huli Grilled Chicken Wings and indulging in some island flavors?
Let me back up though because we're not there yet. We're not even close. Enjoy the remaining few weeks of summer, wear white, you know, break all of the Labor Day conventions.
Oh, and if you make these sweet, tangy, glazed-up wings, invite me to your cookout, please.
Huli huli chicken has been on my must-make list for years now, ever since I caught a cooking show about the dish and its origins. At the time of its creation in the 1950s, teriyaki chicken had already been a staple of Hawaiian cuisine, and since it was so popular at his restaurant, Ernest Morgado decided to figure out a way to make the chicken en masse... and better than ever. Instead of flipping the chickens one at a time, he placed the chickens in-between large mesh grates and rotated the contraption like a Hawaiian rotisserie to cook them all evenly. The word huli means "turn" in Hawaiian, hence the name "huli huli" originating from the frequent turning of the mesh grates.
While I was hypnotized by the image of the contraption spinning countless chickens over charcoal, and the literal mops that were dunked into garbage cans full of marinade to baste them all at once, I don't have the means to replicate the process exactly at home. However, I can reproduce that gorgeous orangey glaze and rely on a delicious smoky char from my grill to get the next best thing here in NJ.
How do I fit the dozens of chickens on the grill? Well, I just make my chicken smaller. Snack-sized, in fact.
I'm talkin' 'bout Hawaiian Huli Huli Grilled Chicken Wings.
It's not often that you get chicken wings that are marinated-- usually they're just fried up and tossed in sauce-- but this method of making wings creates such a deeper, stronger, flavor and leaves the chicken ultra-tender. Not to mention it doesn't require fussing with hot oil at all, which is a plus for people like me who are both clumsy and trying to avoid that lingering deep-fry smell in the house.
I love that I can marinate these Hawaiian-inspired wings and then quickly grill them when friends come over, whether it be for a summer cookout or a fall football game.
Speaking of which, I'm going to make these for my fantasy football draft tonight for sure.
Print
Hawaiian Huli Huli Grilled Chicken Wings
---
Author:

Total Time:

2 hours 15 minutes

Yield:

3

as an appetizer or

6

as a snack

1

x
3

pounds

(1.4kg) chicken wings

1

cup

(240ml) unsweetened pineapple juice

½

cup

(120ml) soy sauce

½

cup

(100g) light brown sugar, lightly packed

¼

cup

(2 ounces) low-sodium chicken broth

1

-inch piece ginger root (

¼ ounce

;

7g

), peeled and finely grated

2

medium cloves garlic, minced

1 teaspoon

(5ml) sriracha chili sauce
Thinly sliced scallions (white and light green parts only), for garnish
Grilled pineapple wedges, for serving (optional)
---
Instructions
Place chicken wings in a large zipper-lock freezer bag. Set aside.
In a medium bowl, whisk together pineapple juice, soy sauce, light brown sugar, chicken stock, ginger, garlic, and sriracha. Pour half of sauce into bag of chicken, seal bag, and toss to coat. Cover remaining sauce in bowl with plastic wrap and refrigerate. Place bag of chicken in refrigerator and let marinate for at least 1 hour and up to 8 hours.
Light 1 chimney full of charcoal. When all charcoal is lit and covered with gray ash, pour out and spread coals evenly over half of coal grate. Alternatively, set half the burners of a gas grill to high heat. Set cooking grate in place, cover grill, and allow to preheat for 5 minutes. Clean and oil grilling grate.
Remove wings from marinade, allowing excess to drip off; discard marinade. Place wings on cooler side of grill, cover with vents partially open, and cook, occasionally brushing with reserved often with sauce to build up a nice glaze.sauce and turning wings, until wings are well browned and cooked through, about 30 minutes. Move wings to hot side of grill and cook until browned all over, about 3 minutes per side, brushing
Serve chicken wings with thinly sliced scallions and grilled pineapple, if desired.
Prep Time:

1 hour 30 mins

Cook Time:

45 mins