Crostini and Bruschetta Toast are simple and delicious appetizers featuring a crunchy bread base that becomes the perfect canvas for an array of flavorful toppings. They're also a fantastic way to breathe new life into stale baguettes, transforming them into crowd-pleasing crispy treats for any occasion.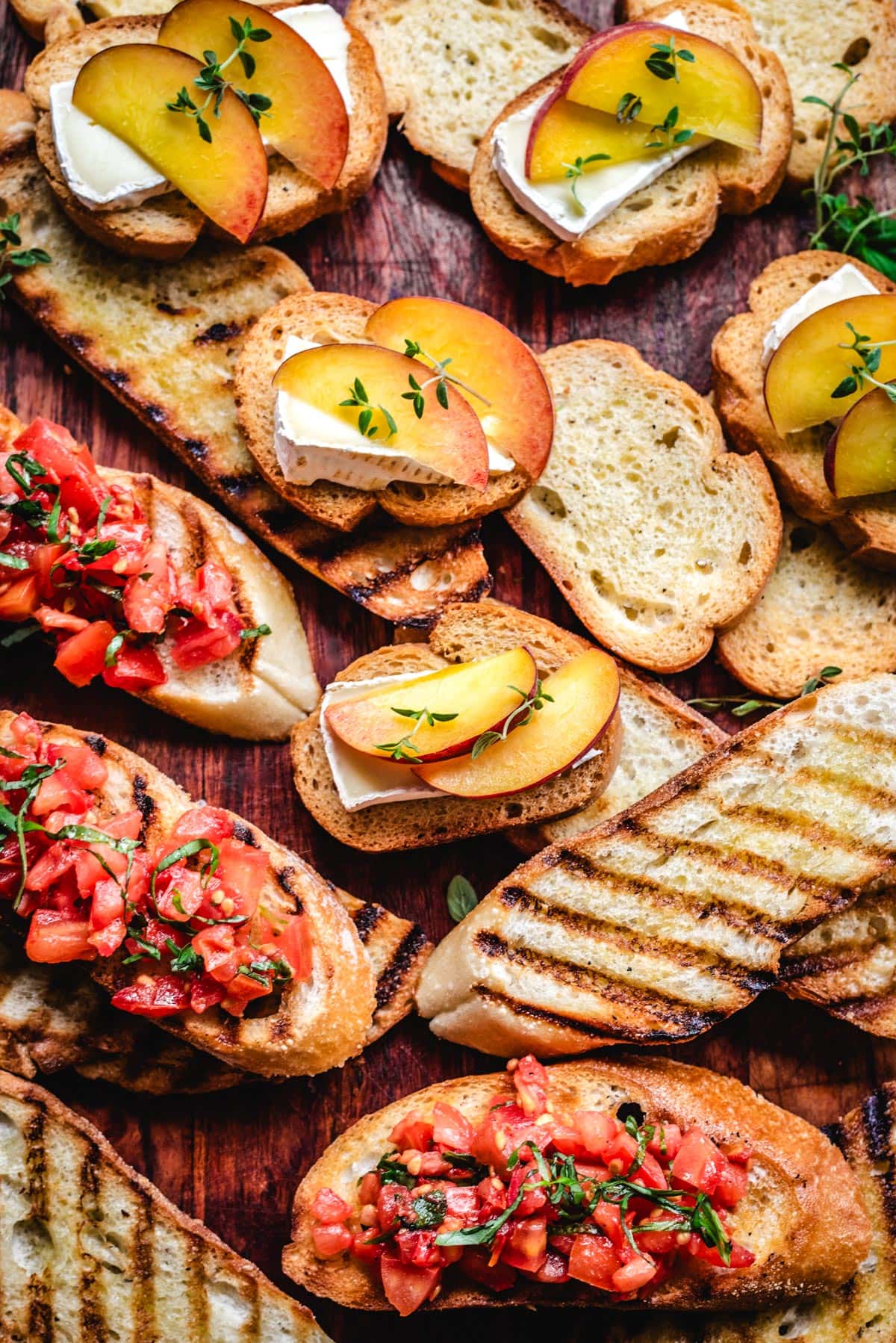 Once you discover how easy they are to prepare and the endless possibilities for toppings, you'll be hooked on making these tiny toasts!
So, What's The Difference Between Crostini and Bruschetta?
Before I jump into positioning myself as the resident bruschetta expert 'round here, I have a confession to make. For the longest time, I was totally convinced that "bruschetta" referred to the tomato topping, while the bread below was always called "crostini". Turns out I had it all wrong.
To set the record straight: both crostini and bruschetta actually refer to the bread itself, not the toppings. While they share a foundation of crispy bread, there a few key differences that set them apart.
What is Crostini?
Crostini, meaning "little crusts" in Italian, are small, thin slices of toasted baguette. These bite-sized toasts are drizzled or brushed with oil, then toasted in the oven until they achieve a glorious golden color and crispy texture.
They're delicate, crunchy all the way through, and their small size makes it easy to devour several as hors d'oeuvres.
What is Bruschetta?
Bruschetta, pronounced [brusˈketta], is an Italian bread-based appetizer translating to "a little burnt thing." But don't worry--when prepared correctly, bruschetta should be crisp, yes, and browned, yes, but never actually burnt. The bread is typically grilled on a grill pan or grill, giving it beautiful char marks, a slight crunch, and a soft interior.
Unlike crostini, bruschetta is often made from rustic bread like sourdough or ciabatta. Of course, baguettes can work too, just slice them diagonally to fit those generous toppings. To enhance the flavor, the bread is brushed with olive oil, lightly grilled, and rubbed with a clove of raw garlic.
Overall, while crostini tend to be crispier and bruschetta tend to be larger, you can mostly use the two interchangeably without anyone batting an eye (because they'll be far too busy stuffing their mouths).
Reasons to Love These Crispy Breads
I don't think there's a better go-to appetizer than crostini or bruschetta piled to the sky with toppings. But what exactly makes these tiny toasts so irresistible?
Versatile Toppings. When in doubt (or in possession of some produce that desperately needs to be used up), throw it on a toast. There's almost nothing you can't put on crostini or bruschetta. From classic tomato and basil to creative combinations like peaches and prosciutto, there's a world of flavor possibilities to explore.
Easy Preparation. If you need an appetizer in a pinch, crostini and bruschetta are pretty much fool-proof, and low-budget, to boot! There are no complex techniques required, but still somehow simple toast and toppings turn into something that can absolutely pass as fancy.
Stale Bread Redemption. I can't stand food waste, and if you're with me, this is the perfect way to use up that baguette you bought a few days too early (or only ever used half of). I call that a win for your taste buds, your wallet, and the environment!
The Ingredients
To make delicious crostini and bruschetta, you'll need a few key ingredients:
Bread. Choose a crusty baguette or rustic bread as the base. It provides a sturdy structure and a satisfying crunch when toasted or grilled.
Olive Oil. Drizzle or brush the bread with olive oil before toasting or grilling. It adds richness and helps achieve a crispy texture.
Garlic. Rub the bread with garlic after toasting or grilling to infuse it with surprisingly large amount of flavor.
Toppings. Get creative with toppings like fresh tomatoes, basil, creamy cheeses, cured meats, roasted vegetables, or even sweet options like honey and fruits.
How to Make Your Toasts of Choice
Prepare the Bread:

Slice your bread into thin, small slices for crostini or thicker, larger pieces for bruschetta. Brush each side with olive oil.

Get 'Em Crispy:

Bake the crostini on a lined baking sheet until golden brown and crispy, or grill the oiled slices until char marks form for bruschetta.

Top it Up:

When they're nice and crisp, you can get ready to top your toasts. If you made bruschetta, it's traditional to rub them with a clove of raw garlic first before loading on the toppings. Speaking of toppings, some of my favorites include fresh tomato and basil, creamy goat cheese, or tangy olive tapenade.
Let's Talk Toppings and Variations!
When it comes to crostini and bruschetta, the possibilities for toppings and variations are truly endless. You can let your imagination run wild and create unique flavor combinations that suit your taste buds. Here are some ideas to inspire your culinary adventures:
Print
How to Make Crostini and Bruschetta Toast
---
Author:

Total Time:

20 minutes

Yield:

12

-

2

0

1

x
1

baguette, Italian bread, or rustic loaf

¼

cup

olive oil, or as needed

2

cloves garlic, peeled, optional
Coarse sea salt and black pepper, to taste
---
Instructions
For Crostini:
Preheat the oven to 375°F (190°C). Line a large, rimmed baking sheet with parchment paper or a baking mat for easy clean up.
Slice the baguette into small horizontal slices. Place the bread slices on a baking sheet and brush each slice lightly with olive oil on both sides. Sprinkle with salt and pepper.
Bake in the preheated oven for about 10-12 minutes, or until the slices turn golden brown and crispy, flipping halfway through. Remove from the oven and let cool slightly.
Arrange the toasted crostini on a platter and serve as a base for various toppings or spreads of your choice.
For Bruschetta Toast:
Preheat a grill or grill pan over medium heat.
Slice the bread at an diagonal to create longer pieces, or use larger rustic bread. Brush both sides of the bread slices with olive oil.
Grill the slices for a few minutes on each side until they develop beautiful grill marks and become slightly crisp.
While the bread is still warm, take a garlic clove and rub it gently over the surface of each bruschetta slice to infuse them with garlic flavor. Sprinkle with a pinch of salt and pepper.
Arrange the toasted bruschetta on a platter and serve as a base for various toppings or spreads of your choice.
Prep Time:

10 minutes

Cook Time:

10 minutes