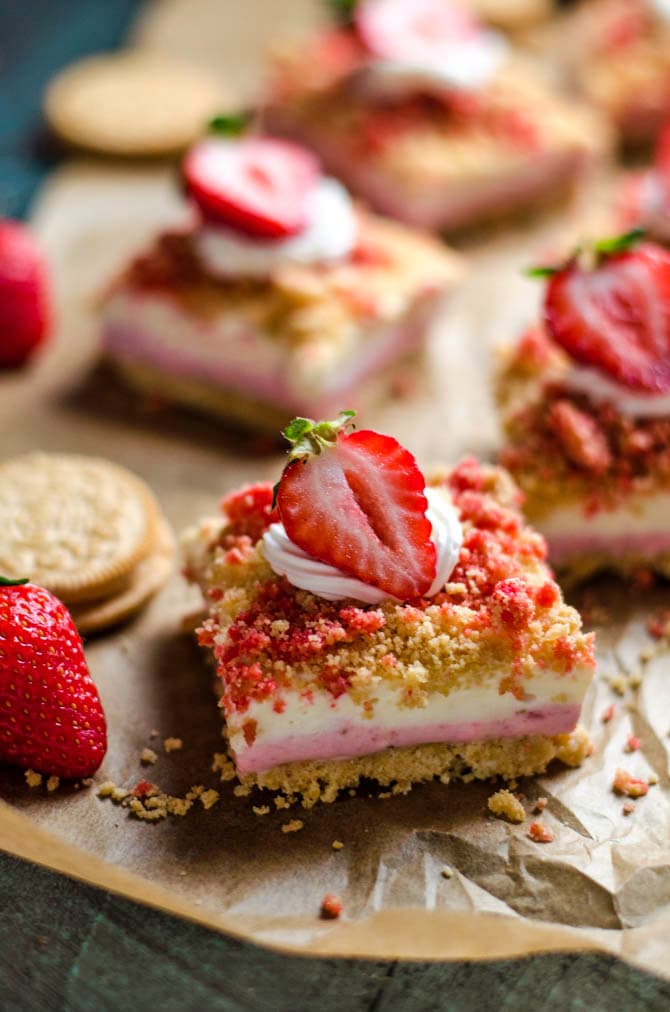 The truth-- if you care to know it-- is that I'm a cynic. (Though if you've been reading for a while, this should come as no surprise.) I will probably leave this world just as distrusting, disillusioned, and full of whining as I entered it; still a crusader of personal space and timely break-ups; still the last person you'd like to ask for gently-delivered relationship advice.
Yet somehow along the way, I fell crazy in love with a man who was happy (or at least willing) to put up with my grumpy attitude and push through my commitment resistance. He brought his own grinchiness to the table, too. We've now spent 6 delightful Valentine's Days together.
This Valentine's Day, we plan to curmudgeonly cuddle up together while avoiding the fine-dining crowd and chaos. We'll devour a garlic-soaked dinner (for that romantic reeking breath), and finish it off with far too many of these No-Bake Strawberry Shortcake Cheesecake Bars.
Because while they might not be the sexiest of sweets, they make us smile.
And at this point, while candlelit dinners are wonderful; sweatpants, full bellies, and being alone together is the secret to our happiness.
I don't think it's possible to eat one of these and not have a huge grin on your face. They're like the strawberry shortcake popsicles of our childhoods, but made with a tangy cheesecake batter instead. One part nostalgia, one part novelty, fully delicious.
And it feels so fitting that this recipe was made from the best parts of two already delicious desserts. What sweeter message to send out for Valentine's Day than "sometimes great things are even better together"?
That's as sentimental as I'm willing to get today, guys. Remember, I've got that cynical reputation to protect.
The thing I love about these No-Bake Strawberry Shortcake Cheesecake Bars (besides, of course, how tasty they are) is the fact that they're so simple to throw together.
Obviously you know based on the recipe name that there's no hot oven involved here. Instead, I make a crust out of crushed golden oreos and melted butter, and cover it with simple no-bake cheesecake (one layer flavored with pureed fresh strawberries, one plain vanilla). On top, I sprinkle some more crushed golden oreos, and then I chill the whole thing. The pink bits on the topping are from mixing oreo crumbs with strawberry gelatin, which absolutely nails the flavor of that childhood popsicle coating. Seriously, it is dead on.
The final product is sweet and rich and tangy in all of the right ways, and it tastes delicious whether you serve it slightly chilled or completely frozen. Even if these aren't up your alley for Valentine's Day or date night (you hopeless romantic, you), I can't recommend them enough as a dessert when those hot-weather holidays and barbecues come around. Or as an Easter treat. Or for a work pot luck. Really I just think you should make them as soon and as often as possible.
And when you do, of course you can't forget to take a picture and tag #hostthetoast on Instagram so it shows up on the You Made It page! I can't wait to see yours.
Print
No-Bake Strawberry Shortcake Cheesecake Bars
---
Author:

Total Time:

1 hour

Yield:

16

bars

1

x
For the Cheesecake Bars:
48

golden oreos (about

one

package +

one

sleeve), divided

10 tablespoons

melted butter, divided

1 tablespoon

powdered unflavored gelatin

2

(8 ounce) packages cream cheese, room temperature

1

(14 ounce) can sweetened condensed milk

2 tablespoons

fresh lemon juice

1 tablespoon

vanilla extract

½

cup

heavy cream

1

pound

fresh strawberries, hulled and chopped

1

package strawberry gelatin powder , as needed
To top:

1 teaspoon

powdered unflavored gelatin

1

cup

heavy cream

¼

cup

powdered sugar

½ teaspoon

vanilla extract

8

strawberries, halved
---
Instructions
Lightly grease or butter a 9 x 13" baking dish.
Place half of the oreos in a food processor and pulse until fine crumbs form. Add 5 tablespoons of melted butter to the oreo crumbs and pulse again until well-combined and the crumbs are sticking together. Press the crumbs into the prepared baking dish and freeze for 20 minutes.
While the crust sets, prepare the filling. In a small, microwave-safe bowl, sprinkle 1 tablespoon of gelatin over ¼ cup of cold water. Set aside.
Meanwhile, in a large bowl, beat the cream cheese until fluffy. Add in the condensed milk, a bit at a time, and beat until smooth. Mix in the lemon juice and vanilla extract.
Once the gelatin is set, place it in microwave and heat until gelatin turns to liquid, about 10 seconds. Pour the liquid gelatin mixture into the cheesecake filling mixture and beat to combine. Pour half of the cheesecake mixture into a separate, bowl.
In the bowl of the food processor, process the strawberries until no chunks remain. Pour the strawberry puree into one of the bowls of cheesecake mixture. Mix until well-combined.
Pour the strawberry cheesecake mixture over the chilled oreo crust. Smooth out using the back of a spoon. Place back in the freezer to set slightly.
Add ½ cup heavy cream to the second bowl of cheesecake mixture. Mix until well-combined. Once the first cheesecake layer has slightly firmed up, pour this vanilla cheesecake layer over top and smooth. Place back in the freezer.
Pulse the remaining oreos in the food processor until fine crumbs form. Melt the remaining 5 tablespoons of butter and pulse again until all of the crumbs have been coated. Place about ¼ of the crumbs in a small bowl and pour over the strawberry gelatin powder, a tablespoon at a time. Pinch the crumbs together to incorporate the gelatin powder and create small crumbs. Add strawberry gelatin powder until the crumbs turn a light pink, and then sprinkle both the plain and strawberry-flavored crumbs over the cheesecake. Once fully covered, refrigerate the cheesecake for at least 4 hours, or freeze for at least 1.5 hours.
To top and serve, make stabilized whipped cream. Sprinkle the teaspoon of gelatin over 4 teaspoons of cold water. Allow the mixture to sit for 5 minutes, then microwave the gelatin for 10 seconds, or until liquidy. Beat the heavy cream, powdered sugar, and vanilla in a large bowl until stiff peaks form. Pour in the liquid gelatin and beat until well-combined.
Cut the cheesecake into bars and pipe the stabilized whipped cream in the center of the tops of each bar. Place a halved strawberry on top of each mound of whipped cream and refrigerate until ready so serve.