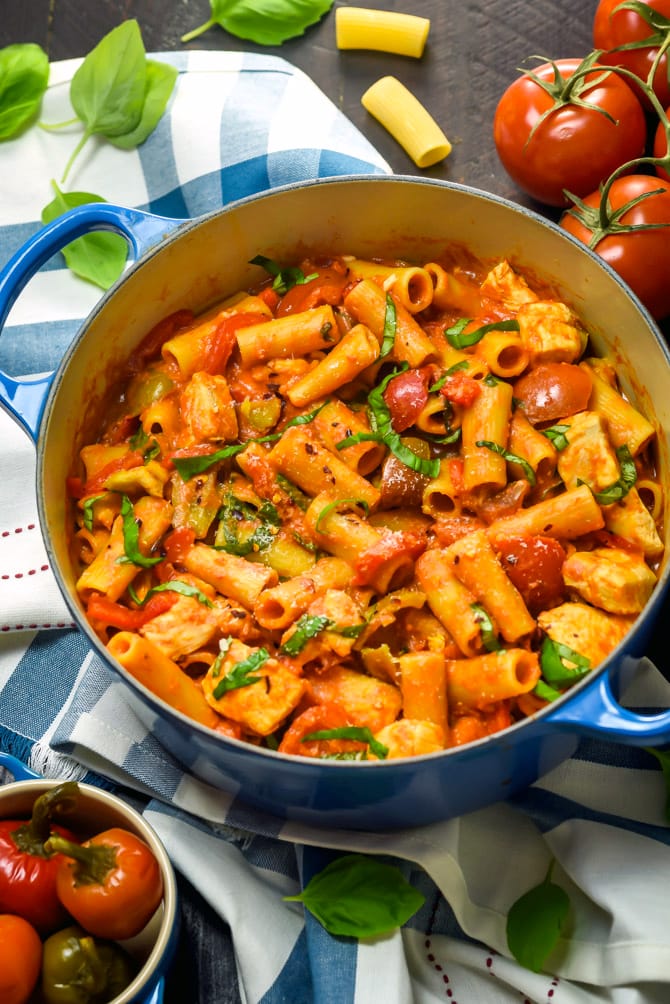 6 years ago, my then-roommate and good friend, Allie, asked me to make her something "spicy with chicken" for her birthday dinner. I wanted to make something that she'd never had before, and after scouring the web for inspiration, I became smitten with the idea of making Chicken Riggies. I'd never heard of them before stumbling across the delicious-sounding recipe, but they're the signature dish of Utica, New York, and I've gotta tell you, those people know their stuff. Why this isn't common all over the country, I'll never understand.
I wound up making the dish, which features chicken breast, rigatoni, and a hot cherry pepper and tomato cream sauce, and no one could get enough of it. My roommate loved it, my boyfriend loved it, and to say that I loved it might just be an understatement. I promised to make it again soon, and I really did want to, but cooking the chicken, boiling the pasta, and making the sauce just required so many dishes and too much time to do it on the regular. So I didn't. Not for a long time.
Finally, after 2 years, I decided that I had to give it a go again, but this time I'd make it easier... by doing everything in one pot. That's right, one pot, without removing anything and "setting it aside". I even cooked the pasta right in the sauce. I was expecting the worst, but guess what? It was even better this way. I know you don't believe me, but just try it. Just do it. You'll be amazed.
The Spicy Chicken Riggies wound up being one of my favorite recipes I've ever made. Honestly. It was flavorful, filling, and it was so easy to make and clean up. My mom and brother were in love with the dish-- my mom even said that it might be her favorite recipe that I've ever made and that I had to add it to our rotation. I froze leftovers for James and he agreed that they were "spectacular" after practically inhaling the entire Tupperware container I had stored them in. That's after reheating the Chicken Riggies in the microwave, by the way. You know something is delicious after you can freeze it and reheat it in the microwave and it still tastes amazing.
That was a few years ago, and since then, this recipe has consistently been one of the most popular on my blog and among my family and friends. I decided to make a video to show just how it's done!
I think one of the coolest things about this recipe is that the starch from cooking the pasta in the sauce acts almost like flour or cornstarch would, thickening the tomato and wine base and helping it reach the perfect consistency. The pasta doesn't get mushy or stay hard either, but it does slightly absorb some of the flavors of the sauce, which makes it even tastier. I'm going to start experimenting with cooking noodles into sauces much more often after this major success!
Serve this meal to a crowd or whip it up on a busy weeknight for your family. It's so impressive and delicious that no one will believe that you made it all in just one pot.
Print
One Pot Spicy Chicken Riggies
---
Author:

Total Time:

55 minutes

Yield:

6

1

x
2 tablespoons

extra virgin olive oil

5

cloves garlic, smashed and chopped

1

pound

chicken breast, cut into small chunks

2

large roasted red peppers, sliced into thin strips

6

hot cherry peppers, chopped and deseeded
1

28

oz

can crushed tomatoes

1

cup

cooking sherry or white wine

1

cup

water

1

pound

uncooked Rigatoni

1

cup

pecorino romano or parmesan cheese

½

stick butter

¼

cup

heavy cream

2 teaspoons

fresh basil

½ teaspoon

sea salt
Crushed red pepper flakes, optional
---
Instructions
In a large pot, heat the olive oil over medium heat and add in the garlic and chicken. Sauté the chicken until it is just browned on the outside but not cooked through.
Stir in the roasted red peppers and hot cherry peppers, and sauté for a minute. Add in the crushed tomatoes and sherry or wine. Add in the water and pasta and bring to a low boil. (If there isn't enough liquid, add a bit more water.) Continue to cook, stirring often, until the pasta has cooked to al dente, about 15-20 minutes.
Reduce to low heat and add in the butter, basil, and salt. When the butter completely melts into the pasta, add in the cream and cheese. Let simmer for about 10 minutes, stirring occasionally. Top with additional cheese, basil, and red pepper flakes if you really like a lot of heat!
Serve warm.
Notes
For this recipe, I used jarred hot cherry peppers. If using fresh, add the hot cherry peppers to taste, as they vary much more in their heat levels.
Prep Time:

10 mins

Cook Time:

45 mins