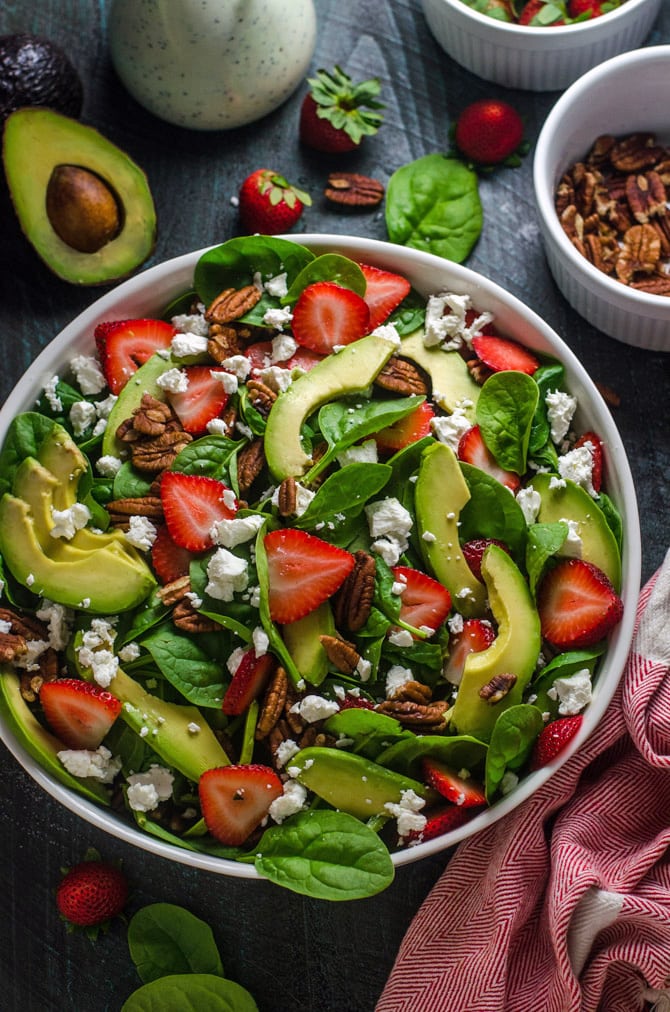 Something strange happened last week that I'm still trying to wrap my head around.
James and I went to a cook-out where the hosts totally (and deliciously) went overboard with the food: there were sausages of every sort, kebabs piled so high on platters that it looked like they'd topple over, racks upon racks of ribs, tons of grilled chicken, at least 20 sides including phenomenal potato and pasta salads of every variety... and the thing we kept going back to refill our plates with...
Was salad.
It was a strawberry spinach salad with a creamy poppy seed dressing, to be specific. A salad with fruit and spinach. And we ate that rather than extra helpings of perfectly smoked ribs.
Who have we become? I don't even recognize us anymore.
I'm not ashamed to say that I love a good salad and I crave salad often. However, I'm no madwoman; when you put me in front of a table of barbecued and smothered dishes, that all goes down the drain. Usually.
But this salad, loaded up with creamy crumbled cheese, earthy spinach, crunchy almonds, and fresh strawberry slices, all dressed with a tangy, nutty dressing-- it was something else. For such a simple combination, it was refreshing and addictive on a sunny summer day-- a welcome departure from the heaviness and warmth of the grilled meats. And that's probably why James and I weren't the only ones huddled around the gigantic serving bowl, chatting about how we had to make this salad ourselves for our next get-togethers.
And even though we were just talking in the moment, the Strawberry Spinach Salad stayed on my mind all week long until I decided I would make it myself since we were having friends over for the holiday. My salad, however, would include buttery toasted pecans instead of almonds, creamy avocado slices, and a lightened up, greek yogurt variation on the poppy seed dressing.
And while the first version was crazy good, this Strawberry Avocado Spinach Salad with Greek Yogurt Poppy Seed Dressing was in a league of its own.
Whether you're a salad person (like me) or absolutely not (like James), there's so much to love about this recipe, especially when it comes to serving it for a spring or summer party. With gorgeously ripe fresh strawberries and avocados in abundance this time of year, this is a great way to take advantage of seasonal produce. Plus, it offers something a bit different and lighter amongst a spread of burgers, dogs, and mayonnaise-covered carby sides. The salad disappeared quickly at our little gathering... and then again when James and I decided to make a scaled-down version for dinner a few days later.
Like I said, we can't get enough of it.
By the way, this dressing stays good for 5-7 days in the fridge, so you might want to make extra. Even though it's a healthier version than the bottled varieties you can buy at the grocery store, the flavor is infinitely better-- you're going to want to put it on everything. I used my leftover dressing to coat an apple coleslaw that I served with grilled pork chops, and I tell you what, I should have made a post for that recipe alone. Maybe next time I make this Greek Yogurt Poppy Seed Dressing, I will.
And trust me, there will be a next time.
Print
Strawberry Avocado Spinach Salad with Greek Yogurt
---
Author:

Total Time:

15 minutes

Yield:

8

1

x
For the dressing:
⅔

cup

plain Greek yogurt

¼

cup

cider vinegar

3 tablespoons

honey

2 tablespoons

dijon mustard

1 tablespoon

olive oil

1 tablespoon

poppy seeds

2 teaspoons

kosher salt

½ teaspoon

garlic powder

½ teaspoon

black pepper
For the salad:
12

ounces

baby spinach, rinsed and dried

1

pint

strawberries, cut into thin slices

1

-

2

ripe avocado, cut into thin slices

½

cup

toasted pecans

4

ounces

goat cheese
---
Instructions
Combine all of the dressing ingredients in a jar with a lid. Secure the lid and shake vigorously to combine. Alternatively, whisk until completely blended. Refrigerate until ready to use, up to 5 days.
In a large bowl, gently toss together the spinach, strawberries, avocado, toasted pecans, and goat cheese. Drizzle with the dressing and serve, or serve with the dressing on the side.