I was all set to make a flourless torte for James.  I had the ingredients all measured out, I had my pan sprayed, and for once, I was feeling pretty confident that I would get a sweet recipe right the first time around.
"Are you making cake?" James asked, wide-eyed and obviously excited.
"Well, yes, technically.  A flourless torte.  It's denser than regular cake."
"Oh, I usually like cakier cakes, but I'm sure that will be good," he replied.  Aaaaaaaaalright then.  I guess I'm making a cake.
Here's the thing about cakes–  I lalalalove eating them, but I really hate making them.  I'm awful at frosting them, I'm awful at separating them into even layers, and no matter which methods I try, I always wind up with a dome or crater on top.  It's frustrating.
But I wasn't going to let it get to me this time.  Cakes don't need layers, especially when they're for two.  A dome or crater on top is just an excuse to pile on more frosting to even it all out.  If the frosting looks messy, just pour over some easy-to-make, super delicious ganache to cover up all of the imperfections.  Distract from anything that still looks off– if there is anything else– with powdered sugar.
The game plan was all laid out.
To begin my cakeventure, I made my sugar stencil, which seemed like the least intimidating part of the process.  I wrote "Love is Sweet" on a piece of scrap paper, trying to mimic some fonts that I saw online, but you can simply type up and print out your message if doing it by hand is not your thing.
Then, using an x-acto knife, I cut away everything that I wanted to be stenciled on, and saved any pieces that I'd need to place on by hand (for example, the circle inside of the "o" and the half-moon shapes inside of the "e"s).
I also learned to avoid cursive fonts, if possible, in the future.  So many loops…
I mixed up my cake batter and popped it in the oven.  Then I started to second-guess myself.  That cake batter was pretty thin, will it work?  Will it be a disaster?  Am I not cut out for cakes?  And on continued the spiral of imagining everything that I possibly could have messed up, as per "Morgan's Baking Today" protocol, as I whipped together the raspberry frosting.
Another part of "Morgan's Baking Today" protocol is that I must eat approximately one metric ton of the frosting while I'm making it, for quality assurances purposes.  It's all part of the job.
When the cake was finally finished, I was ecstatic.  It was so dark and moist, and most importantly, it was a cake.  Not a puddle, not an explosion, a damn good-looking cake.  I put it in the refrigerator to cool it down so that it wouldn't melt my frosting and made the ganache.
At this point, James realized that cake time was soon.  He could feel it in his bones.  The smell of baked chocolate deliciousness moved him from the couch to the kitchen in record speed to dip his fingers in frosting, lick chocolate off of spoons, and hover over my shoulder eagerly.  The way to a man's heart…
As expected, my frosting job was less-than-professional looking, so I poured over the creamy chocolate glaze and let it work its magic.  Back in the fridge it went, and James looked despondently out of the window.  I could tell he was in mental turmoil awaiting his dessert– absolute pain knowing that there was a chocolate-covered chocolate cake in the fridge and that he had to wait to get a slice.  That guy cracks me up, I tell ya.
Then came the moment of truth.  Would the stencil work?  There was only one way to find out.  I held my breath and sifted some powdered sugar over the stencil– just enough to get a good coating but not too much to pile up and spill over.  Carefully, I lifted up the stencil.
Oh, sweet, sweet victory.
But what was even better was when we finally sliced the cake up and were finally able to taste it.  The cake was even more moist than I expected, and the raspberry frosting was perfectly sweet and tart.  James ate two and a half slices in one sitting and gave it two thumbs up saying, "It was worth the wait."
This Sugar Stenciled Raspberry Dark Chocolate Cake is great for Valentine's Day, and it's a bit smaller so you're not overwhelmed with weeks worth of cake taking up space in the fridge (but still big enough to have some leftovers, because one day of cake is simply not enough).  You can write "Love is Sweet" or whatever sweet sentiment you'd like.  It'd work well for anniversaries as well, or a Happy Birthday message on top would make for a happily-received gift– even if your cake decorating skills are usually lacking a little, like mine.
Print
Sugar Stenciled Raspberry Dark Chocolate Cake
---
Author:

Prep Time:

1 hour

Cook Time:

40 mins

Total Time:

1 hour 40 minutes

Yield:

6

pieces

1

x
Description
Chocolate cake adapted from Food.com
---
Scale
Ingredients
For the Powdered Sugar Stencil
1/4 cup

powdered sugar
X-acto knife
Cardstock or Parchment paper
For the Chocolate Cake
1 cup

sugar

1 cup

flour

1/2 cup

dark baking cocoa

3/4 teaspoon

baking soda

3/4 teaspoon

baking powder

1/2 teaspoon

salt

1

egg

1/2 cup

milk

1 teaspoon

vanilla extract

1/4 cup

vegetable oil

1/3 cup

hot black coffee or water
For the Raspberry Frosting
3/4 cup

(

1 1/2

sticks) unsalted butter, softened at room temperature

3 1/2 cup

s powdered sugar

2 tablespoon

s milk

1 teaspoon

vanilla extract

1/2 cup

raspberry preserves
Pinch of salt
For the Ganache
2/3 cup

heavy cream

8 ounce

s dark chocolate chips
Fresh raspberries, to garnish
---
Instructions
Begin by making your stencil. Print out or hand-write a saying or design of your choice on cardstock or parchment paper, making sure you stay within a 7″ circle so that the stencil will fit on your cake. Try not to use too many loops, as this makes the stencil more difficult to lay out. Using an x-acto knife, carefully cut out all of the letters, saving the inner portions (such as the centers of the "o"s and "e"s). Test the stencil by laying it on a dark kitchen towel, placing the center stencil bits in place, and dusting powdered sugar on top. Pick up the stencil and see what your design will look like. Make adjustments if necessary.
Preheat the oven to 350 degrees F. Grease a 7″ baking pan.
In a large bowl, whisk the sugar, flour, baking cocoa, baking soda, baking powder, and salt.
In a separate bowl, use a hand-mixer beat together the eggs milk, oil, and vanilla. Pour the wet ingredients into the dry ingredients and mix well.
Stir in the hot black coffee or hot water by hand. The batter will be quite liquidy. Pour it into the prepared baking pan.
Bake until a toothpick inserted into the center comes out clean, 30-40 minutes.
Let the cake cool at room temperature and then transfer to the refrigerator.
To make the frosting, beat the butter in a large bowl until light and fluffy, about 3 minutes. Add in the confectioner's sugar, milk, and vanilla extract. Mix on medium speed until well-combined. Mix in the raspberry preserves and a pinch of salt, and beat until even and fluffy. Add additional powdered sugar if necessary (you may find this is the case if your frosting is too thin due to liquidy fruit preserves).
After the cake has chilled, frost the cake and put it back in the refrigerator.
In a small saucepan, combine the heavy cream and dark chocolate chips. Heat over medium-low, stirring often, until chocolate chips are melted and the mixture is well-combined. Remove from heat and let cool until thick but still pourable.
Pour the ganache over the cake and stick back in the refrigerator until stiffened, about one hour.
When the ganache is stiff (your finger should not leave an imprint if you touch it), gently place the stencil over the top of the cake. Place the small inner pieces (the "O" and "e" pieces we saved earlier) on as well where they belong– you might find it easiest to use tweezers to do this if you're shaky. Dust the powdered sugar over top of the stencil until it is lightly covered. Gently remove the stencil to reveal the design.
Garnish with fresh raspberries and serve.
---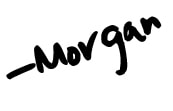 Get recipes delivered hot & fresh to your inbox!