It's 2015, so I finally decided I should start using that personal twitter account I created 4 years ago.  Now I'm sucked in-- I think it was the Foodie Band Name hashtag that sealed my fate.  I used to tell everyone that I didn't use twitter because I just didn't get it, but I'm starting to catch on, guys.  I'm finally catching on.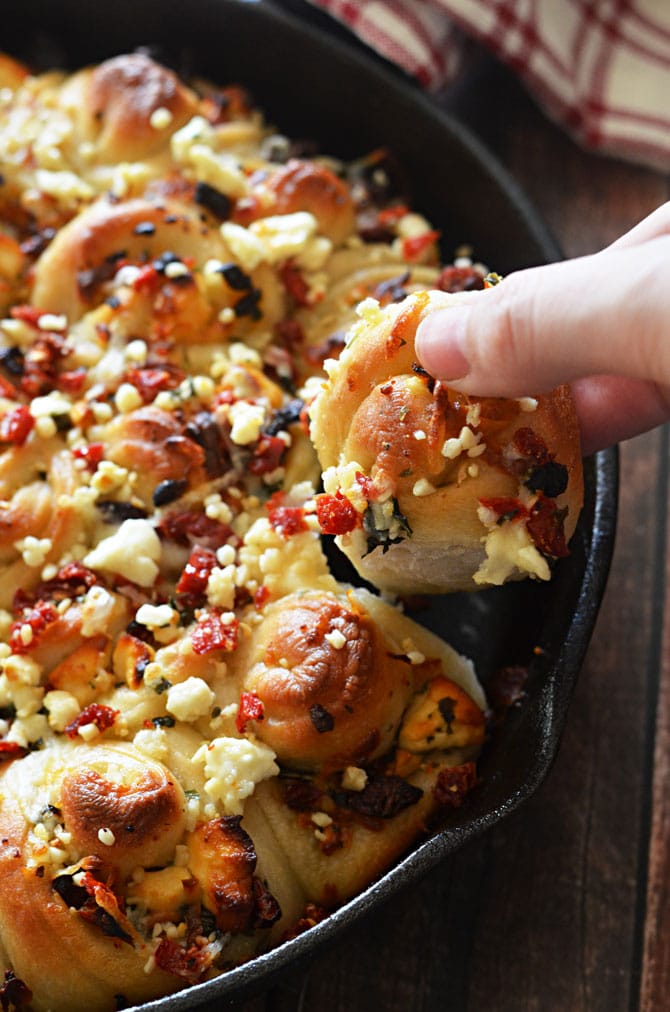 In the spirit of keeping up with the times, I decided that my social media presence wasn't the only thing that needed an update.  Some of my favorite recipes could use a fresh change as well.  For example, I'd been making super simple Garlic Knots for years, to the point that they were beginning to get boring.  Garlic Knots!  Boring!  I know, it's crazy!
I decided to pump up the flavor factor with sun-dried tomatoes, feta cheese, and basil, and oh my gosh, I cannot stop thinking of all of the wasted years I've gone without making my Garlic Knots this way.
"Sun-dried Tomato & Feta Pull-Apart Garlic Knots" is a long name, I know, but they only take a short amount of time to put together.  Frozen pizza dough does most of the work for me, so I can have them on the table every night if I want (and I am tempted to do so, if we're being honest).
The "knots" aren't really knotted-- instead, they are folded in a way that keeps the feta from oozing out the bottom and burning on the skillet.  It also allows more of the special add-ons to rest inside of the bread, which results in even more tastiness.
I nestle the prepared dough in a cast iron skillet and let them rise slightly before brushing them with butter and popping them in the oven.
After about 15 minutes, the tops turn golden and I sprinkle the remaining toppings over the knots before they finish up in the oven.  Putting them all on at once can result in burning, so saving the last bit is essential.
Then I brush them with garlic and butter again because you cannot have enough of that stuff, and I start eating the Sun-Dried Tomato & Feta Pull-Apart Garlic Knots until there are none left in the skillet, unless someone intervenes.
What is self-control and where can I buy some?
Print
Sun-Dried Tomato & Feta Pull-Apart Garlic Knots
---
Author:

Total Time:

50 minutes

Yield:

20

-

24

knots

1

x
1

lb

frozen bread dough, thawed according to directions

2 tablespoons

flour, to roll

4

large cloves garlic, minced, divided

½

cup

feta cheese, crumbled

½

cup

sun-dried tomatoes, finely chopped

½

cup

mozzarella cheese, shredded

¼

cup

fresh basil, finely chopped

4 tablespoons

(

½

stick) butter, melted
Tomato sauce, to serve, optional
---
Instructions
Prepare an oven-safe dish with nonstick cooking spray or oil. I used an 11" cast iron skillet.
Divide the thawed dough into 2 sections. Lightly flour a flat surface and rolling pin and roll out each dough section to ¼" - ½" thick. Use a circular cookie cutter or glass to cut out circles of dough.
Combine 2 cloves of garlic, feta cheese, sun-dried tomatoes, mozzarella cheese, and basil in a medium bowl and mix until evenly distributed. Place 1-2 teaspoons of the mixture in the center of a dough circle. Fold one side over to create a half-circle with the filling in-between, and then pinch together the two corners of the half-circle to get a teardrop-like shape. Place in the prepared dish.
Preheat the oven to 375 degrees F.
Cover the garlic knots and let rise for 20 minutes, then brush with melted butter. Bake until golden brown, about 15-18 minutes, and then sprinkle with the remaining feta mixture. Bake for an additional 2-3 minutes, until cooked through.
Combine the remaining 2 cloves garlic and melted butter in a microwave safe dish, loosely cover, and microwave for 30 seconds. Brush the knots with the garlic butter and serve warm with tomato sauce, for dipping.
Prep Time:

30 mins

Cook Time:

20 mins