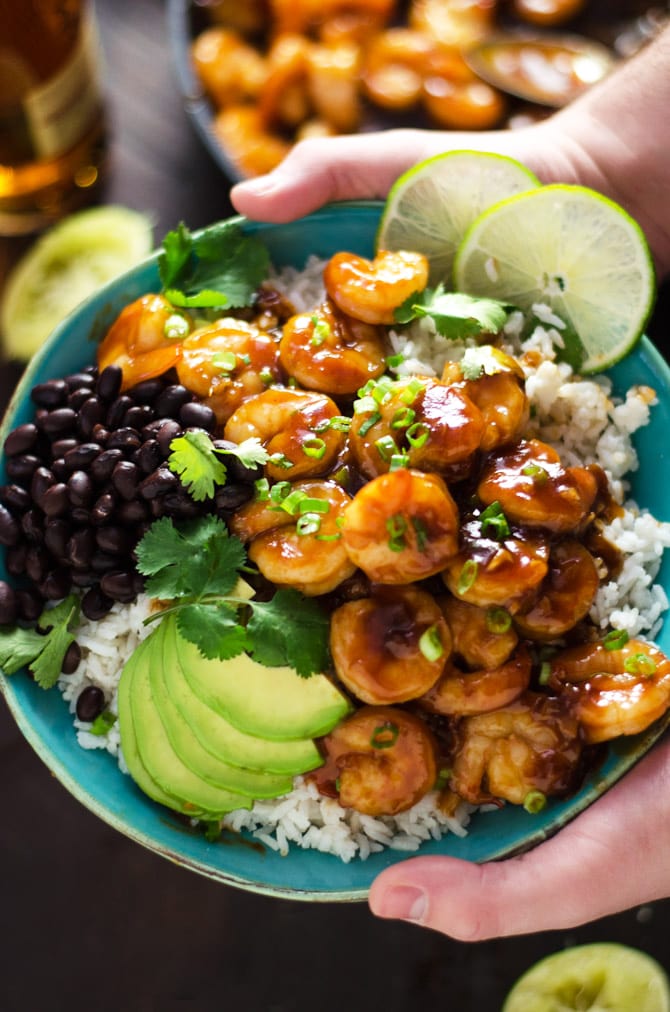 I'm in complete and utter denial that we've returned to this time of year. Not because of the holidays (I happen to like those), but because I need to smother myself in 68 layers of sweater material to somewhat-comfortably waddle my way to the mailbox. We're talking the type of outfits that would rival Randy's from A Christmas Story, and even dressed like that, I still practically refuse to leave the house. Like, maybe if it was burning down...but then again, that warmth...
Yeah, I still feel the same way I did last week: I'd rather be three rum-spiked drinks deep, with my toes stuck in the sand. For now, though, cranking up the heat and tossing together some island ingredients will have to do. And to be honest, it doesn't do a bad job at all.
I'm not going to lie and tell you that this 20 Minute Sweet & Sticky Caribbean Shrimp makes me feel great about the my current shortage of warm sunshine. But if any food is going to make you feel a little more tropical (and a lot happier) on a chilly December weeknight (or year round, really), this is it.
These Sweet & Sticky Caribbean Shrimp are so tender, guys, and they're coated in a sweet guava jelly-based glaze which has hints of Asian influence and tropical BBQ tang combined into an easy, flavor-packed sauce. Yes, my mouth is watering uncontrollably. How'd you know?
Don't get too worried about the guava jelly-- it's surprisingly easy to find. Usually it's in the International Foods aisle with the Goya products. Now, you can always use apricot jelly if you can't find it, but get the guava if you can. What does guava taste like, anyway? Ah, well, it's kind of like a mix between strawberry, mango, and pear... except... better. Hard to explain, but I suppose that's all the more reason to try it!
I've been trying to make a lot of shrimp lately, not because it's cold, but because I've finally come out victorious against James' picky taste buds. He now likes those little sea critters, which means it's time to commence the celebrations! Release the doves! Set off the fireworks! Wait, maybe we should make sure the doves are out of the way first.
I really believe that James just thought he didn't like shrimp because he tried a couple of rubbery ones in the past... after all, rubbery shrimp stopped me from enjoying them for nearly 2 decades. For being so dang easy to make, it's also really easy to overcook shrimp because nobody can believe how quickly they're done, you know?
But my goodness do I love that they cook quickly (when done correctly, of course). With a bag of frozen shrimp in my freezer, I can whip together dinner in less than a half hour. In this case, as the title suggests, it only takes 20 minutes! For these Sweet & Sticky Caribbean Shrimp, all I have to do is thaw the shrimp, cook them until opaque, set the shrimp aside, reduce the sauce ingredients, and then mix the shrimp back in so that they get nice and glazed and sticky. If I'm feeling fancy I cook some rice, heat some black beans, and slice an avocado to serve it with. Next thing I know, I've made a delicious, well-rounded meal in no time at all.
Okay, now set off those fireworks.
By the way, don't forget to take a photo of your 20 Minute Sweet & Sticky Caribbean Shrimp and post it on Instagram with the tag #hostthetoast. It'll show up on the You Made It page and honestly, I'd enjoy that more than a picture of the beach. You get imaginary bonus points if you include a good Caribbean cocktail in the picture, just because I want to see you havin' a grand ol' time. More bonus points if you send one my way.
Print
Sweet & Sticky Caribbean Shrimp
---
Author:

Total Time:

20 minutes

Yield:

4

servings

1

x
½

cup

guava jelly

¼

cup

ketchup

4

cloves garlic, minced

2 tablespoons

soy sauce

1 tablespoon

dark brown sugar
Juice of

2

limes

2 teaspoons

cumin

1 teaspoon

onion powder

1 teaspoon

ground black pepper
Kosher salt, to taste

1 teaspoon

cornstarch

2 tablespoons

unsalted butter

2

pounds

frozen peeled and deveined shrimp, thawed, tails removed

½

cup

chopped fresh cilantro

2

green onions, chopped
Rice, black beans, and sliced avocado, to serve (optional)
---
Instructions
In a medium-sized bowl, whisk together the guava jelly, ketchup, minced garlic, soy sauce, brown sugar, lime juice, seasonings, and cornstarch. Set aside.
Melt the butter in a skillet over medium-high heat. Season the shrimp with salt and pepper. Add the shrimp to the hot skillet and cook until opaque, about 1-2 minutes per side. Remove the shrimp from the pan and set aside.
Pour the combined sauce ingredients into the hot pan. Allow to boil and then reduce to a simmer, stirring occasionally, until thickened, about 5 minutes. Return the shrimp to the pan and toss to coat. Cook an additional 2 minutes over low heat. Top with cilantro and green onion and serve with rice, black beans and avocado, if desired.
Prep Time:

10 mins

Cook Time:

10 mins