Most likely, when we hear the word "taco" in the US, we think of the ground beef stuffed tortillas with a variety of garnishes that you can find everywhere from Taco Bell onward to the sit-down restaurants we frequent when a Mexican food craving grabs hold. However, in Mexico, ground beef tacos really aren't popular at all. In Mexico, they prefer more flavorful fillings, such as beef tongue and beef cheek, which most Americans have never even thought to put in a taco. What we're really missing out on, though, is pork tacos, as they are seemingly absent from the majority of restaurants up here. (Mind you, if you're in the South or a very diverse city, you may already know what I'm getting at.)




So what are the best Mexican tacos, then, you ask? (Or perhaps you don't, but I'm going to tell you anyway. This is need-to-know information.) The absolute best tacos are Tacos Al Pastor.

The exact ingredients vary depending on where you get them, but Tacos Al Pastor always feature pork that has been marinated in peppers and spices, some sort of salsa or cilantro relish, and pineapple. They are bursting with flavor and are extremely tender as a result of being cooked on the spit. Honestly, if you look up reviews for almost any authentic Mexican restaurant or taco truck, it's more likely than not that you're going to see people going wild for the "pork tacos with pineapple", and for good reason. Once people discover them, they can't get enough.




Since my first time tasting Tacos al Pastor, I've been thinking about them nonstop. I stopped at a little taco truck while doing touristy things on vacation a few years back, and as-per-usual, I labored over the menu like it was going to be my last meal. After five minutes or so, I felt a nudge on my arm and spun around to see a scruffy, older man, who managed to mumble through gigantic sloppy bites "Tacos Al Pastor". I went for it, and oh my deliciousness was it amazing. The orangey-tinted meat glistened with the glaze of pineapple and pork fat dripped slightly from the tortilla. A tomatillo salsa spooned on top was the perfect addition, lending just enough of the classic salsa flavor without overpowering the pork. It was so amazing that I inhaled it, and then instantly regretted that I hadn't savored every bite. Then I bought another.




Since then, I haven't been able to find Tacos Al Pastor anywhere, so it should be no surprise that I've been dying to make them at home. Without a spit, though, making the tacos at home seemed pretty impossible. The "Al Pastor" part of Tacos Al Pastor means "Shepherd-Style", and refers to the rotisserie method of cooking. I worried that without that aspect, the meat might not taste anything like what I tasted.





I went for it anyway, choosing a far easier method of cooking to make this recipe accessible to readers who are interested in trying it out. It was great. The enzymes in the pineapple juice tenderize the meat as it marinates, and the flavors are all on point. My brother has deemed this recipe the best I've ever made, and I thought it was pretty up there as well. Make these for Cinco de Mayo or to enjoy anytime throughout the year and watch as everyone falls in love with this flavorful Mexican meal.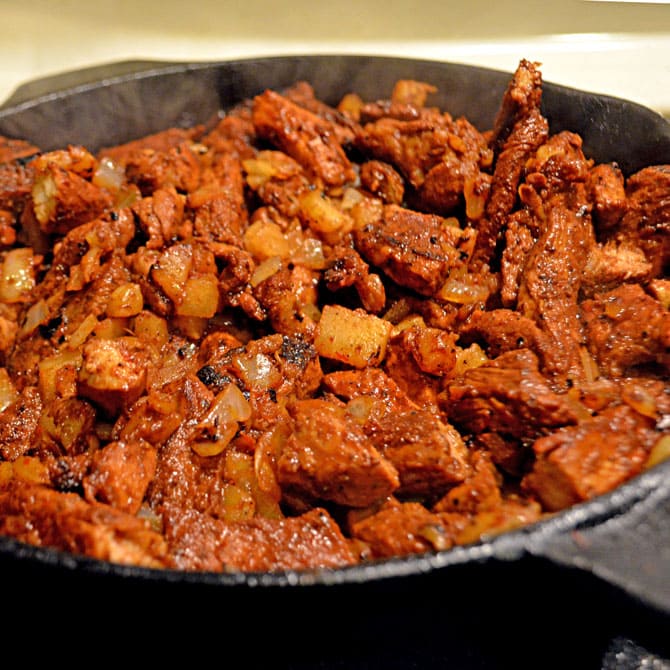 Print
Tacos Al Pastor with Tomatillo-Avocado Salsa
---
Author:

Prep Time:

3 hours 30 mins

Cook Time:

15 mins

Total Time:

3 hours 45 minutes
Description
These delicious tacos are the most flavorful around, featuring tender pork, spicy peppers, and sweet caramelized pineapple. These are a favorite in Mexico and will become your favorite, too!
---
For the Tomatillo-Avocado Salsa
5

tomatillos, husks peeled

3

cloves garlic, peeled

2

jalapenos, seeded and sliced

1

avocado, pitted and peeled

1

yellow onion

1/2 cup

cilantro leaves

3 tablespoons

water
Juice of

1

lime
Salt, to taste
For the Tacos Al Pastor
2 1/2

lbs boneless, skinless pork butt, cut into bite sized pieces

3

guajillo chiles*

2

ancho chiles*

2

chiles de arbol*

1

can chipotle chiles in adobo

1

medium white onion, halved

1

(20 oz) can pineapple chunks

3 tablespoons

distilled white vinegar

5

cloves garlic, minced

1 teaspoon

cumin

1 teaspoon

kosher salt

1/4 teaspoon

ground clove

1 teaspoon

oregano

2 tablespoons

vegetable oil

1

package corn tortillas

4 oz

cotija cheese, crumbled, for serving
Fresh cilantro and lime wedges, to garnish
---
Instructions
For the Tomatillo-Avocado Salsa
Chop up the tomatillos, onion, jalapenos, and avocado into large chunks. Add all of the ingredients to a blender or food processor and puree until smooth. Add more salt, if neccessary, and place in the refrigerator.
For the Tacos
Boil 2 cups of water in a medium saucepan. Add the dried chiles and reduce to a simmer until the chiles soften and re-hydrate, about 12 minutes.
Take one of the onion halves and coarsely chop it. Strain the pineapple chunks from the juice and save both in separate bowls.
Place the rehydrated chiles, one chipotle chile, adobo sauce, chopped onion, about 3/4 of the pineapple juice, vinegar, garlic, cumin, kosher salt, ground cloves, and oregano to a blender or food processor and puree until smooth.
Pour the mixture into a saucepan over medium-high heat. Bring the mixture to a boil and continue to cook for 3 minutes. Let cool.
Place the chopped pork into a large plastic container with a lid. Pour the chile mixture over the pork and mix through to coat well. Marinate for 3 hours.
After 3 hours, preheat a cast iron skillet to medium-high heat. Add a little drizzle of oil and toast the tortillas, about 30 seconds on each side. Place the toasted tortillas beneath a towel to keep them warm.
Increase the heat to high and add about a tablespoon of oil. Remove the marinated pork from the container and let excess marinade drip off. In small batches, cook the pork until it is cooked through and slightly charred.
After all of the pork has been cooked, chop it roughly into smaller pieces.
Dice the remaining onion half and chop up the pineapple chunks. Add to the cast iron skillet and cook until the pineapple slightly caramelizes, about 3-4 minutes.
Add the remaining pineapple juice and the chopped up pork back to the skillet and mix in with the pineapple and onion.
Scoop the pork mixture into the toasted tortillas. Top with the tomatillo salsa, onions and cilantro if desired, and crumbled cotija cheese. Serve with lime wedges.
Notes
* These chiles are dried and will likely be found in the international foods section of your supermarket.
Category:

Main

Cuisine:

Mexican
&nsbp;