If you're looking for the ultimate recipe for soft and chewy sugar cookies, you've come to the right place. Not only are these cookies fantastically buttery, tender, and doughy; but they also stay soft for days on end. They're incredibly easy to make and require no rolling out! Just like your favorite bakery cookies, but better.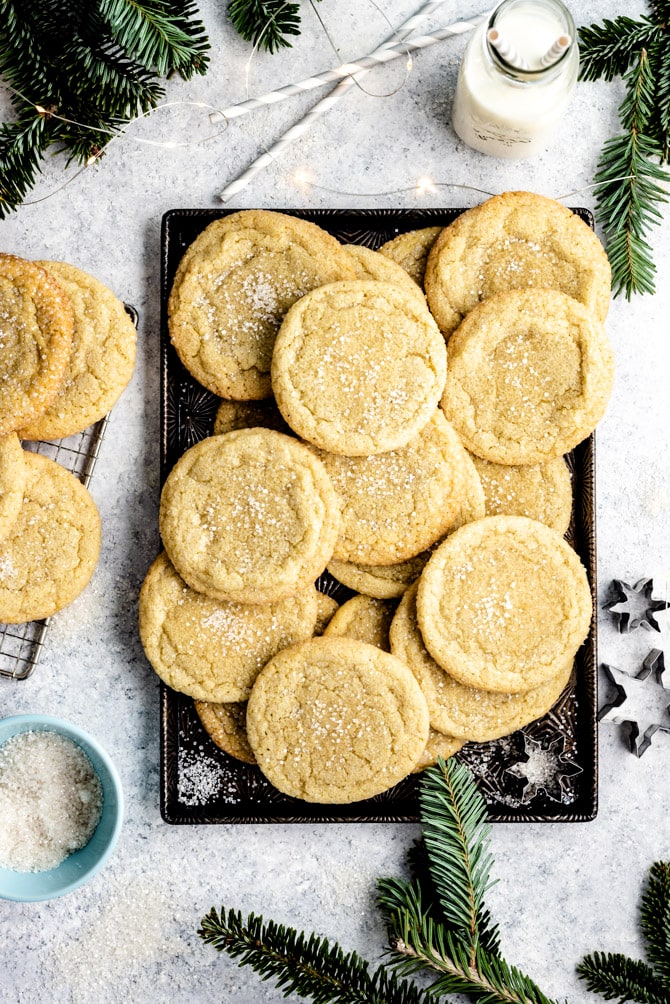 There are two types of people in this world: The kind who prefer their cookies to be soft and chewy, and those that are wrong. 
As much as I enjoy a thin, crispy cookie or a puffy, cakey cookie from time to time, nothing beats a chewy cookie that stays soft for days after baking-- if any manage to last that long. Am I right or am I right?
I mean, if anything at all makes you feel like a kid again, it's smelling the warm vanilla and brown sugar as you sink your teeth into a freshly baked, irresistibly buttery, almost-but-not-quite underbaked cookie. That thought has been the basis of some of my all-time most favorite (and most popular) cookie recipes of all time* and it still is today. 
I don't take the business of baking lightly, so believe me when I say that this sugar cookie recipe was exhaustively, probably excessively tested, until I finally found a recipe that I truly feel comfortable calling the best. They're better than your grandma's. They're better than the ones from your favorite bakery. They're absolutely better than anything you could get from the store.
They are THE BEST. No exceptions.
You know what makes them even better? Not only are they the Best Soft and Chewy Sugar Cookies ever, but they're also surprisingly easy to make.
There's no need for precisely rolling out, shaping, cutting, or meticulously decorating. This is not one of those recipes. Instead, this recipe takes the hard work out of making sugar cookies but ups the ante with more flavor, better texture, and a sugar coat that glistens just as beautifully as any royal icing job I could manage.
* I'll link to those all-time most favorite chewy cookie recipes at the bottom of this post so you can check those out, too!
SELECTING YOUR INGREDIENTS
Most of the ingredients in this sugar cookie recipe are ones that shouldn't surprise you-- flour, eggs, baking soda, baking powder, salt, and vanilla extract, for example. But there are also a few key ingredients that you might not have expected:
Melted butter. Most cookie recipes call for creaming together room temperature butter with sugar, so using melted might seem like a strange choice at first. However, using melted butter results in a much chewier cookie! The science behind it is basically that melted butter won't cream together with the sugar when mixed in the same way that room temperature butter will, so it incorporates far less air into your dough. Airy dough = thick and cakey dough, whereas dough that incorporates less air stays dense and almost fudgy in consistency.
Light brown sugar.

Light brown sugar isn't uncommon in cookie recipes, but most sugar cookies call for granulated sugar only. Mixing in a bit of light brown sugar makes the cookies moist and extra chewy (thanks to the molasses), and also gives the cookies a deeper flavor. If you'd like, you can also use dark brown sugar, but your sugar cookies will also turn out a bit darker and take on a more pronounced molasses flavor.

Cornstarch.

This one is probably the most unexpected of all the cookie ingredients, but I use cornstarch in all of my chewy cookie recipes. Why? Cornstarch will create a much more tender cookie as it softens the harsh proteins in flour, and encourages more chewiness as the it creates an interconnecting network of starch molecules to hold everything together. 
GET CREATIVE
Once you have all of the ingredients I listed above, you can get started on making your cookies. But if you'd like to switch things up, don't be afraid to mix in some additional ingredients. Some ideas include:
Food coloring. To make these cookies extra festive, feel free to add a few drops of food coloring to your dough. I think separating the dough into halves and using both red and green food colors could be fun for Christmas, while pastels would make beautiful cookies for Easter or a baby shower. Go wild with it! You could even clump pieces of differently colored dough together for a tie-dye effect.
Sprinkles or colored sugars. I roll my cookies in extra granulated sugar or sanding sugar before baking, but you could get colorful and roll your dough in colored sugars or sprinkles instead, if you'd like. Or go the funfetti route and mix sprinkles them directly into the dough!
Extracts. To keep these simple (and avoid allergies) I only use vanilla extract in these cookies, but if you really want them to taste special, add just a tiny bit of almond extract. It's delicious! Citrus flavors also do especially well. Try a bit of orange extract in addition to the vanilla, and grate in some fresh zest for good measure.
MAKING THE DOUGH
I make the dough simply in my stand mixer, but you can use a bowl and a hand mixer if you'd prefer. This recipe only requires 3 instances of mixing-- first, to combine the butter and sugars; then, to add in the eggs and vanilla extract, and finally, to mix in all of the dry ingredients.
After all of the ingredients have been added, a very soft (and somewhat sticky) dough will form. It will be difficult to handle at this point, but don't worry, after a brief visit to the fridge it will be much more solidified!
I refrigerate my dough for at least an hour, which allows the butter time to solidify and the flavors time to meld before baking. You can refrigerate your dough for up to 3 days, if you need to.
BAKING SOFT SUGAR COOKIES
After the dough has been chilled, it's time to bake! Well, almost.
Remember how I mentioned that a lot of sugar cookies require rolling out the dough with a rolling pin? This recipe requires a different-- and much easier-- type of rolling before you can pop those cookies in the oven.
Scoop the dough and shape into balls, and then roll the cookie dough balls in extra sugar. This gives a glistening finish to the sugar cookies and ensures that the first thing to hit your tongue is a quick-dissolving, light layer of sweetness. I often use additional granulated sugar for this step, but as I briefly mentioned earlier, larger-grained sugars like sanding sugar or decorating sugar also give a beautiful finished effect.
Then, I simply pop the sugar-coated cookie dough balls onto a parchment-lined baking sheet and get ready to stick them in the oven. The parchment paper is important as it prevents the cookies from browning too quickly on the bottom or spreading too much as it serves as a barrier between the hot pan and the dough. Still, be sure you give your cookies plenty of room to spread, as they will get quite big. I like to limit 6-8 cookies to one baking sheet, to be safe. 
When it's finally time to bake, put the cookies into a 350 degree oven for about 14 minutes, or until they're just beginning to turn golden brown around the edges with a puffed, undercooked center. The center will settle as you allow the cookies to cool completely on the baking sheet (<-- that's important!) and you'll wind up with unbelievably chewy, super soft sugar cookies.
MORE TIPS FOR SUCCESS
These cookies aren't hard to make, but for the absolute best results, keep these tips in your back pocket:
USE QUALITY INGREDIENTS
There aren't a lot of ingredients in these cookies, so you wind up with a lot of flavor coming through from the butter and vanilla extract. This is one of the occasions where I'll say that springing for the higher-quality options is definitely worth it for a better result.
MAKE SURE YOU'RE MEASURING YOUR FLOUR CORRECTLY
When measuring out your flour, don't ever scoop straight from the container with your measuring cup. This will cause you to use too much flour, as scooping packs the flour down. Instead, fluff up the flour in the container with a spoon, then use the spoon to scoop the flour into a measuring cup. You then can use a knife to level out the flour across the top of the measuring cup.
START WITH ROOM TEMPERATURE BAKING SHEETS
After taking a batch of cookies out of the oven, you might be tempted to reuse the still-warm baking sheets to start baking the next batch. Beginning with warm baking sheets would cause the cookies to spread too much, too quickly. Resist the urge and use a separate sheet instead!
DON'T OVERBAKE. IN FACT, UNDERBAKE THEM.
I'll say it again because I can't stress this enough: TAKE YOUR COOKIES OUT WHEN THEY STILL SEEM UNDERBAKED. They will finish baking as they cool on the tray! That's the biggest secret to the most amazing, soft sugar cookies you'll ever bake.
CAN I ROLL OUT THESE COOKIES AND CUT, IF I WANT?
Sorry to be the bearer of bad news, but these cookies are too delicate and spread too much for rolled cookies to work well. The same ingredients that make them extra buttery and chewy simply won't allow for those sharp edges you want with a cut-out cookie recipe.
CAN I ICE THEM?
Yes, you can decorate the cookies with icing or flavored glaze! Just be sure that you skip the whole "roll in more sugar" step in that case, as frostings, icings, and glazes all contain plenty of sugar as it is.
HOW LONG WILL THE COOKIES STAY SOFT?
Perhaps my favorite thing about this recipe-- besides the fact that the cookies taste so ridiculously good-- is that they stay so soft, thanks in part to the cornstarch and lower baking time. Stored properly in an airtight container, these will stay soft for several days, or even up to a week. Of course, the fresher the better, but they do stay soft for surprisingly long!
WATCH THE "SOFT AND CHEWY SUGAR COOKIES" VIDEO
MORE CHEWY COOKIE RECIPES TO LOVE
Print
The Best Soft and Chewy Sugar Cookies
---
Author:

Total Time:

31 mins

Yield:

16

-

24

cookies

1

x
1

cup

(2 sticks) unsalted butter, melted and cooled for 5 minutes

1 ½

cups

granulated sugar + additional ½ cup sugar to roll

¼

cup

packed light brown sugar

2

large eggs

1 tablespoon

vanilla extract

3

cups

all-purpose flour

2 teaspoons

cornstarch

1 teaspoon

salt

1 teaspoon

baking soda

½ teaspoon

baking powder
---
Instructions
In a large bowl or the bowl of a stand mixer with the cookie whisk attachment, beat together the melted butter, 1 ½ cups granulated sugar, and the light brown sugar. Add the eggs and vanilla and beat until just combined and smooth.
Add in the flour, cornstarch, salt, baking soda, and baking powder. Mix until well combined, but be sure not to over-mix. Cover the dough and refrigerate for at least an hour.
Preheat the oven to 350°F. Line a baking sheet with parchment paper.
Scoop a 2-3 heaping tablespoons of cookie dough at a time and roll into balls, then roll the balls in sugar to coat. Place onto the prepared baking sheet, giving plenty of room for spreading. You should be able to fit 6-8 cookies per tray.
Bake for 12-16 minutes, or until the edges are JUST beginning to set and the centers are still puffy and soft and seem underbaked. Remove from the oven and let cool FULLY on the baking sheet to set the cookies.
Prep Time:

15 mins

Cook Time:

16 mins