My love story with potato soup is on a better-than-Twilight, stronger than Kim and Kanye, transgressing all pop culture kind of level. It's the real deal. And if you're with me (whether or not you're Irish, and while we're at it, whether or not you have any idea what I'm talking about at all right now),  you've got to make this Irish Baked Potato Soup with Corned Beef and Crispy Leeks.
You can make it for St. Paddy's day, or you could make it as a way to used up your leftover corned beef the day after-- either way, it's good eatin' for sure. My housemate and boyfriend are already asking me to cook up another batch!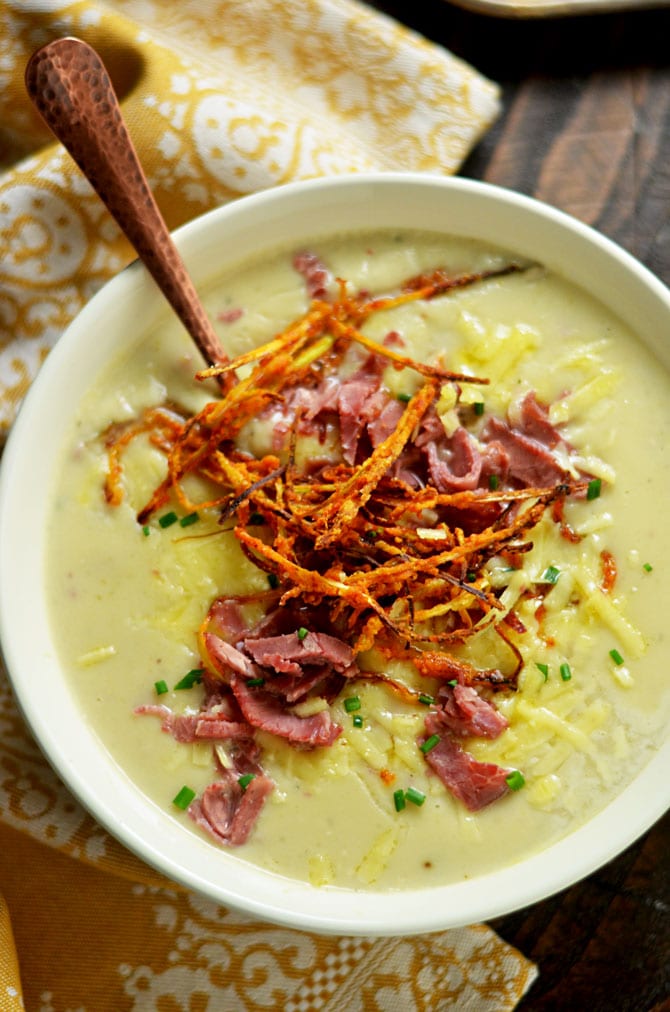 Growing up, thick and creamy soups were a special kind of treat, reserved exclusively for holidays and carefully picked restaurant orders. There was plenty of chicken noodle and minestrone cooked up in the house, and my dad even had packets of instant ramen soup hidden in the back of the kitchen cabinets. But it was really potato soup that I craved, loaded up with cheese and meat and all sorts of ingredients that my mom was trying to convince me not to fall in love with as a small child. (In case you haven't noticed, it didn't work.)
In fact, potato soup became so special to me that I still can't help but rave about it every time I open up a menu and see it listed. Finally, after at least a dozen times of talking James' ear off about how delicious the potato soup is at one of our favorite restaurants, he asked me, "Seriously, why don't you just make it at home?"
Well since St. Patrick's Day is right around the corner, I decided to do just that, but I also injected some Irish flavor into the mix by adding leeks into the base AND making a crispy topping out of them as well. They're like milder onions, so imagine some paprika-spiced frizzled shoestring onions on top of your soup if you want to get a picture of how they taste. If you're drooling over the thought, I'd say you're probably imagining them correctly. Added bonus: they're baked. You don't even have to heat up the fryer to get that level of crispness; can you believe it?
Oh, and I also decided to throw some corned beef and Irish cheddar into the mix for some added oomph. Let me tell you, I did not think anything could be tastier than bacon in potato soup, but I was wrong. So, so wrong. Corned beef is my new favorite addition, by far.
To get my potatoes and leeks to the correct consistency in the soup, I use a hand blender after boiling and simmering them in liquid until soft, which is super efficient for turning chunky soups and sauces into smooth, thick purees. However, if you don't have a hand-held blender and you don't want to get one, you can always let your soup cool, pour it into a blender in batches, blend, and then return the blended mixture to the pot. Either way works fine, the first option just is quicker and less messy, in my experience.
After blending, I mix in some cream and half of the corned beef, and then scoop it into bowls before topping with the cheddar, remaining corned beef, chives, and those delicious crispy leeks I mentioned earlier. I'd say make sure to eat it warm, but honestly, I'd be surprised if anyone had the willpower to wait long enough for this soup to cool. If you think it looks good in photos, I've gotta tell you, it looks a million times better in person.
Whip this Irish Baked Potato Soup with Corned Beef and Crispy Leeks together for St. Patrick's Day, or just whenever the next time is that you've got a craving for creamy, rich, velvety potato soup! And while you're at it, don't forget to take a picture and tag #hostthetoast on Instagram or Twitter. I can't wait to see yours.
Print
Irish Baked Potato Soup with Corned Beef and Crispy Leeks
---
Author:

Total Time:

2 hours

Yield:

6

servings

1

x
½

cup

(1 stick) unsalted butter

3

leeks, divided

1

small onion, sliced

4

cups

peeled and diced russet potatoes (about 3 potatoes)

4

cups

chicken broth

1 tablespoon

olive oil

¼

cup

all purpose flour

2 teaspoons

paprika

2 teaspoons

garlic powder
Kosher salt and black pepper, to taste

1

cup

heavy cream

8

ounces

cooked corned beef, chopped

6

ounces

Irish cheddar cheese, shredded

1

bunch chives, chopped
---
Instructions
Melt the butter in a large pot over low heat. Chop 2 of the leeks, light green and white parts only. Rinse the leeks and then pat dry. Add the leeks and onion to the pot and cover. Cook for 20 minutes.
Add the potatoes to the pot and stir to combine. Cover and cook for an additional 15 minutes.
Pour in the chicken broth and bring the mixture to a boil. Reduce the heat to a simmer and cook until the potato is very soft, about 30 minutes.
As the soup cooks, prepare the crispy leeks. Preheat the oven to 425 degrees F. Cut the remaining leek into long, thin strips. Rinse the strips and then pat dry.
Drizzle the leeks with up olive oil in a large bowl until covered, up to 1 tablespoon. Toss the oiled leeks with the flour, paprika, garlic power, and a generous amount of salt and pepper, until coated.
Spread onto a baking sheet and bake until crisp, about 10 minutes. Let the leeks cool on the sheet.
Once the potatoes are soft, use a hand blender to puree the soup mixture until thick and smooth. Return the pot to heat and mix in the heavy cream. Season with salt and pepper, to taste, and add in half of the chopped corned beef.
Top with the remaining corned beef, cheddar cheese, chives, and crispy leeks, to serve.
Prep Time:

30 mins

Cook Time:

1 hour 30 mins