What do you get when you combine garlic knots, melty mozzarella, and mini Italian meatballs? You get the perfect party appetizer: Cheesy Garlic Meatball Bombs. It's like a garlic-butter-slathered meatball sub, but snack-sized, and minus the mess.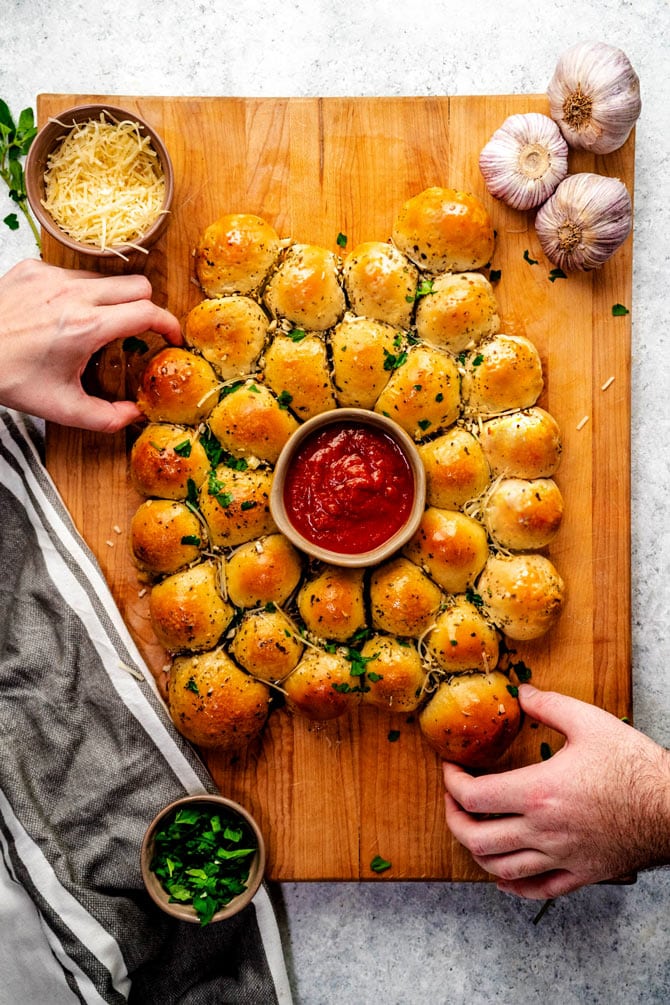 PARTIES CALL FOR PULL-APART BREAD
Whether there's a holiday, birthday, or game day get-together around the corner, I always prepare a pull-apart dish.
After all, what's more perfect for a party than an appetizer you take turns tearing pieces off of as you chat around the table? Recipes like Pigs in a Blanket Baked Brie, Apple Fritter Pull Apart Bread, Pesto Chicken Tarte Soleil, Bacon Beer Cheese Bread Bowl, and Spinach and Artichoke Dip Stuffed Garlic Bread get devoured without fail every time.
CHEESY GARLIC MEATBALL BOMBS
Pull-apart recipes are my go-to because nine times out of ten, the presentation is fun, the preparation is simple, and the flavor is packed. And these Cheesy Meatball Bombs are no exception.
We call them meatball bombs because they're exploding with flavor and melted mozzarella cheese, which is always a hit with a crowd. 
By simply arranging the bombs around a bowl on the baking sheet before popping them in the oven, we leave the perfect space in the middle to add a bowl of marinara for dunking as friends and family pull pieces off.
This pull apart recipe is also easy to tear-- the bread only slightly fuses in the oven, so there's no need to fuss with a knife, and no worry that tearing them apart will result in a messy mozzarella spill. Everything stays contained in a garlicky, buttery biscuit package. That is, until you tear 'em open to check out that glorious cheese pull.
INGREDIENTS FOR CHEESY GARLIC MEATBALL BOMBS
Considering this recipe's got layers --specifically, a layer of cheese, inside of a layer of meatball, inside of a layer of biscuit, all brushed with a light layer of garlic butter-- the ingredients list is really rather short and simple:
Ground Beef
Breadcrumbs
Egg
Parsley
Garlic
Parmesan Cheese
Mozzarella Cheese
Refrigerated Biscuits
Butter
Italian Seasonings
Marinara Sauce
The key here is store-bought refrigerated biscuits, which keep the process uncomplicated and serve as an easy stand-in for your typical garlic knot dough. Because the biscuits are already shaped into rounds and comprised of flaky layers, all you have to do is split them apart at the middle and you've got perfect-sized portions for wrapping the meatballs.
HOW TO MAKE THESE MEATBALL BOMBS
Make the meatballs. This mixture isn't too complicated-- just add the meat, breadcrumbs, eggs, and seasonings together and mix until it's well combined. Then portion into small balls. I like to use a cookie scoop to keep them consistent.
Stuff with mozzarella. Flatten the meatball mixture in your hand slightly and place a cube of mozzarella in the center. Then seal the meat around the cheese and roll in your hands to make sure there's no cracks where the mozzarella can leak out.
Brown in the oven. Pop them in the oven briefly to brown them and to ensure that the meatballs will be cooked through in the center of the Meatball Bombs.
Wrap in biscuit dough. Now that the meatballs have been cooked, it's time to wrap them. Halve refrigerated biscuits horizontally by peeling apart the layers, wrap each half of the dough around a meatball, and pinch to seal.
Arrange & bake. Placing the meatball bombs seam side down around a small bowl ensures that there will be space for serving the marinara right in the center. Remove the bowl and bake until the dough is golden brown.
Brush with garlic butter. These garlic knot inspired bombs need garlic butter, of course. Just before they're done cooking, give them a generous brush with a mixture of butter, minced garlic, and Italian seasonings. Then pop 'em back in the oven for just 5 more minutes.
Serve with marinara. Place a small bowl of marinara sauce for dipping in the center, and sprinkle the Meatball Bombs with Parmesan cheese and parsley before serving. Let everyone dig in while they're warm!
PREFER PORTABLE SNACKS? OR PERHAPS A FUN DINNER?
If you don't have a party coming up on the horizon, you don't have to file this recipe away for later. There's never a bad time for meatballs and cheese, after all.
Instead, feel free to scale them up with bigger meatballs in the center, and serve for dinner. It's definitely a meal that no kid (or adult) will complain about.
They also make great on-the-go snacks. Bake them individually (either separated on a pan or even in a muffin tin!) and allow to cool before popping in a large freezer bag for later. When the craving strikes, heat one up and enjoy. They're tastier than hot pockets!
And if you're going for the portable route, you can always add your marinara into the bombs themselves. You can add a tiny smear between the meatball and the dough so  you get the flavor without having to dunk. Just remember that a little goes a long way here, and if you add too much the Meatball Bombs will be hard to seal.
WATCH THE VIDEO
Print
Cheesy Garlic Meatball Bombs
---
Author:

Total Time:

45 minutes

Yield:

3

0

1

x
1

pound ground beef

1 cup

Italian seasoned breadcrumbs

1

large egg

¼ cup

chopped parsley, divided

8

garlic cloves, minced, divided

¼ cup

Parmesan cheese, plus more for serving

Kosher salt & black pepper, to taste

1

pound mozzarella cheese, cubed

2

cans refrigerated biscuits (such as Pillsbury flaky grands)

½

stick (4 tablespoons) butter, melted

1 tablespoon

Italian seasoning

Marinara sauce, to serve
---
Instructions
Preheat the oven to 450

°

F.

In a large bowl, add ground beef, breadcrumbs, egg, half of the parsley, 1 tablespoon of the minced garlic, half of the Parmesan cheese, and the salt and pepper. Mix until well-combined.

Scoop the meatball mixture into small balls-- about 1 ½ tablespoons each-- and press a cube mozzarella into the center. Seal the meat tightly and evenly around the cheese. Place on a nonstick baking sheet.

Cook the meatballs in the oven until just browned, about 6-8 minutes. Reduce the oven temperature to 350

°

F and let the meatballs sit until cool enough to handle.

Meanwhile, open the refrigerated biscuits. Split the biscuits in half horizontally by carefully peeling apart the layers, to create a total of 32 biscuit dough rounds.

Line a baking sheet with parchment paper and place a small bowl in the center. Arrange the biscuit-wrapped meatballs snuggly around the bowl. Remove the bowl and bake until lightly golden, about 10-12 minutes.

In a small bowl, combine the melted butter, Italian seasonings, and remaining garlic. Brush generously over the biscuits. Return to the oven for 5 more minutes.

Sprinkle the meatball bombs with the remaining parmesan cheese and parsley, if desired. Place a small bowl of marinara sauce in the center for dipping. Serve warm.
Prep Time:

20 mins

Cook Time:

25 mins