Pan-Fried Garlic Butter Steak with Crispy Potatoes and Asparagus. Meet the equally simple and sexy date night meal that will change the way you tackle romantic dinners forever. The key? A high heat sear on the steak followed by lots of basting with garlicky herb butter to finish off the cooking process. 
At the risk of sounding overly mushy-- which is something that I usually avoid at all costs unless I'm talking about Roux-- I've got to tell you that James should be canonized as a literal saint, or awarded some kind of medal, or evaluated, perhaps, by a professional for his decision to stick by me since I started blogging 6 years ago.
There are about twelve hundred very valid reasons for that statement, but the one that matters today is the fact that every single dinner I make must first go through "the process." Do you know what I mean by "the process"? I mean first underestimating how long it will take until the food is ready, then testing and tweaking the recipe, then panicking when I realize I need more of an ingredient (and making James run to the store for it), then finishing up, photographing, maybe filming, and then-- only then, when it's late and the food is cold and James has already resigned himself to eating PB&J to hold himself over-- then, he gets to eat.
So for Valentine's Day last year, I promised that I would make James a meal that I did not photograph or use for the blog. I'd make anything he wanted, cooked solely for him. Anything, served WARM and ON TIME.
And I delivered. Boy did I deliver. Because the man asked for steak, and what I gave him was the best damn steak-- no, the best damn date night dinner-- that he's ever eaten.
That's the story of how this Pan-Fried Garlic Butter Steak with Crispy Potatoes and Asparagus was born.
True to my word, I didn't photograph this recipe at all... that year. But here we are, one year later, and I couldn't resist
going back to that recipe to share it with you.
ALL ABOUT PAN-FRIED GARLIC BUTTER STEAK WITH CRISPY POTATOES AND ASPARAGUS
The title of the recipe may be long, but the process to make it is short. Intentionally very, very short for a main course and two sides. We're talking "less than an hour" short, because no one wants to be stressing down to the last second or making their date wait when they've got a romantic meal planned, right?
So, in less than an hour, you make tender asparagus, crisp potatoes, and beautifully seared steak, all covered in a garlicky, herby, steak-juice-infused butter, and all requiring just one skillet. (Well, one pan plus a pot for par-cooking the potatoes.)
Here's how it works:
First, you boil and then simmer the potatoes in a pot of water until tender.
Then, you sear your steak in a hot skillet to form a gorgeous browned crust.
After turning down the heat, you add butter, herbs, and lots of garlic to the pan and you baste your steak with the melted butter until it's cooked to your desired doneness.
Then, you set the steak aside to rest for 10 minutes.
Meanwhile, you add your potatoes back to the skillet, cut-side down, and you add your asparagus right in the center.
You toss the asparagus to cook it evenly without letting it wilt or shrivel, and you leave the potatoes undisturbed in the butter / steak juices mixture to crisp.
Once it's all cooked, you slice your steak, serve it with the potatoes and asparagus, and, if desired, pour over a bit of the remaining juices and fat for extra flavor.
That's all it takes, and it's just as impressive as it is absolutely, phenomenally delicious.
HOW TO PERFECTLY PAN-FRY A STEAK
So, as I mentioned just moments ago, this steak recipe involves both pan-frying and basting with garlicky butter. However, there's a bit more to it than that. I'm going to take a few minutes to really drill down on the details so that you truly can't go wrong with this recipe.
The most important step in making a great steak is not steak selection. Most steaks-- low quality, high quality, inexpensive or cheap-- can be made delicious in one way or another. But it does help to start off with the right kind of steak for the specific method, and for this recipe, you want to use a thick steak with lots of marbling. I always go for the ribeye.
You can cook ribeye with or without the bone and it makes very little difference in texture and flavor. Presentation-wise, bone-in can be nice, but I generally opt for boneless for three reasons:
If you're slicing the steak to serve between two people, the bone needs to be cut off anyway before serving; and if you're making 2 steaks at once in the skillet instead (which, by the way, you can do), going with boneless prevents overcrowding and steaming.
The bone can prevent the steak from fully coming into contact with the hot skillet, making it harder to get even browning. It's not a big deal, since you can baste those areas with the hot butter to get them to brown, but it's nice to not have to worry about it.
Boneless is generally less expensive due to the fact that it weighs less.
Once you've got your steak picked out and you're ready to cook it, you need to get the skillet going. You want it to be hot-- as hot as possible-- so that you can get a good sear on the steak. For this reason, it's not a good idea to start off with butter, which has a relatively low smoking point. Instead, you want to begin with oil and add the butter later, after reducing the temperature.
So get the oil nice and hot, and season your steak all over, very generously, with salt and pepper.
Then, when the skillet is just beginning to smoke, add your steak in. A word for the wise: cooking in a hot cast iron skillet will make your house smokey, so turn on the overhead fan if you have one, open some windows, do whatever you have to do to avoid the smoke detectors going off. You don't want to have to run around trying to figure out how to shut them off while you should be tending to your steak. I speak from past experience.
Once the steak is in the pan, common practice is to let it brown on one side without disturbing it, and then flip to the other side to finish searing. That's also how I used to make my steaks. However, I later learned from Kenji of Serious Eats that that's not the best way to go about it. Instead, flipping often will encourage even browning without allowing one side to cool too much as the other sears. So flip often until that crust develops (don't forget to sear the sides, too), and then you're ready to baste with butter.
It's important to turn down the heat at this point so that you don't overcook the steak and so that the butter doesn't burn. Now add in the butter-- 4 tablespoons worth-- along with ingredients that will flavor the butter (and, therefore, the steak). 8 cloves of peeled garlic and a couple sprigs of each fresh rosemary and thyme will do the trick.
When the butter is melted, it's time to baste the steak. It'll be hard to spoon the butter over as-is, so tilt the skillet down slightly so that the butter collects near the handle and spoon it over from there. Quickly splash it all over the steak as you continue to cook it to your desired doneness, again flipping the steak occasionally to make sure everything's evenly cooked.
And make sure you really know what temperature your steak is at. Don't make it a guessing game; using a thermometer is key here! You'll want to remove it from the pan when it gets to about 110°F for rare, 120°F for medium-rare, 130°F for medium, 135°F for medium-well, and 145°F for well-done. I generally recommend medium-rare to medium doneness.
Lastly, let the steak rest for 10 minutes or so (which gives you time to finish up the sides). During that time, the steak will continue to cook through slightly as it cools, and the juices will redistribute inside of the steak, so that they wind up in your steak where you want them instead of spilling out all over your cutting board.
That's all there is to cooking the perfect pan-fried steak. But for all that I can say in words, it's probably easier to understand if you see it in action! I've made a video of not only preparing the steak, but the whole dish. Check it out below!
PAN-FRIED GARLIC BUTTER STEAK WITH CRISPY POTATOES AND ASPARAGUS VIDEO
Print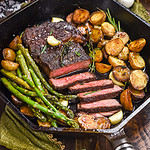 Pan-Fried Garlic Butter Steak with Crispy Potatoes and Asparagus
---
Author:

Total Time:

40 mins

Yield:

2

servings

1

x
---
1

pound

small potatoes, halved

1

(1.5"-2" thick) ribeye steak
Kosher salt and freshly ground black pepper

3 tablespoons

vegetable oil

4 tablespoons

butter

2

sprigs rosemary

2

sprigs thyme

8

cloves garlic, peeled

8

ounces

fresh asparagus, trimmed
---
Instructions
Add the potatoes to a medium-sized pot and cover with water. Bring to a boil, reduce to a simmer, and continue to cook until the potatoes are tender, about 6-8 minutes. Drain the potatoes and set aside.
Season the steak generously all over with salt and pepper. Heat the oil in a large cast iron skillet over high heat until beginning to smoke. Add the steak to the skillet and cook, flipping every 30 seconds or so for a total of 4 minutes, or until a brown crust forms. Sear the sides as well.
Reduce the heat to medium and add the butter, garlic, and herb sprigs. Once the butter has melted, tilt the pan slightly so that the butter collects by the handle and use a spoon to splash the steak with the hot butter. Continue to baste, flipping the steak occasionally, until a thermometer inserted into the thickest part of the steak registers 120-125°F for medium rare, or 125-130°F for medium (about 3-4 more minutes). Set the steak aside to rest.
Meanwhile, place the potatoes back into the skillet, cut-side-down. Make space for asparagus in the center of the skillet and add it. Cook, tossing the asparagus occasionally (but leaving the potatoes undisturbed) until the asparagus is just tender, about 6 minutes. Remove the asparagus and set aside on a serving plate. Continue to cook the potatoes until golden, about 2 more minutes. Set aside with the asparagus.
Slice the steak, if desired, and serve with the potatoes and asparagus.
Prep Time:

15 mins

Cook Time:

25 mins