Everyone goes crazy over this Antipasto Tortellini Pasta Salad! It's a flavor-packed potluck favorite, and leagues better than anything you can get from the grocery store.
This loaded pasta salad recipe features multiple cheeses, meats, olives, peppers, and more to create a hearty summer side dish. It'll definitely become your go-to pasta salad!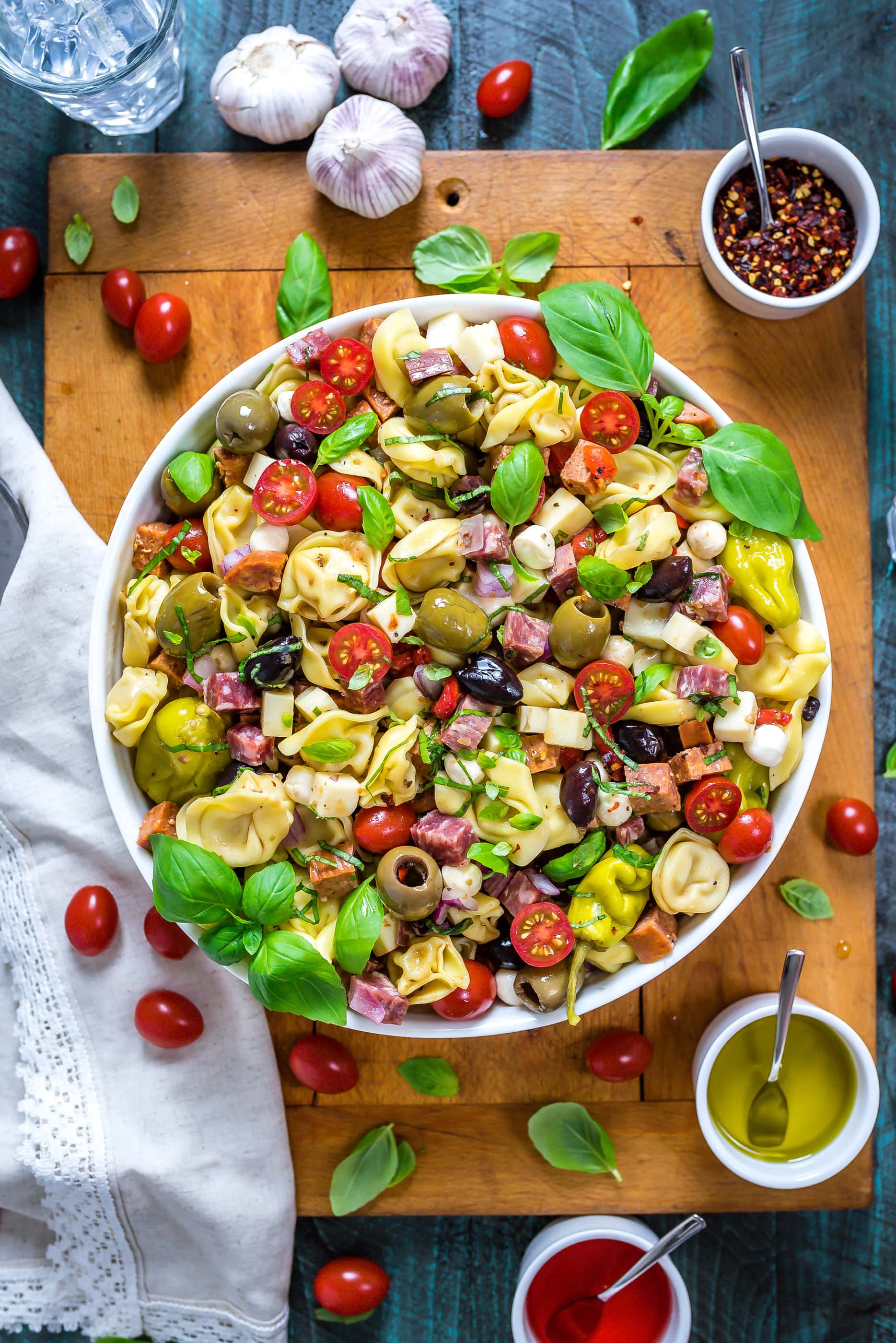 I've spent basically the entire summer trying to think of a creative pasta salad recipe to really excite you guys. Something drastically different but still a crowd-pleaser, making use of exotic mix-ins and unexpected ingredients. Because honestly, I love (a good) pasta salad, but I couldn't bare to choke down another boring bite of mayonnaise-slathered macaroni or barely-dressed swirly pasta with sliced olives and chunks of pepper jack, let alone post it here.
But even with a long list of creative and kooky flavor combinations, nothing really sparked my interest. It wasn't until I was actually asked to whip together a pasta salad for a party that I realized the honest truth: try as you might, nothing will beat a classic Italian-inspired pasta salad– but you have to do it right.
If you're doing pasta salad, load it up and make it steal the show at the whole dang cookout, you know?
And if you're doing Italian pasta salad, well, you better make it antipasto pasta salad with all of the mainstays.
Pepperoni. The good olives. All of the cheeses. The whole nine.
And everyone will love it.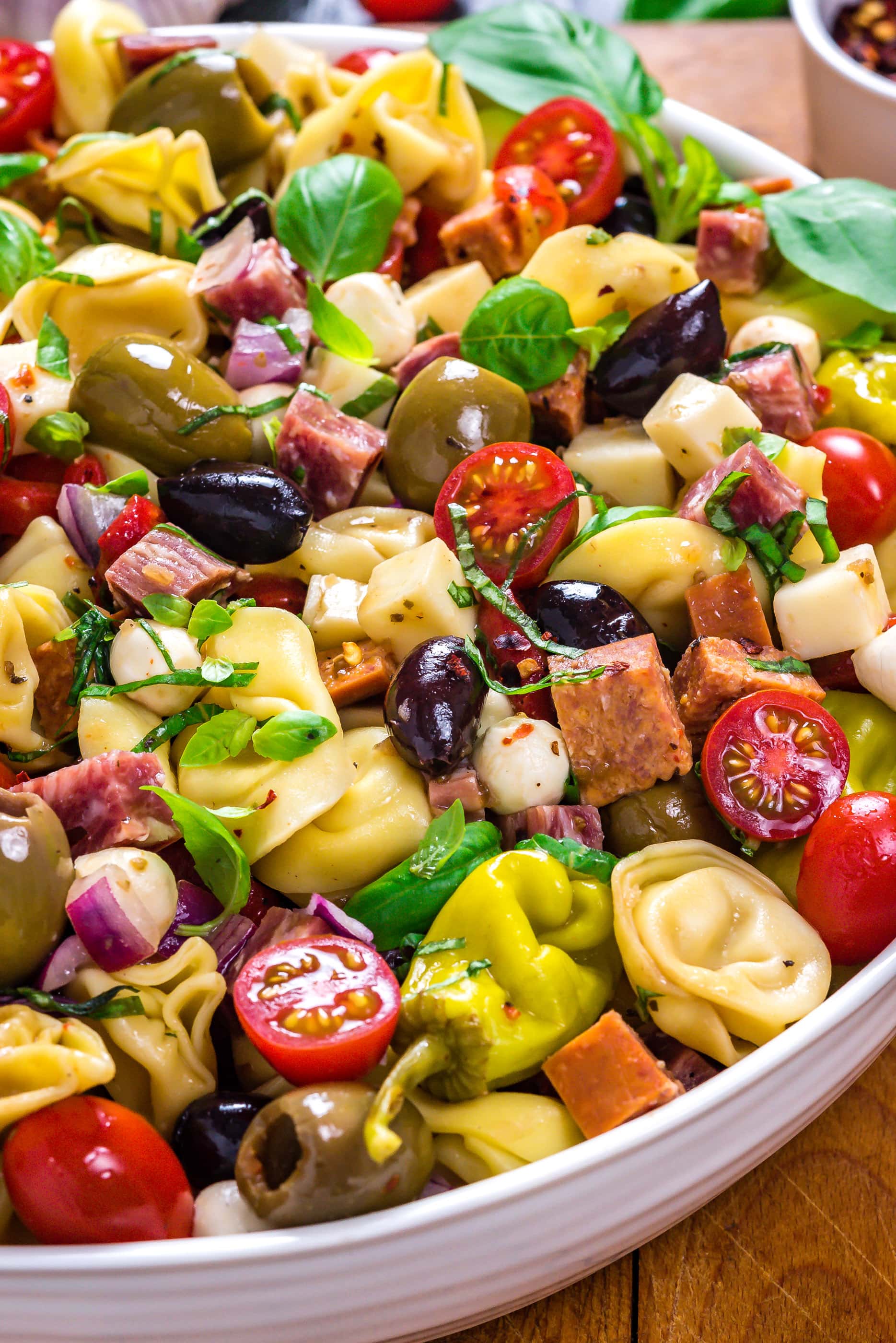 WHAT DO YOU NEED TO BUY TO MAKE A TORTELLINI PASTA SALAD?
I almost feel like some sort of fraud posting a "recipe" here that requires so little effort and is mostly thrown together. But when people rave about a tortellini antipasto salad like it's the holy grail of your entire culinary career, you don't fight sharing the recipe. You make a post for it.
So here's what the salad includes: 
Cheese tortellini. Who doesn't love extra cheesiness? Swapping regular old swirly pasta for cheese tortellini makes every forkful more exciting.
Pearls of fresh mozzarella cheese. Little bite-sized cheese balls couldn't be more perfect for a pasta salad!
Sharp provolone. First of all, MORE CHEESE. But we don't opt for sharp provolone for no reason. The aged, piquant flavor of sharp provolone is really different than chewy fresh mozzarella or creamy tortellini filling. You want a little bit of everything here.
Pepperoni. If you want meat in your pasta salad, you can't go wrong with bold, smoky, spicy pepperoni.
Soppressata. Soppressata isn't usually as heavily-seasoned as pepperoni, but packs in extra flavor as another cured meat.
Red onion. Red onion is sharp enough not to get lost in the sea of other ingredients, and it tastes great raw, making it a prime candidate for all salads, including this pasta salad.
Cherry tomatoes. Antipasto salad just isn't complete without tomatoes. A bunch of halved, juicy cherry tomatoes provide extra acid and freshness to the mix.
A mix of pitted olives. Those generic canned black olives don't have anything on a good mix of pitted olives from the salad bar. Just load a container up with as much as you need and make sure you have a good mix of options like rich kalamata olives, buttery cerignolas, herbal niçoise, and more.
 Sliced roasted red peppers. These sweet and vinegary charred bell peppers really perk up the tortellini salad and help to balance the heavier ingredients.
Whole pepperoncini peppers. Add this sweet and tangy pepper in as well for extra flavor and a slight kick. 
Fresh basil. Fresh herbs (such as basil, in this instance) really help to elevate a pasta salad and make it taste lighter and more balanced.
Dressing. You can buy a premade dressing, but I personally prefer to whip my own together with staple ingredients I always have on hand like red wine vinegar, olive oil, and garlic.
Now, I'm going to be honest: If you're starting without anything already in the pantry, buying all of the ingredients can get a little expensive. There's a lot in this pasta salad. I always have roasted red peppers and pepperoncinis on hand, and we've got more basil than we know what to do with from our summer bounty. But if you have to scale back, don't be afraid to.
This pasta salad is versatile, and you can absolutely tweak it to work for you. That's the great thing about antipasto– you can really get creative with your mixture of meats, cheeses, and other add-ins!
PUTTING IT ALL TOGETHER COULDN'T BE EASIER
Picking out the ingredients is the hard part. Putting it all together? It's as simple as can be.
There are only 3 steps to making this pasta salad:
Cook the tortellini: Follow the directions on the box and cook your tortellini according to the package, then immediately rinse them in cold water.  The cold water will prevent the pasta from overcooking as it slowly cools, and it will stop the tortellini from sticking together.
Make the dressing: Whisk together all of the dressing ingredients, or take a shortcut and go with a premade Italian dressing.
Toss it all together: Combine the pasta, antipasto ingredients, and salad dressing in a large bowl and toss until everything's evenly coated. Then refrigerate until you're ready to serve!
CAN I MAKE MY PASTA SALAD AHEAD OF TIME?
You absolutely can make this pasta salad ahead. In fact, allowing your pasta salad to sit in the fridge for at least a couple of hours will make it taste even better– the flavors have time to combine and develop that way!
As long as you keep the tortellini salad covered in the fridge you can make it a few days in advance and it will stay crisp and fresh-tasting!
Print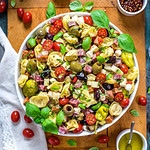 Antipasto Tortellini Pasta Salad
---
Author:

Total Time:

28 minutes

Yield:

8

servings

1

x
For the Antipasto Tortellini Pasta Salad:
20

ounces

cheese tortellini,

1 1/2

cups

grape or cherry tomatoes, sliced in half

1 1/2

cups

mixed pitted olives

1

cup

(5 ounces) chopped pepperoni

1

cup

(5 ounces) chopped sopressata

1

cup

mozzarella pearls

1

cup

(5 ounces) chopped sharp provolone cheese

3/4

cup

sliced roasted red peppers

1/4

red onion, diced

8

whole pepperoncini peppers, optional

6

fresh basil leaves, sliced into thin ribbons
For the dressing:
1/2

cup

olive oil

1/4

cup

red wine vinegar

2

cloves garlic, minced

1 teaspoon

dried oregano
Pinch of red pepper flakes
Kosher salt, to taste
---
Instructions
Cook the tortellini in salted water according to package instructions, until al dente. Strain and rinse with cold water to prevent sticking.
Add the tortellini and remaining pasta salad ingredients to a large bowl. Set aside.
In a large jar or blender, combine the dressing ingredients and shake or blend until well-combined. Pour the dressing over the pasta salad and toss to evenly distribute. Refrigerate for at least 2 hours.
Prep Time:

20 mins

Cook Time:

8 mins