Light, refreshing, easy-to-make, and bursting with flavor, this fruit-loaded Apple Cider Sangria is the perfect big-batch Fall drink.
There's no denying it: The holiday hustle is here and it's time to buckle down. But first, sangria.
With all of the holiday rush and fuss, while we're frantically coordinating with family and planning the perfect Thanksgiving feast, it's almost impossible to relax and-- you know-- genuinely enjoy the season. But I, for one, think we all deserve to take a moment to drink a fantastically fall-worthy beverage and take the edge off a bit. Specifically, one that features warm whiskey, crisp white wine, an abundance of fruit, spiced apple cider, and a caramel cinnamon-sugar rim. 
What do you think?
If this Apple Cider Sangria doesn't seem like exactly what you need to survive your uncle's wacky political banter at the Thanksgiving table, I don't know what does. You could also make a batch for your Friendsgiving get-together (where it will be much appreciated), or maybe you'd just like to drink it on a cold fall day as you angrily eye everyone who is already putting out Christmas decorations. The point is that there's really no wrong time to enjoy this sangria. As long as you can get your hands on some cider, it's sipping time, and you're going to love every second of it.
WHAT'S IN APPLE CIDER SANGRIA?
Like most sangrias, Apple Cider Sangria allows for a fair amount of customization, so feel free to go off-script a little here. However, my favorite way to make it is definitely with the following ingredients:
White Wine.

I most prefer dry white wines for this sangria such as Pinot Grigio or Chardonnay, but the most important thing that you have to consider when choosing a white wine is, "What do you like?" The wine makes up a big portion of this Apple Cider Sangria, so it's important that you don't buy something that you normally wouldn't want to drink. That being said, also don't feel like you have to splurge with the big bucks. Because there are other components at play here, a mid-range bottle is best.

Apple Cider.

You can't have Apple Cider Sangria without apple cider! I'm not talking about hard cider here, and I'm DEFINITELY not talking about

apple cider vinegar

, by the way-- just the normal apple cider you can get in jugs at the grocery store this time of year. 

Whisky. Oftentimes, you'll see brandy or rum being added to sangria recipes (or in the case of my Strawberry Margarita Sangria, tequila), but for Fall I really love the subtle spicy, grainy flavors of whisky, especially with all of the apples! You can use bourbon if you'd like, or even a cinnamon-flavored whisky like Fireball for extra kick.
Lots of Fruit.

When I say lots, I mean

lots.

I use a bunch of apples (both Granny Smith and Honeycrisp), pears, and oranges so there's plenty of autumn produce in every glass. You can also add more citrus (such as lemon or limes), cranberries, or pomegranate seeds if you want to switch things up.

Cinnamon.

Whole cinnamon sticks add flavor to all of the liquid when they've been left to soak for at least a couple of hours. It's subtle, but a great addition.

Ginger Ale.

Ginger ale pairs wonderfully with the ingredients in this sangria, from the apples to the whisky to the wine, and the carbonation keeps things fizzy before serving.

Caramel Cinnamon-Sugar Rim.

Melted caramel, cinnamon, and sugar make for a heck of a sweet rim, sure, but it's also a heck of a delicious rim. Not to mention, it earns big bonus points for presentation.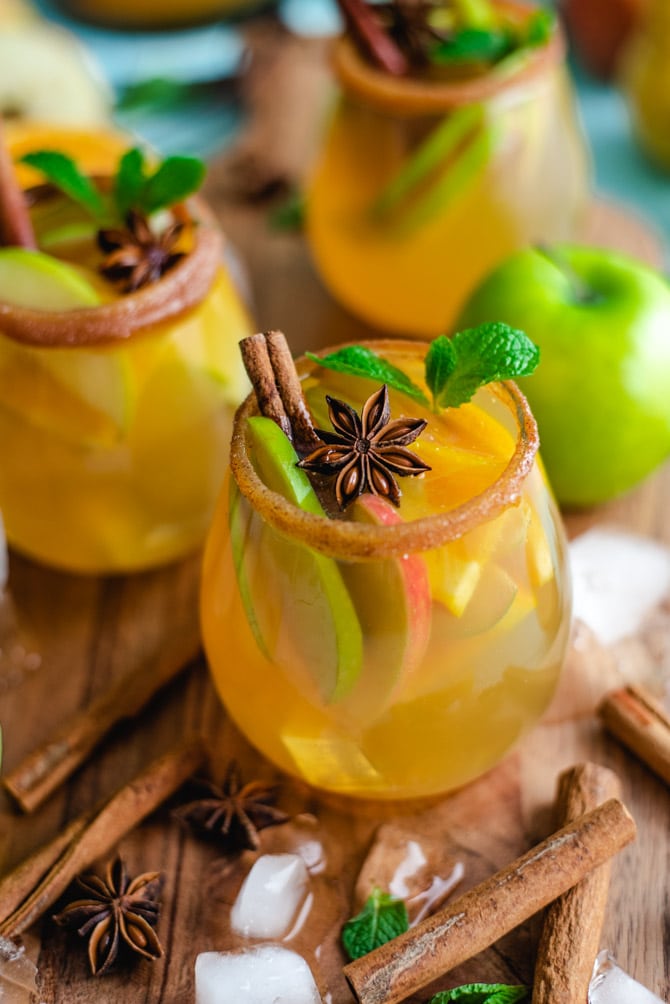 A FAST AND EASY BIG BATCH COCKTAIL
I guess "fast" might be misleading-- this recipe does taste best after refrigerating for at least a few hours to give time for the flavors to meld-- but the actual process of making the Apple Cider Sangria takes mere minutes. What more could a person ask for when it comes to a drink for the holiday season? There's enough in one pitcher's worth to serve to the family, but the effort is super minimal. Not to mention, the fact that you can and should make the sangria ahead means that you don't have to fuss over anything when your guests arrive!
MORE COCKTAIL RECIPES TO ENJOY THIS SEASON
WATCH THE APPLE CIDER SANGRIA VIDEO:
Print
Apple Cider Sangria
---
Author:

Total Time:

30 mins

Yield:

8

1

x
4

apples, cored and thinly sliced

1

pear, thinly sliced

1

orange, cut into thin wedges

3

whole cinnamon sticks, plus more to serve

2

cups

apple cider

½

cup

whisky

1

(750ml) bottle white wine, such as pinot grigio

½

cup

warm caramel

¼

cup

cinnamon-sugar
Ginger ale, to top
Fresh mint leaves and star anise to garnish, optional
---
Instructions
Fill a large pitcher with the sliced fruit. Top with the whole cinnamon sticks, and then pour over the apple cider, whisky, and wine.
Stir the mixture until well-combined and refrigerate until ready to serve. Refrigerating for at least 2 hours will allow the flavors time to marry.
Before serving, dip the rim of each glass in the caramel and then in cinnamon-sugar.
Pour the sangria ¾ of the way up the glass and top with ginger ale. Garnish with additional cinnamon sticks, mint leaves, and star anise, if desired. Serve.