"So I see that there's a Google search tab for 'cookie-induced psychosis' open on your computer," James said the other morning. "Exactly how many more cookies are you planning to make this week?"
If anyone had any doubts about these truly being THE BEST peanut butter cookies, please let that be Exhibit A. When you are so dedicated to cookie perfection that the resulting sugar rushes lead you to temporarily question your sanity, you don't cut any corners. You don't settle. You make batch after batch of cookies, meticulously tasting and testing and tweaking the recipe until they're so good that you're in utter disbelief that you made them yourself.
I missed deadlines for these cookies. I cancelled longstanding plans with friends I hadn't seen in months. I lost sleep and I gained weight for these cookies.
And they were absolutely, 100% worth it.
Allow me to present Exhibit B: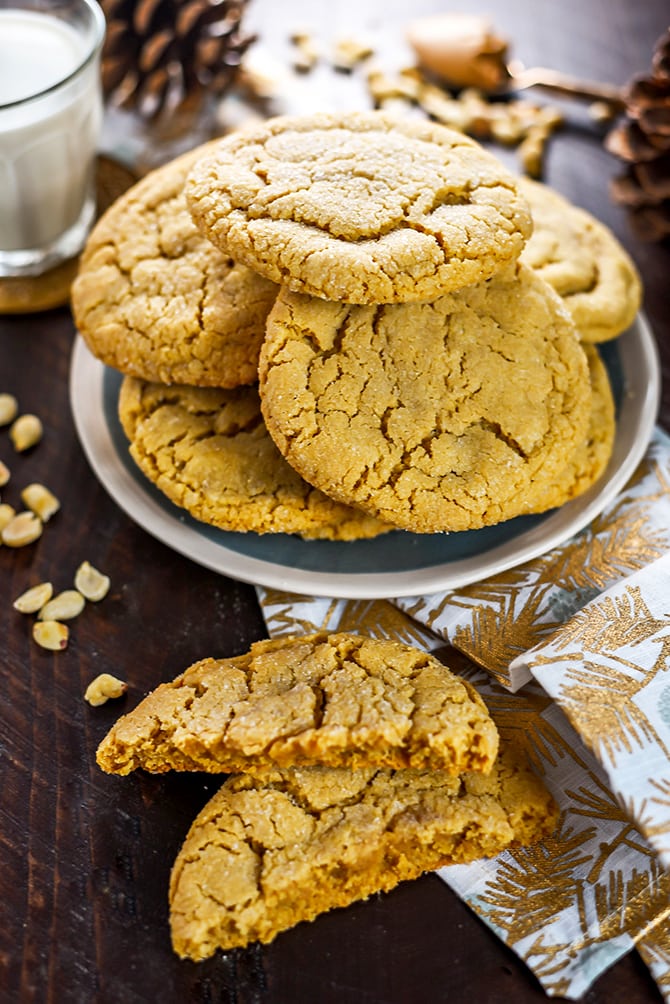 Don't those look like they'd be "The Best Chewy Café-Style Peanut Butter Cookies"? Well they taste even better.
I decided that I'd make these cookies a month ago, when a follower on reddit told me that they loved my recipe for The Best Chewy Café-Style Chocolate Chip Cookies and requested that I make a peanut butter version. You guys, if you ever have recipe requests or suggestions, hit me with them. This became such a fun challenge (you know, despite the whole crazy obsession part)!
Not to mention, now I have a brand new must-make recipe for cookie exchanges, ugly sweater parties, birthday celebrations, and satisfying my general peanut butter cookie cravings. So that's great, too. 👍
Here's what makes these cookies so awesome:
They're super soft and chewy. Not like the fluffy, cakey kind of soft, but the kind of soft where the cookie bends instead of crumbling apart, and almost seems undercooked because it's still got that cookie-dough-like quality to it even when it's fully baked. To get them this way, I used a lot of the same tricks that I discovered when coming up with my chocolate chip cookie recipe: melting the butter before mixing it in, using more brown sugar than white sugar, and adding cornstarch to the cookies.
Not only is the texture awesome, but they've got the perfect amount of sweetness and peanut butter flavor, plus that slight background toasted toffee sort of taste that you crave in a really great cookie.
And because I knew you'd love them so much, I made them huge so that you can get more bang for your buck. (Check out how big they are compared to James' hand!) Small cookies just aren't satisfying, you know?
Speaking of satisfying, when I was making the billion batches of cookies, I found that a fresh-from-the-oven peanut butter cookie topped with vanilla ice cream is probably the closest thing to heaven on earth I'll ever experience. I highly recommend it, especially if you're a huge peanut butter lover.
Side note: I also learned as I was making them that Roux hates peanut butter. What kind of puppy doesn't like peanut butter? Considering she's already SEVENTY-FOUR POUNDS you would think she wouldn't be that picky.
Can you believe that she's that huge already? I just realized that the last (and only) time I shared a picture of her on the blog was just weeks after we got her, when her whole body was about as big as her head is now! I promise I'll post an updated photo when she gets groomed next week. I'll even put her in her Christmas sweater first.
Yes, we got her an XXL dog Christmas sweater. We are those people.
Okay, okay, back to the cookies now. I don't know what else to say about these peanut butter cookies, except for that our mouths should be full of them. I guess you just can't know how truly perfect they are until you try them yourself. Trust me, they're worth going nuts over.
Or should I say "peanuts" over?
No, probably not. But really, everyone's going to go crazy over these, so make sure you make plenty!
Print
The Best Chewy Café-Style Peanut Butter Cookies
---
Author:

Prep Time:

45 mins

Cook Time:

12 mins

Total Time:

57 minutes

Yield:

12

-

16

cookies

1

x
Scale
Ingredients
2 1/2 cup

s all-purpose flour

1 teaspoon

baking powder

1 teaspoon

baking soda

1 teaspoon

cornstarch

1 teaspoon

salt

1 cup

(

2

sticks) unsalted butter, melted and cooled

1 cup

light brown sugar, packed

3/4 cup

granulated sugar for the dough, plus 1/2 cup granulated sugar for rolling

1 cup

natural creamy peanut butter

2

large eggs, at room temperature

1 teaspoon

vanilla extract
---
Instructions
Line two baking sheets with parchment paper and set aside.
In a large bowl, whisk together the flour, baking powder, baking soda, cornstarch, and salt.
In a separate large bowl, use a hand mixer to cream together the cooled melted butter, the brown sugar, and 3/4 cup of granulated sugar until fully combined and slightly fluffy. Add the peanut butter, egg, and vanilla and mix until just evenly combined. Pour the flour mixture into the wet mixture and quickly mix until no clumps of flour remain. Make sure not to over-mix or your cookies will be puffy.
Roll the dough into 1/4 cup balls and roll them in the remaining granulated sugar. Place 6 cookie dough balls on each baking sheet, evenly spaced, and then gently press down on the tops with your palm to flatten slightly. Cover and refrigerate for 30 minutes. Preheat the oven to 350°F.
Uncover and bake the cookies for 12 minutes, or until just set around the edges but very soft and puffy in the middle. Allow the cookies to cool on the baking sheet fully without disturbing them to finish setting. Repeat with any remaining dough.
---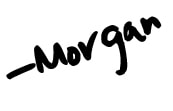 Get recipes delivered hot & fresh to your inbox!