They're called The Best Chewy Café-Style Peanut Butter Cookies for a reason-- these giant, irresistibly soft and chewy cookies are better than any peanut butter cookie recipe you've ever tried before. Their just-barely-crisped edges and ultra-creamy interior make them a peanut butter lover's dream.
"So I see that there's a Google search tab for 'cookie-induced psychosis' open on your computer," James said the other morning. "Exactly how many more cookies are you planning to make this week?"
If anyone had any doubts about these truly being THE BEST peanut butter cookies, please let that be Exhibit A. When you are so dedicated to cookie perfection that the resulting sugar rushes lead you to temporarily question your sanity, you don't cut any corners. You don't settle. You make batch after batch of cookies, meticulously tasting and testing and tweaking the recipe until they're so good that you're in utter disbelief that you made them yourself.
I missed deadlines for these cookies. I cancelled longstanding plans with friends I hadn't seen in months. I lost sleep and I gained weight for these cookies.
And they were absolutely, 100% worth it.
Allow me to present Exhibit B: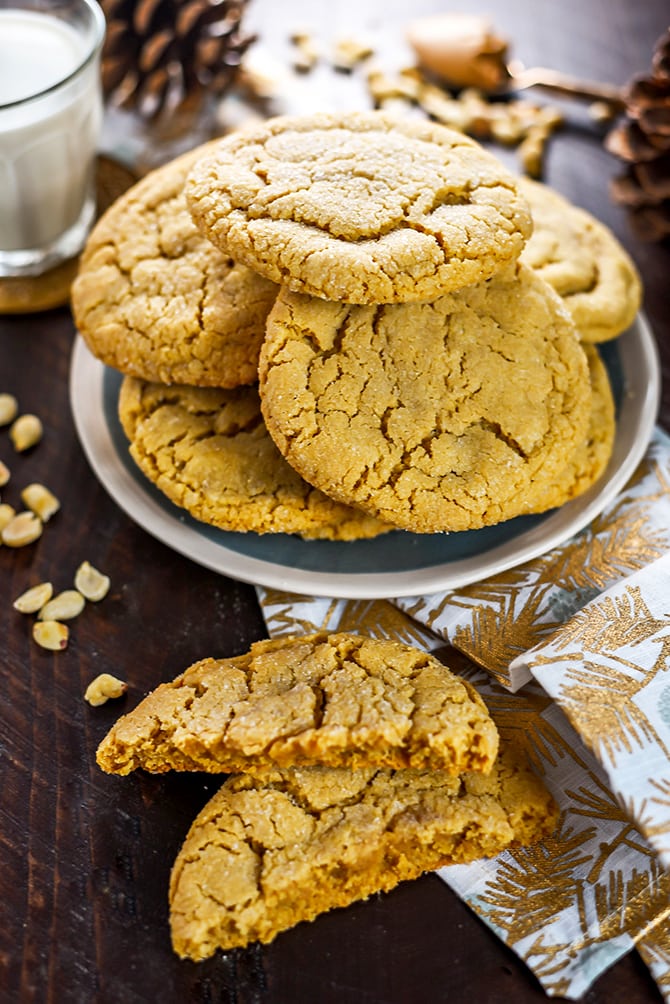 Don't those look like they'd be "The Best Chewy Café-Style Peanut Butter Cookies"? Well they taste even better.
I decided that I'd make these cookies a month ago, when a follower on reddit told me that they loved my recipe for The Best Chewy Café-Style Chocolate Chip Cookies and requested that I make a peanut butter version. You guys, if you ever have recipe requests or suggestions, hit me with them. This became such a fun challenge (you know, despite the whole crazy obsession part)!
Not to mention, now I have a brand new must-make recipe for cookie exchanges, ugly sweater parties, birthday celebrations, and satisfying my general peanut butter cookie cravings. So that's great, too. 👍
SO WHAT MAKES THESE THE BEST?
They're super soft and chewy. Not like the fluffy, cakey kind of soft, but the kind of soft where the cookie bends instead of crumbling apart, and almost seems undercooked because it's still got that cookie-dough-like quality to it even when it's fully baked. To get them this way, I used a lot of the same tricks that I discovered when coming up with my chocolate chip cookie recipe: melting the butter before mixing it in, using more brown sugar than white sugar, and adding cornstarch to the cookies. 
Not only is the texture awesome, but they've got the perfect amount of sweetness and peanut butter flavor, plus that slight background toasted toffee sort of taste that you crave in a really great cookie.
And because I knew you'd love them so much, I made them huge so that you can get more bang for your buck. (Check out how big they are compared to James' hand!) Small cookies just aren't as satisfying, you know? As much as I love the classic cookies, I'll take one giant chewy cookie over a dozen of the tiny, criss-cross pattern kind any day.
BUT CAN I MAKE THESE WITH THE CRISS-CROSS PATTERN IF I WANT?
I like the crackly tops, but don't worry, if you're craving the nostalgic criss-cross tops, this peanut butter cookie recipe will turn out perfectly that way, too. All you have to do is press the dough down with the back of a fork to create an x-pattern on top before baking instead of pressing with your palm!
You can also make them smaller, if you'd like. Many of the people who have made these and replied back on reddit have made them in all sorts of shapes, patterns, and sizes with great results.
HOW TO MAKE PEANUT BUTTER COOKIES
Regardless of what size you choose to make them or how you decide to decorate the top, there are a few simple steps you need to take before popping that dough in the oven!
Start by lining your baking sheets with parchment paper. I know, it doesn't seem like an important step, but lining the sheets with parchment paper prevents the cookies from overly browning on the bottom, sticking to the pan, or spreading too quickly. You can also use a silpat if you'd like. Definitely do not use foil!
Whisk together the dry ingredients. This step ensures that the dry ingredients get well-combined without forcing you to overmix after the wet ingredients come into play.
Mix together the cooled melted butter and the sugars. You want to make sure the sugars mostly dissolve in the butter, which leads to better incorporation in the final dough. Don't overdo it, though-- unlike many cookie recipes, this recipe relies on a lower amount of air being incorporated into the dough so that the final result is still dense, chewy, and rich. (A bit of air can give your cookies some thickness, but a lot of air results in cakey cookies!)
Add the rest of the liquid ingredients. Now the eggs, creamy peanut butter, and vanilla extract come into play. Adding the wet ingredients all in before mixing with the dry ingredients will give the cookies a better texture.
Mix the dry and wet ingredients together. And now the magic happens-- the dough finally forms in your mixing bowl (or stand mixer). Again, don't overmix. You want the ingredients to just come together.
Roll the dough into balls and roll in granulated sugar. Rolling your peanut butter cookies in extra sugar is an optional step, but I love the result! It ensures that tiny granules of sweetness are the first things to hit your tongue, and it gives a slightly crunchy, crisp exterior to the cookies without throwing off the ultra-soft interior. This is also when you should flatten your cookies, whether you're using your palm or a fork.
Let it chill. Place in the fridge for 30 minutes, which is just enough time for the butter to slightly solidify. As the cookies bake, dough that has been chilled takes longer for the butter to melt, which prevents them from spreading too much.
BAKING THE PEANUT BUTTER COOKIES
The key to really getting perfect cookies is NOT overbaking them. You only want to bake the cookies for about 12 minutes, around which time the edges should be just beginning to firm up and turn light brown, while the centers will be puffy and clearly underbaked. Don't worry though, as long as you let the cookies cool fully on the baking sheet, the cookies will fall and crack and you'll wind up with beautiful, not-puffy cookies!
HOW LONG WILL THESE COOKIES LAST?
The peanut butter cookies of course taste best within the first couple of days of baking, but you'd be surprised how long they stay soft and chewy! Stored in an airtight container, these cookies will keep well for up to a week. You can also freeze them in a zip-loc storage bag for up to 2 months before thawing to eat.
Honestly, I feel like we all need to think ahead and make "cookies for the future" so we have them in stock all the time, waiting for a craving to hit. The world would be such a better place...
I don't know what else to say about these peanut butter cookies, except for that our mouths should be full of them. I guess you just can't know how truly perfect they are until you try them yourself. Trust me, they're worth going nuts over.
Or should I say "peanuts" over? 
No, probably not. But really, everyone's going to go crazy over these, so make sure you make plenty!
Print
The Best Chewy Café-Style Peanut Butter Cookies
---
Author:

Total Time:

57 minutes

Yield:

12

-

16

cookies

1

x
2 ½

cups

all-purpose flour

1 teaspoon

aluminum-free baking powder

1 teaspoon

baking soda

1 teaspoon

cornstarch

1 teaspoon

salt

1

cup

(2 sticks) unsalted butter, melted and cooled

1

cup

light brown sugar, packed

¾

cup

granulated sugar for the dough, plus ½ cup granulated sugar for rolling

1

cup

natural creamy peanut butter

2

large eggs, at room temperature

1 teaspoon

vanilla extract
---
Instructions
Line two baking sheets with parchment paper and set aside.
In a large bowl, whisk together the flour, baking powder, baking soda, cornstarch, and salt.
In a separate large bowl, use a hand mixer to cream together the cooled melted butter, the brown sugar, and ¾ cup of granulated sugar until fully combined and just slightly fluffy. Add the peanut butter, egg, and vanilla and mix until just evenly combined. Pour the flour mixture into the wet mixture and quickly mix until no clumps of flour remain. Make sure not to over-mix or your cookies will be puffy.
Roll the dough into ¼ cup balls and roll them in the remaining granulated sugar. Place 6 cookie dough balls on each baking sheet, evenly spaced, and then gently press down on the tops with your palm to flatten slightly. Cover and refrigerate for 30 minutes. Preheat the oven to 350°F.
Uncover and bake the cookies for 12 minutes, or until just set around the edges but very soft and puffy in the middle. Allow the cookies to cool on the baking sheet fully without disturbing them to finish setting. Repeat with any remaining dough.
Prep Time:

45 mins

Cook Time:

12 mins