Are they muffins? Are they waffles? Are they breakfast? Are they dessert? Am I so indecisive that I combined all of those into one recipe to create Blueberry Muffin Waffles with Cinnamon Streusel and Vanilla Glaze? Well, yes. Yes to all.
With Easter just around the corner, I realized that I don't have nearly enough brunch-worthy recipes up here (because, admittedly, I rarely have big brunch events, and I tend to not go through much fuss to feed myself in the AM). But who doesn't love a special treat first thing in the morning? Add a mimosa or two into the mix and you've definitely got my attention.
So I decided to brainstorm possible recipes while unpacking and putting away more of my never-ending stream of boxes full of kitchen supplies. Yes, I moved in December, and yes, I still have kitchen stuff that I need to find a place for.  Please don't judge me.
The point is, I was leaning towards a promising blueberry muffin recipe until I came upon my near-forgotten waffle iron, buried in the bottom of a moving box. So what was the logical thing to do? Make muffins in a waffle iron, of course.
Now I'll be honest, it sounded like a good idea, but I had no idea if they would turn out well. Would they even taste any different than regular waffles? Would they be a weird texture? The only way to find out was to give it a try.
And guys, it was so much better than I ever imagined. The waffles were dense and muffin-like, but with a crisp, toasted exterior. They had the flavor of taking a fresh-from the bakery muffin, cutting it in half, and slapping them on the griddle until golden-brown all over. If that doesn't sound delicious to you, I don't know what would.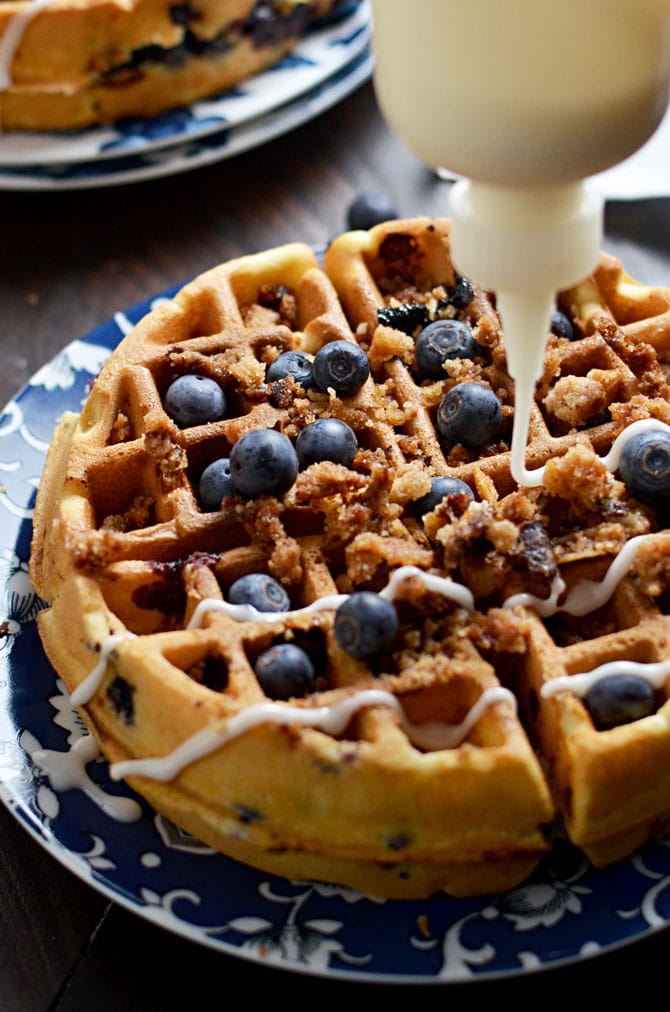 I taste-tested a waffle with a pat of butter on top and it was out of this world, but I couldn't help but think that they'd be even better with some sweetness on top. Instead of using maple syrup, I decided to give the waffles some crunch with a cinnamon streusel and then drizzle them with vanilla glaze. What can I say, I like to pump as much dessert into my breakfasts as possible. It's like gaming the system, you know?
And what a beautiful way to game the system it is. Can you imagine being served breakfast in bed with these big blueberry-filled, babies on your plate, with the vanilla glaze pooling in the waffle crevices? It's the stuff of dreams.
By the way, that's a brownie point hint for you. I bet if you made these for Easter or Mother's Day or an anniversary surprise, you'd get major pats on the back.
So go ahead, give the Blueberry Muffin Waffles with Cinnamon Streusel and Vanilla Glaze a try, and then don't forget to take a picture and tag #hostthetoast on Instagram or Twitter to show 'em off! And most of all, ENJOY EVERY LAST BITE OF THEM.
Print
Blueberry Muffin Waffles with Cinnamon Streusel and Vanilla Glaze
---
Author:

Total Time:

1 hour 5 minutes

Yield:

about

4

waffles (depending on your waffle iron)

1

x
For the Blueberry Muffin Waffles:
3

cups

all purpose flour

1 ½

cups

granulated sugar

1 ½ tablespoons

baking powder

1 teaspoon

salt

⅔

cup

vegetable oil

2

large eggs

1

cup

milk, plus more if necessary

2

cups

fresh blueberries, plus more to top
For the Cinnamon Streusel:
½

cup

all purpose flour

½

cup

granulated sugar

5 tablespoons

unsalted butter, cubed

1 ½ teaspoons

cinnamon
For the Vanilla Glaze:
1

cup

powdered sugar

2

-

3

tablespoons milk

1 teaspoon

vanilla extract
---
Instructions
Preheat the oven to 375 degrees F.
To start, make the Muffin Waffle batter. Whisk together the flour, sugar, baking powder, and salt in a large bowl. In a separate, smaller bowl, combine the oil, eggs, and milk. Add the wet mixture to the dry mixture and stir until just combined. Fold in the blueberries and set aside.
Next, make the Cinnamon Streusel. In a medium-sized bowl, cut together the flour, sugar, butter, and cinnamon until pea-sized crumbs form. Sprinkle the mixture on a baking sheet and bake until browned and crisp, about 10-12 minutes.
As the Streusel bakes, make the Vanilla Glaze. In the bowl you used for the streusel, whisk together the powdered sugar, milk, and vanilla extract until a smooth glaze forms. Set aside.
Bake the waffle batter in a waffle iron until golden brown and cooked through, according to your waffle iron's medium-heat settings. Top with the streusel and fresh blueberries, and then drizzle with vanilla glaze. Serve warm.
Prep Time:

45 mins

Cook Time:

20 mins