Briefly marinating in a spiced yogurt mixture keeps the chicken in this homemade Indian-inspired recipe tender and juicy, even after charring the exterior for maximum flavor. The star of the show, however, might not even be the chicken. When it comes to Easy Chicken Tikka Masala, it's all about that creamy, comforting, flavor-packed curry sauce!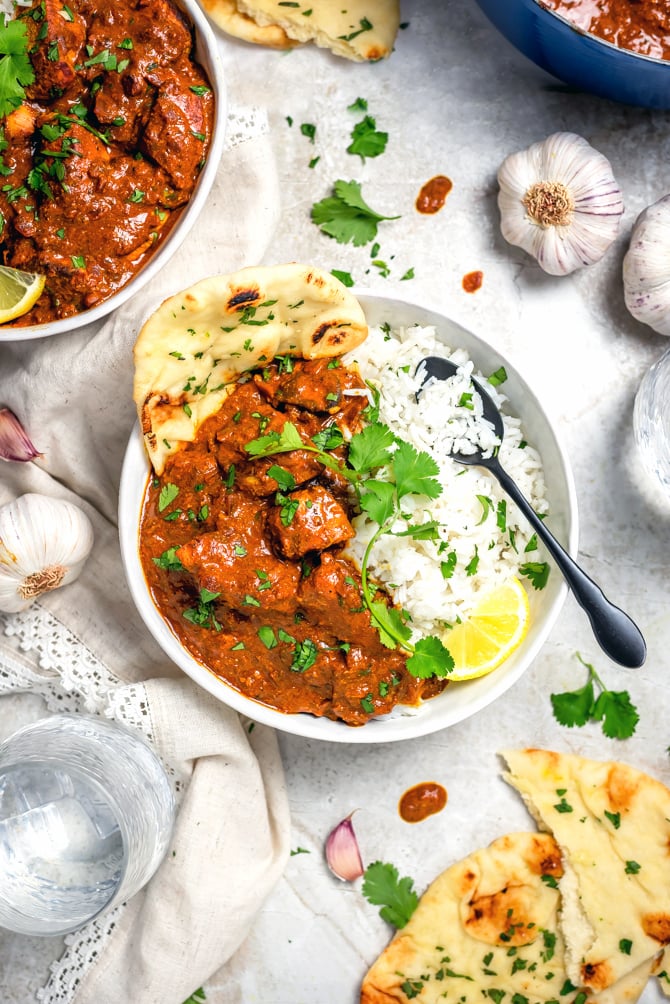 You know when you get REALLY excited for something and you literally cannot stop yourself from talking about it at every opportunity (or even worse, you insert it into conversations that have absolutely nothing at all to do with it)? Yeah, that was me, all week, with this Easy Chicken Tikka Masala. I told the grocery store clerk about it. I talked about it with my neighbors. My dog even got an earful.
I told everyone who would listen that I was working on this recipe, and now that I've nailed it, there's really no stopping me. It's fantastically rich-tasting, tender, and well-spiced; while also being fresh, healthier, and less expensive than restaurant versions of the dish. Oh, and it takes less than an hour to make from start to finish (including marinating time)! Like I said, there's no stopping me, so I hope you're ready.
WHAT IS CHICKEN TIKKA MASALA?
A side-effect of rambling about this recipe to anyone within earshot is that I realized just how few people have ever actually tried Chicken Tikka Masala. Actually, a lot of people assumed that I was simply mispronouncing "marsala"!
Unlike Chicken Marsala, which is named after the wine used in the recipe, Chicken Tikka Masala is a dish that consists of chunks of marinated chicken enveloped in a creamy, heavily-spiced, tomato-based curry sauce. It owes its name to that heavily-spiced sauce, as masala is an Indian term for a mixture of spices.
You can find Chicken Tikka Masala at every Indian restaurant (at least in the US and the UK, for sure), and it's generally served with rice and plenty of naan to scoop up all of that sauce. The best Chicken Tikka Masalas always have a ton of sauce!
HOMEMADE GARLIC NAAN
Pre-packaged naan from a grocery store will work in a pinch, but there's nothing better than warm, fresh, buttery naan. If you want to make your own, this recipe for Homemade Garlic Naan is a must!
Tip: Make the dough ahead, separate it into balls, and freeze them individually to defrost later and make fresh naan any time you make your Easy Chicken Tikka Masala!
WHAT'S THE DIFFERENCE BETWEEN BUTTER CHICKEN AND CHICKEN TIKKA MASALA?
Chicken Tikka Masala and Chicken Marsala might not have much in common, but Chicken Tikka Masala actually is very similar to another Indian recipe: Butter Chicken. Both Butter Chicken and Chicken Tikka Masala feature chunks of charred chicken in an orange-colored, creamy curry sauce. However, as the name hints, Butter Chicken recipes include a whole lot of butter– enough to make the dish extremely rich than its counterpart. Aside from the butter, Butter Chicken also uses different, milder spices than Tikka Masala, so while they certainly resemble each other, they aren't one in the same.
The thing that really surprised me about the two was learning that Butter Chicken (also known as Tikka Makhani) is authentically Indian in origin, while Chicken Tikka Masala is most likely not. With a name like Butter Chicken, I definitely would have thought the opposite!
BUT WAIT! WHERE DID CHICKEN TIKKA MASALA ORIGINATE, THEN?
It's undeniable that Chicken Tikka Masala is inspired by Indian cuisine, but the dish itself was probably not a traditional Indian recipe.
While no one knows for sure just how it originated, there are definitely some highly-accepted theories. Many food historians believe that the recipe was created by Bangladeshi migrants who opened "Indian" restaurants and tweaked traditional dishes to appeal to the British. Others believe that it was invented by a Pakistani chef in Glascow, Scotland, when he attempted to salvage a dry curry by adding tomato soup to the recipe. Some think that's all ridiculous and that Chicken Tikka Masala was first created in India, after all. Regardless of what you believe, it's become one of the United Kingdom's most popular dishes. So much so that if you look up "national dishes of the UK", Chicken Tikka Masala will be the first that pops up! And that popularity is slowly but surely spreading to the US.
HOW TO MAKE EASY CHICKEN TIKKA MASALA
There's just as much debate about how to properly make Chicken Tikka Masala as there is about where it was first created. However, most will agree that authentic Chicken Tikka Masala always involves a clay oven called a tandoor. Usually, chunks of marinated chicken are threaded onto skewers and cooked in a tandoor until charred and cooked through before they're added to a curry sauce.
But I don't own a tandoor, and I imagine most people reading this recipe don't either. That doesn't mean we can't make do with what we have!
This Easy Chicken Tikka Masala is a simplified version of the classic dish, made to come together in under an hour and to be made without the use of a tandoor.
Just like with more traditional versions, this Easy Chicken Tikka Masala starts with chunks of chicken that we marinate in a mixture of yogurt, garlic, ginger, and spices. You can easily make the marinade the night before cooking or in the morning before work and let the chicken sit, but just 15 minutes is all you really need to make a difference with tenderizing and flavor, so no worries if you want to make this all when you get home and just get it done.
Instead of cooking the chicken in a tandoor, this recipe involves simply cooking the chicken in the same pan that we eventually use to make the sauce. By cooking the chicken in the same pan, we're able to brown the ground spices from the marinade to add deeper flavor to to finished sauce. We also don't need to dirty any extra pots or pans, which is always a great added bonus!
After browning the chicken and getting a nice char on it, I set the chicken aside and saute chopped onion, more garlic, more ginger, and more spices for extra flavor. Then, I pour in the tomato sauce. By lightly scraping the pan as I stir in the tomato sauce and let it cook, I'm able to lift the browned bits from the chicken, yogurt, and spices that have attached to the bottom of the pan and infuse the sauce with their flavor.
Finally, I add the chicken back in and pour in coconut milk, and let it all cook together. The chicken will be almost fall-apart tender and the sauce will be thickened when it's ready to serve!
EASY CHICKEN TIKKA MASALA VIDEO
Print
Easy Chicken Tikka Masala
---
Author:

Total Time:

56 mins

Yield:

6

servings

1

x
For the spice mixture:
1 tablespoon

garam masala

1 tablespoon

ground cumin

1 tablespoon

ground coriander

2 teaspoons

ground turmeric

2 teaspoons

kosher salt

1 teaspoon

smoked paprika

1/2 teaspoon

cayenne pepper
For the Chicken Tikka Masala:
2

pounds

boneless, skinless chicken breasts or thighs, cut into cubes

1

cup

plain, full-fat yogurt

6

cloves garlic, grated, divided

1 tablespoon

freshly grated ginger, divided

2 tablespoons

oil

1 tablespoon

butter

1

medium onion, finely diced

1

can (15 ounces) canned tomato sauce or crushed tomatoes

1

cup

coconut milk or heavy cream
Fresh cilantro, chopped, to serve

4

cups

basmati rice, to serve
Homemade garlic naan, to serve
---
Instructions
In a small bowl, whisk together the spices. Set aside.
In a large bowl, combine the chicken, yogurt, half of the garlic, half of the ginger, and half of the spice mixture, reserving the rest for later. Stir, cover, and allow to marinate for at least 15 minutes, or overnight.
In a large, heavy bottomed pot or high-walled pan, heat the oil and butter over medium-high. Remove the chicken from the marinade and add to the pot in batches. Cook until browned all over and beginning to char, turning once, about 6 minutes total. Remove from the pan and set aside for later. Repeat until all of the chicken is browned.
Add the chopped onion and the remaining garlic, ginger, and spices to the pot. Cook, stirring occasionally, until the onion softens, about 4 minutes. Add the crushed tomatoes and gently scrape the bottom of the pan with a wooden or rubber spoon to release the browned bits while stirring.
Pour in the coconut milk and add the chicken back to the pot. Stir and reduce to low heat. Let simmer for 10 minutes, stirring occasionally. Garnish with chopped cilantro and serve over basmati rice with naan.
Prep Time:

30 mins

Cook Time:

26 mins