This Homemade Garlic Naan recipe is truly the best. Even if you've never made bread at home before, this soft, chewy, garlicky flatbread is easy to make and well worth the effort. You're going to love serving it with your favorite Indian dishes.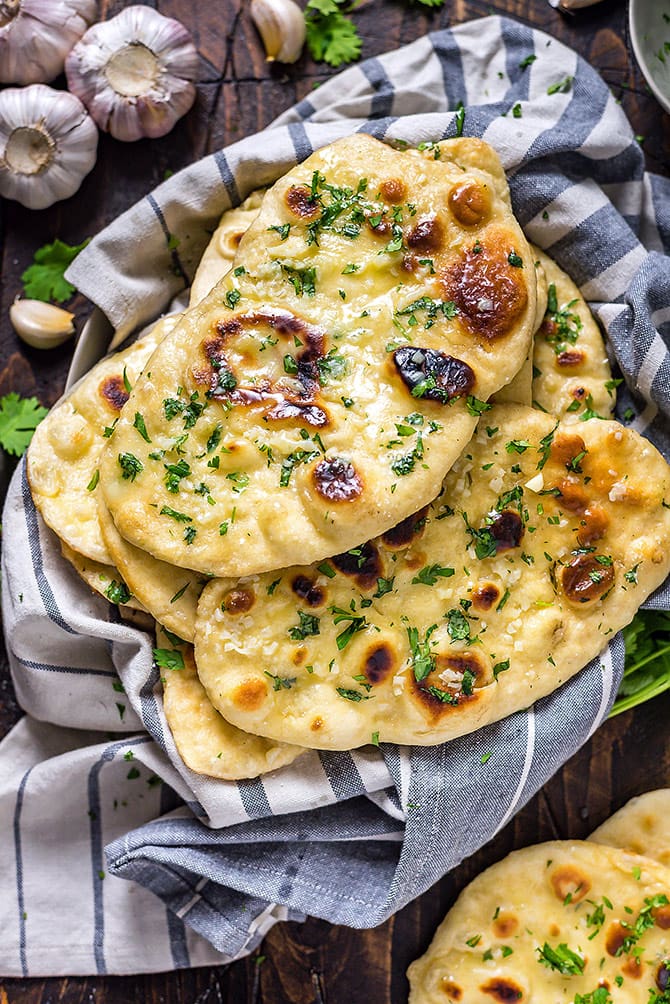 Bread-baking seems a little intimidating at times, doesn't it?
If I could craft an idyllic version of myself-- we'll call her Dream Morgan-- she'd be the sort of woman who woke up on the first blare of her alarm, who started her day with a long run (and enjoyed it), who answered all of her emails in a timely manner, and who never once let a dish sit in the sink overnight. You know, in a perfect world. She'd also be the type of lady to labor over a mother dough and bake her own bread each week, plus a few extra loaves for her neighbors.
But here we are.
I recently perfected my homemade white bread recipe, but even still, loaves of bread (especially sourdough) make me nervous. But flatbreads? Oh man, I can make one heck of a flatbread without breaking a sweat, because it's nearly impossible to do it wrong.
And the best of all of the flatbreads? My most favorite to make? It's homemade naan without a doubt.
Specifically, this Homemade Garlic Naan.
WHAT IS NAAN?
If you've never had it before, naan is a slightly leavened type of Indian flatbread that bears some similarities to pita bread. However, naan uses milk and yogurt in the dough, which makes it softer and chewier than pita. When slathered in a garlicky melted butter mixture, it's one of my favorite parts of Indian cuisine.
I've always wanted to make Homemade Garlic Naan so that I don't have to go out to enjoy it (and I could serve it with some of my favorite Indian-inspired recipes like Easy Chicken Tikka Masala, Sheet-Pan Tandoori Chicken & Vegetables and Slow Cooker Indian-Spiced Lentils), but the fact that it's traditionally baked in a clay oven makes it sound more like a job for Dream Morgan.
Dream Morgan definitely has a tandoor.
Recently, though, I realized that you can still get the same fluffy, slightly charred results with the help of a hot skillet-- no tandoor necessary. So recently I've been eating a WHOLE LOT of homemade naan.
HOW TO MAKE GARLIC NAAN AT HOME (THE EASY WAY)
This naan recipe is simple and hard to mess up. Even the messiest, most misshapen pieces of dough will still puff up and be delicious. And everything is beautiful when it's brushed with garlic butter. Everything.
Here's the basic overview of how to do it:
Activate the yeast. To do this, all you have to do is combine the packet of yeast with warm water and a bit of sugar. The yeast will help the bread puff up.
Add in the milk and yogurt. These are your remaining wet ingredients.
Pour the wet ingredients into a large bowl with your flour and salt. Adding the wet ingredients to the dry ingredients prevents lumps and uneven mixing.
Mix it all together. At first, you want to just stir until a dough begins to form. When it gets difficult to stir, that's when you want to transfer it to your counter (sprinkle it with flour first so it doesn't stick!) and knead the dough until it's smooth.
Let it rise. The dough will be ready when it's doubled in size.
Make smaller dough balls. After dividing the dough into 12 pieces, you can roll each piece into a ball. These will be your naan!
Roll 'em out! Use a rolling pin to flatten the dough balls into the signature naan shape. If you don't have a rolling pin, you can carefully use a wine bottle or a smooth can.
Cook in a hot skillet. I like to use my cast iron skillet for naan-making. Simply brush 'em with butter and cook until bubbly, then flip and cook the other side.
Brush with melted garlic butter. Just microwave the garlic and butter together, brush on, and then sprinkle your homemade naan with cilantro and it will look like they're straight out of a restaurant.
TO GET THE PERFECT DOUGH CONSISTENCY
Dough can sometimes be a little finicky, but if you know how to troubleshoot it you won't have any issues with these!
Most of the time, the ratio of ingredients listed in the recipe will give you the perfect consistency dough and you won't have to worry about a thing. However, sometimes other factors come into play. Maybe you didn't have all purpose flour, so you substituted bread flour. Maybe it's particularly humid in your neck of the woods. Maybe you swapped in greek yogurt instead of regular yogurt, and now your dough feels a little dry. Maybe you haven't kneaded enough, or are afraid to knead too much. Maybe you did everything right but for some unknown reason, the bread gods are not smiling down on you today and your dough just feels wrong.
Well don't worry. That's all fine (and perfectly normal!) you just have to know what to look for.
Your perfect dough should be completely smooth and slightly tacky to the touch. A good example of what to look for can be seen in the video below. Just remember the phrase "as smooth as a baby's bottom". That's what you're aiming for here!
When your dough is ready, it will hold its shape. If you lift the dough in your hand and hold it in the air for a second, it should hold its ball shape, not slop and sag down between your fingers.
If your dough is too dry, add a tablespoon of water at a time. If it's too wet, add a tablespoon of flour at a time. It's as easy as that. Make sure you're mixing and kneading as well though, because sometimes it will seem like the dough is too wet or too dry when it's really just under-mixed.
Trust your gut and your hands. You don't have to over-think it-- and even if you aren't sure it's 100% perfect, your naan will still be great either way.
So even if you're afraid of baking your own bread, this Homemade Garlic Naan is one great recipe you should push yourself to try. You'll be so glad you did when you're using it to sop up the sauce from your butter chicken, cradle your favorite sandwich fillings, or just plain devour fresh out of the pan.
If you're anything like me, you'll be doing a lot of the last one.
WATCH THE HOMEMADE GARLIC NAAN VIDEO
MORE BREAD RECIPES TO ENJOY
Print
Homemade Garlic Naan
---
Author:

Total Time:

2 hours 15 minutes

Yield:

12

naan flatbreads

1

x
¼

cup

warm water

1 tablespoon

sugar

1

package (2 ¼ teaspoons) active dry yeast

¾

cup

warm milk

¾

cup

plain yogurt

4

cups

all-purpose flour

1 teaspoon

Kosher salt

1

stick melted butter, for brushing

4

cloves minced garlic
Fresh cilantro, to top
---
Instructions
In a glass measuring cup, combine the yeast, sugar, and water and let sit until very foamy, about 10 minutes. Meanwhile, whisk the flour and salt together in a large bowl and create a well in the center.
Whisk in the warm milk and plain yogurt into the yeast mixture until well-combined. Pour into the well in the dry ingredients. Stir until a dough is formed, then turn out onto a lightly-floured surface and knead until smooth, about 3-4 minutes. Transfer the dough to a large, lightly oiled bowl and cover loosely with a damp kitchen towel. Let rise at room temperature until doubled in size, about 1 hour.
Turn the dough out onto a floured surface. Knead briefly into a disc and cut the dough into 12 equal-sized pieces. Roll each piece into a ball.
Heat a large, heavy bottomed skillet over medium heat. Roll each dough ball out until it is about ¼ inch thick and approximately 6 inches wide. Brush the dough lightly with butter and place one at a time onto the hot skillet. Cook until large bubbles form on the surface, about 2 minutes. Flip the dough and cook the other side until golden, about 1-2 more minutes. Stack the cooked flat bread on a plate and cover with a towel to keep warm as you cook the remaining pieces.
Add the minced garlic to the remaining melted butter. Loosely cover and microwave for 15 seconds. Brush the warm naan with the garlic butter (scooping out some of the garlic to sit on top) and sprinkle generously with cilantro. Serve warm.
Prep Time:

1 hour 30 mins

Cook Time:

45 mins