Raise your hand if you don't have time in the morning before work to make yourself a filling, healthy, and delicious breakfast.
Hello, my fellow sad-excuse-for-breakfast buddies. I feel your pain.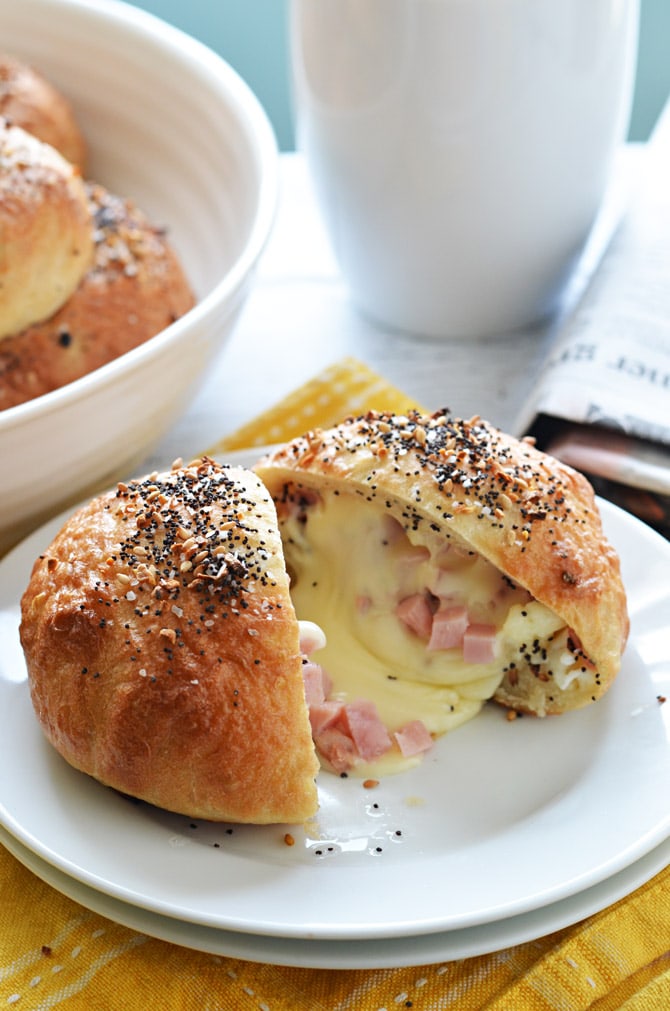 Not to worry, though. What I'm about to tell you will change your breakfast game forever.
You can have ham, egg, and melted cheese stuffed everything bagels for breakfast every morning in just one minute and fifteen seconds, for only 240 calories. BAM. YOUR MIND=BLOWN, RIGHT?!

I call them Freezer-Friendly Everything Bagel Bombs, because it's like an explosion of AM goodness in an everything bagel shell. You can nix the everything bagel topping if you'd like, but that's pretty much breakfast blasphemy as everyone knows that everything bagels are the world's best bagels. Don't try to tell me otherwise.
To make the Bagel Bombs, I use premade pizza dough. Pizza dough and bagel dough are actually quite similar, and after being boiled, you can't even tell that you started with pizza dough in the first place. No need to mess with yeast or wait hours for dough to rise!
I add diced ham, egg whites, and shredded cheese to my Everything Bagel Bombs, but feel free to sub in whole eggs, ground sausage, spinach, feta– whatever you can come up with! The sky is the limit. I prefer egg whites and diced ham because I get a lot of flavor and protein (which keeps me fuller longer) for a relatively low amount of fat and calories.
I add the cheese in because "ham & egg bagels" don't hold a candle to "ham, egg, & cheese" bagels. Again, you just can't argue that logic. If you've hung around here long enough, you know that I consider melted cheese to be its own, highly necessary food group and will not be persuaded otherwise.
After they're boiled, I bake them to a nice golden brown, and then let them cool to room temperature. I individually wrap mine in foil or cling wrap and then freeze them until some hungry and rushed morning when I can microwave them, devour them, and start my day off right!
When you make these Everything Bagel Bombs, be sure to take a photo and tag #hostthetoast on Instagram or Twitter. I want to show off your tasty breakfasts!
Print
Freezer-Friendly Bagel Bombs
---
Author:

Total Time:

1 hour 10 minutes

Yield:

8

1

x
1

lb

refrigerated pizza dough

10

egg whites (or

5

whole eggs)
Salt and pepper, to taste

6

oz

diced ham

4

–

8

oz

shredded cheese

12

cups

water

1 tablespoon

honey
Everything bagel seasoning, to taste
---
Instructions
Divide the pizza dough into 8 even pieces and roll into balls. Cover with a kitchen towel and allow to rise for 20 minutes.
While you wait for the dough to rise, scramble the eggs in a nonstick pan over medium heat, seasoning with salt and pepper, to taste. Set aside and let cool.
Preheat the oven to 425 degrees F. Line a nonstick baking sheet with parchment paper.
Gently flatten the dough balls with your palm, and top with the eggs, diced ham, and shredded cheddar cheese. Pull the sides of the dough up and around the filling, pinching to seal. Pull up the perpendicular sides and pinch. Continue until the filling is completely covered and dough is sealed. Place, seam-side down, on the prepared baking sheet and cover with a kitchen towel. Let sit for 15 minutes.
Fill a large pot with 12 cups of water and bring to a gentle boil. Mix in 1 tablespoon honey. Place half of the bagel bundles into the boiling water for 1 minute, turning once halfway through. Remove from the boiling water with a slotted spoon and transfer to the prepared baking sheet. Repeat with the second half of the bagels.
Sprinkle the bagels with everything bagel seasoning and then bake until golden brown and cooked through, about 25-30 minutes. Serve warm, or let cool to room temperature, wrap individually, and freeze for future use.
Notes
To make the everything bagel seasoning, combine equal parts poppy seeds, sesame seeds, dried garlic flakes, dried onion flakes, and kosher salt.
To reheat after freezing, wrap the frozen Bagel Bomb in a paper towel and microwave on high for 1 minute and 15 seconds or until warmed through.
Prep Time:

45 mins

Cook Time:

25 mins