Thank you NFL for sponsoring this post. Can't wait for my next Homegate!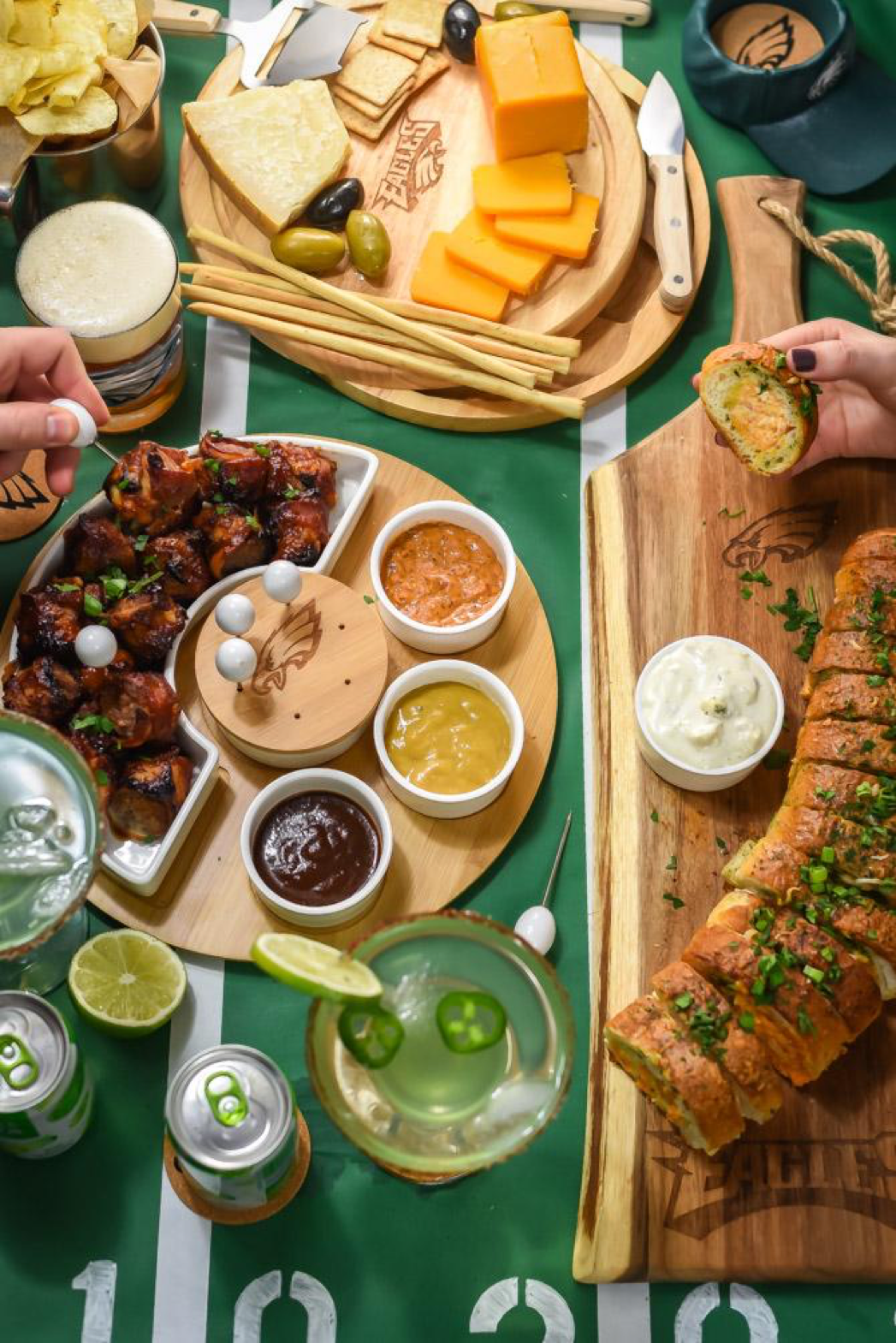 I've been hosting football parties since before I knew what a touchdown was. Or I guess I should say that my dad was hosting them back then (since I was a baby and all), but you know, I was hosting by association. That's a thing.

And if there's one lesson I've learned from a lifetime of buffet-style buffalo wings, fighting for the best spot in front of the TV, and watching the adults enjoy their huge steins of beer, it's that it's hard to host a terrible football party. If you've got friends, food, beverages, and a television, you're pretty much in the clear.

That being said, I've also learned that there's a big difference between a good enough party and a great one, and I think we should always be striving for greatness. No one is going to complain if you're just having people over to watch the game, but if you want to bring the real spirit of an all-out tailgate to your party (AKA Homegating), I've got a few tips for you.


BRING YOUR DECORATION A-GAME
You're going to miss all of the astro turf, painted faces, funny signs, and general displays of fandom if you're hosting at home, and that's one reason that people will make a point to go to the stadium. Sure, watching the game in person is great, but you usually can get a better view from your TV– what you're really paying for when you go to a game is the atmosphere. It's exciting. It's invigorating. It makes you smile. 😊
So bring it to your house.
Here are a few of my favorite DIY ways to decorate:
Simple chalkboard signs

can be customized with your team's slogan or general football phrases using chalk markers. If you're not very artistic, you can print out a design, flip the paper over, and rub the entire back of the paper with chalk. Then press the paper against the chalkboard, chalk-rubbed side down, and trace over the outlines of your design with a pencil. It will transfer the chalk to the chalkboard and give you a good guide to fill in from. When you're done you can easily erase the chalkboards with water and use 'em again for future events. Gotta love multi-purpose decorations!

A gridiron tabletop

is easy to make with green craft paper, white tape, white paint marker, and number stencils. The great thing about craft paper is that you can write out the names of all of your food right next to each dish as well, rather than having to buy special labels or leave your guests guessing. I also put a green plastic table skirt around the bottom of the table to hide anything I store underneath, like the cords for my slow cookers and buffet servers.

Football balloons

are inexpensive to make using latex brown helium balloons and leftover white tape that you've got from the gridiron tabletop. Just cut the tape and layer it to look like football laces and you've got a way to fill up big, open areas that are otherwise expensive and difficult to decorate.

A "homegate" bunting

is the final touch I like to add to my football displays. I made this one with a blank burlap base and the chalk markers to match my chalkboards. If you're not good at hand lettering, it's easy to trace (since burlap has so many holes and is therefore partially see-through) or you can always use stencils!
But to really get that football feel at home, I stock up on my team gear. For me, that means heading to NFLShop.com to put Eagles logos everywhere, from the beer steins on my table to the blankets on my couch. Gotta represent.
My house is filled with NFL merch, but my all-time favorite items (if I had to pick) would be the Homegating Collection meant for serving food– my Eagles cheese board, symphony platters, and serving board especially. Nothing says "food fit for a winner" like serving it with team flair. Not to mention, they're really attractive, wooden pieces with perfectly carved logos that you're going to want to display. I'm going to use mine year round, whether it's game day or not, and I'm pretty positive you'll want to, too.
You can get all of your NFL gear here! There's stuff for every team.
👆 Buffalo Chicken Dip Stuffed Bread looks good no matter what, but on the huge Eagles serving board, it looks extra special. 👆
EAT LIKE A CHAMPION
What's a football game without food? It hurts my soul to imagine such a world.
This is the time to pack in all of the spicy, cheesy, meaty, dippable snacks you can imagine and really go to town. Make sure everything is easy to serve (so bite-sized appetizers are your best bet) and load up on your favorites. For my most recent homegate, I had:
Buffalo Chicken Dip Stuffed Bread

, as you already saw above. I'm a firm believer that buffalo chicken dip belongs at every party on the face of the earth, and I've recently discovered that it's even greater when stuffed inside of a hollowed out baguette that is brushed with Ranch butter (yes, I said

Ranch butter

) and baked. You can make this ahead of time and reheat it if you'd like, and cross my heart, it'll be a hit.

Bacon-Wrapped Bratwurst Bites

, which are super easy to make and only require 5 ingredients: bratwursts, beer, bacon, chili sauce, and brown sugar. Any meat-eater would (and does) go wild for these sweet, spicy, and juicy bites. I serve mine on my Eagles symphony platter with a selection of 3 different mustards for dipping: honey mustard, regular mustard, and chipotle mustard.

Sometimes

I swap out the regular mustard for BBQ sauce at James' request. He insists that "the people" want options… and luckily my platter fits 3 dip bowls, so I can give 'em to them.

Jalapeno Popper Pretzel Bites

, and I can't possibly put into words how much I love these things. If you've always been nervous to make your own pretzels, this recipe makes it about as easy as humanly possible by using premade crescent dough in lieu of making your own. I serve these on another Eagles symphony platter (man, I love those things), with marinara, ranch dressing, and raspberry preserves for dipping. Is the raspberry preserves part weirding you out? I thought so. But don't knock it 'til you try it– the fruity sweetness goes great with the spicy jalapeno centers! And hey, if you don't like it, you can always dip in the other two. Options, guys. It's all about the options.

Pesto Spinach Balls,

because first of all, they're green, and second of all, it's nice to have a few meat-free options in the mix in case you happen to know a vegetarian or two. My friend Lindsay definitely appreciates it!

A few cheeses

, including gorgonzola, aged cheddar, and parmesan, which I serve on my Homegating cheeseboard! It's good to aim for different flavors and textures in the cheeses you serve (and luckily, the cheeseboard comes with a special cheese knife for each type in the swivel-bottom compartment), so go with soft, semi, and hard if you can. I like to pick one more expensive and maybe less popular cheese– the gorgonzola, in this case– and two common cheeses so that there's something for everyone. Add in some nuts, crackers, breadsticks, fruit, and/or olives and you've instantly got an easy and impressive spread.

Chips and dips

, which you really can never have enough of. I always serve both tortilla and potato chips, and do the typical salsa and guacamole thing as well as throwing in a few more creative dips like

Hot Cajun Crab Dip

and Baked Bacon Blue Cheese Dip.
Brownies

, because everyone loves brownies. And even though I'm all about the salty and savory foods when it comes to game day snackin', no one can resist my

One Bowl Brownies

. No one.
I know I just gave you a long list of foods to drool over (recipes coming soon for those that don't already have 'em attached, don't worry!) but it's really less about the specific dishes and more about having a variety of fun foods that make you as excited for them as you are for the game.
Let me know in the comments what your favorite game day foods are!
FOLLOW THE DRINK RULE BOOK
Okay, so maybe there's no actual book, but I have some rules that I always try to stick to when it comes to supplying the drinks for a party:
Buy enough alcohol.

This one is so easy. All you have to do is figure that the average person will drink 2 drinks an hour at a party, and buy accordingly. (The average NFL game lasts 3 hours, so that would be 6 drinks per person to be on the safe side.) Just make sure that you're also watching that your guests drink

responsibly

. Always make sure that your guests have a safe way to get home if they're drinking… this is the most important rule of all.

Store 'em in a cooler.

No one needs the refrigerator door to be open a billion times, and it'll prevent your beverages from getting and staying cold. Keep a couple of coolers around instead– one by the food and one by the big screen– so that your guests can easily access their drinks and the ice keeps them chilly all day.

Make a signature cocktail for your team with Lime-A-Rita.

There's no need to have a full bar of ingredients, but one cocktail is always a fun option, especially since a lot of people aren't huge on regular beer. One of my best friends is borderline obsessed with

Lime-A-Rita

, so we tend to have them on hand– and did you know they make a heck of a tasty cocktail when mixed with sprite, seltzer, and a few slices of jalapenos, and then served in a margarita glass with a chili salt rim? We call it "The Rebel" because it has such a great kick to it. I like to add just a drop of green food coloring to my Eagles pitcher of The Rebel, so it gets even greener to represent my team, but it's plenty green without it (and it would work for the Packers or Jets, too)! Check out the exact recipe at the bottom of the post.
THE BIG PLAYS ARE IN THE LITTLE DETAILS
Don't overlook the small stuff, like making sure there's enough seating for everyone, having some music ready for breaks between gameplay, and keeping the bathroom stocked with toilet paper.
They're all less fun aspects of planning than decorating and creating a menu, but they're important nonetheless. Make a checklist of what you need around the house so you can stock up in the days approaching your homegate party and you'll be good to go when the time comes.
THE FANS MAKE THE GAME
Every team attributes their success in part to the support of their fans, and the same goes for a successful party. Invite friends that aren't going to kill the vibe if your team winds up losing, but who are passionate cheerers and want to have a good time.
Every great party I've ever thrown has come down to inviting the right people, and I consider myself to be really lucky (or maybe I just have really good taste?) to have awesome friends who are always laughing, joking around, and generally having a great time in between helping me out at every event. Those are the type people you want on your team.
Draft wisely.
(PS. Thank you to everyone– pictured above or not– who came to my most recent homegate. You goofballs are the best, and you're the reason that I always want to throw more parties!)
BE THE TEAM CAPTAIN
Remember that your Homegate is going to feed off of your attitude and instruction, so don't get too caught up in stressing over the details. If you get thrown a curveball (okay, that's a baseball term, I'm sorry), just roll with it. If you're dedicated to having fun, your friends will be, too.
Plus, who could mope when this spread's in front of them?
Print
The Rebel Lime-A-Rita Cocktail
---
Author:

Yield:

1

cocktail

1

x
4 ounces

Lime-A-Rita

2 ounces

lemon-lime soda

2 ounces

seltzer

2

jalapeno slices
Chili salt rim, optional
Lime wheel garnish, optional
---
Instructions
Combine the Lime-A-Rita, soda, seltzer, and jalapeno slices, and then pour over ice into a margarita glass with a chili salt rim. Garnish with a lime wheel.
I was selected for this opportunity as a member of CLEVER and the content and opinions expressed here are all my own.