Forgive me if I'm repeating myself here (which I'm nearly positive I am), but I consider myself a pretzel expert. Or maybe more of a pretzel fanatic.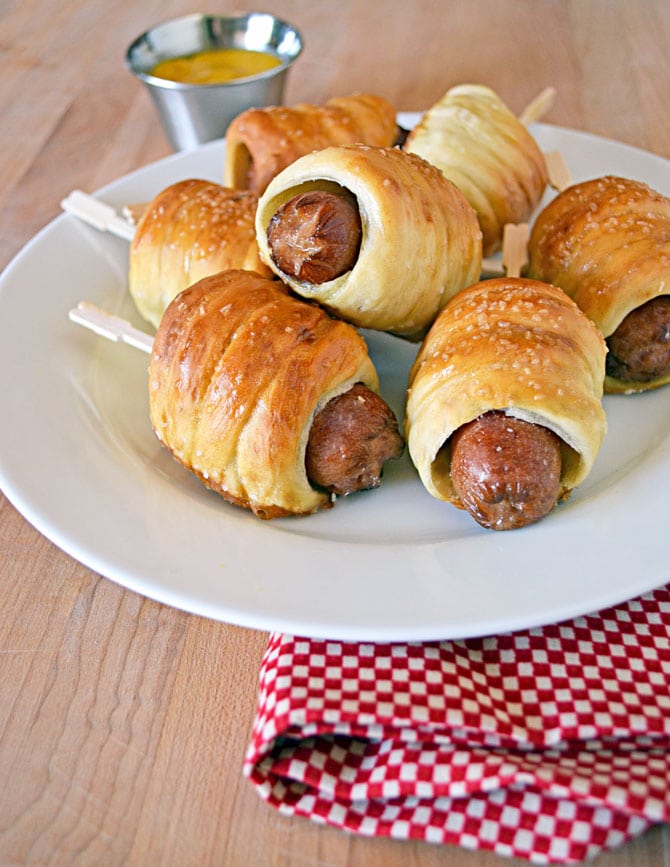 I mean, whatever you call it, there's definitely an obsession there. Thin, sourdough, mall-style or Philly-- I'll take them all. I worked at Auntie Anne's for over 6 years and I never got tired of those buttery, soft pretzels (much to everyone's surprise). In fact, working there has only made me want to make pretzels more often now, because I've realized that you just can't go wrong with a pretzel. You really can't.




I try to stop myself from making pretzels every week and turning this into a pretzel-themed blog, because as wonderful as that sounds, it'd get pretty monotonous, don't you think? However, when my partner in pretzel-loving, James, was having his college graduation party, I knew what had to be done-- I had to think of a pretzel appetizer. And Mini Pretzel Dogs were born.




So I made a bunch of these, and luckily they were easy to make because I wound up having to make 40 more. Nobody could keep their hands off them long enough for me to wrap them up to bring up to James' mom's house, where the party was. They didn't last very long there, either-- but it's a hot dog wrapped in pretzel; what else could you expect?




... Aaaand now I'm hungry.




You can set these out on a platter as a finger food, or you can insert a skewer or cocktail pick to make a Mini Pretzel Dog on a Stick! This way of serving is great for dipping in mustard or ketchup without a hassle, and makes them extra fun and whimsical for guests.

The pretzel dogs also do pretty well in the freezer. Separate the dogs with plastic wrap or parchment paper so they don't stick together and then put them in a freezer bag. When you'd like to heat them up, you can either pop them all in the oven until heated through, or if you'd like to only snack on one or two, wrap them in a paper towel and heat them in the microwave in 15 second intervals until they're warmed through.

I prefer my pretzels to just be salted, but feel free to add poppy seeds, sesame seeds, or jalapenos to the top. Also, if you make a lengthwise incision in the hot dog, you can rip up a slice of cheddar cheese and wedge it in before wrapping the dogs up for cheesy pretzel dogs! Oh, the possibilities.

Print
Mini Pretzel Dogs
---
Author:

Total Time:

1 hour 45 minutes

Yield:

4

8

1

x
Description
Warm, soft pretzels form the "bun" on these fun Mini Pretzel Dogs. They're easier to make than you'd think, and they don't require a bread machine or stand mixer! You can make them with beer for adults or water for a mixed crowd!
---
1

(12 fluid ounce) can or bottle room temperature beer, or warm water

1 tablespoon

white sugar

2 teaspoons

kosher salt

1

package active dry yeast

4 ½

cups

all purpose flour

¼

cup

unsalted butter, melted

1

large egg yolk

1 tablespoon

water

4

cups

hot water

½

cup

baking soda

¼

cup

kosher salt, divided or to taste

3

packs hot dogs, cut in half to equal 48 mini hot dogs
Brown mustard
---
Instructions
Heat the beer in a saucepan over low heat until it is very warm, but not scalding.
Combine the warm beer, sugar, and 2 teaspoons kosher salt in a bowl. Sprinkle the yeast on top, and let the mixture stand until the yeast becomes foamy, about 5 minutes.
In a large bowl, combine the flour, butter, and yeast mixture. Use a large, wooden spoon to mix together the ingredients until they form a ball shape and pull away from the dough. The dough will still be a bit straggly at this point.
Remove the dough from the bowl and knead on a lightly floured surface until smooth, about 2 minutes. Then form into a smooth ball, spray the bowl it was originally mixed in with non-stick spray, and place the dough back in the bowl. Cover with a kitchen towel and let it rise until doubled in size, about an hour.
Preheat the oven to 450 degrees.
Turn the dough out onto a lightly oiled surface, and cut off a finger-sized strip of the dough using a pizza cutter.
Roll out the cut dough into a long, thin strip. Place the mini hot dog on one edge of the dough, push the dough into the dog, and roll the dog up in the dough, leaving the ends open. A few centimeters of hot dog should peek out of the front end of the dough (the uncut side of the hot dog) and the dog should be even with the dough in the back.
Stack two baking sheets on top of each other, and line the top one with parchment paper or spray with nonstick spray. This will prevent the bottoms of the pretzel dogs from getting too hot and burning before the rest of the pretzel is done.
In a metal bowl, add the 4 cups of hot water and the baking soda. Whisk until the baking soda has dissolved. One at a time, dip the mini pretzel dogs into the solution, place them quickly on a folded-up kitchen towel to let any excess water drip off, and then transfer them to the baking sheet. Make sure the pretzel dogs have room to expand without touching surrounding dogs. You only have to dip and drip each one for a few seconds.
Beat the egg yolk in a small bowl with 1 tablespoon of water and brush the egg wash over each pretzel dog.
Sprinkle with the remaining kosher salt, and/or toppings of your choice.
Bake in a preheated oven until golden brown, about 15-17 minutes.
Prep Time:

1 hour 30 mins

Cook Time:

15 mins