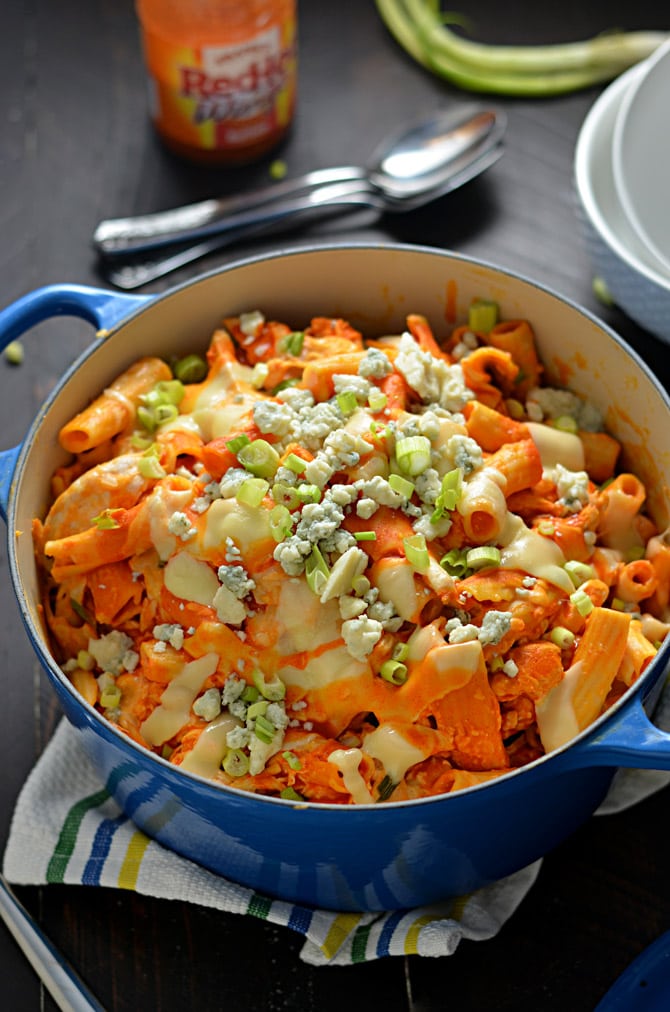 It was bound to happen.
Between my buffalo chicken obsession and never-ending stream of one pot pasta recipes, you probably saw this coming, right?
Yes, you know what I'm talking about. It's creamy, it's cheesy, it's spicy, and it's carby. It's what love songs and heart-eye-emojis were made for. It's all of my guilty pleasures wrapped up into one easy recipe. Oh be still, my beating heart! It's One Pot Cheesy Buffalo Chicken Pasta.
I'll be honest: My brain has spent so long sabotaging me when it came to the creation of this recipe, which I am sorry to tell you I thought of months (maybe years) ago and never followed through with. It's too simple, Morgan. You've got enough buffalo chicken recipes, Morgan. Yes, yes, keep overthinking everything, Morgan.
That's my best impression of my brain. I think I nailed it.
Seriously though, I've spent a long time trying to think of ways to fancify buffalo chicken pasta, or to ditch the idea altogether. It seemed almost embarrassingly basic for a blog post, like something you'd throw together after discovering that your fridge is only stocked up with cheese and condiments; and all you have in the pantry is a half-eaten jar of peanut butter, a box of ziti, and enough cheerios for, like, half a bowl; but you decide to make it work because you are hungry, and your show is about to start, and dragging yourself back out to the grocery store would be absolute torture.
But then, one day, exactly that happened. Finally, as a last-ditch effort to eat, I surrendered myself to the buffalo chicken forces that moved me and threw everything together in a freaky, Frank's-soaked experiment.
Who would have thought that in the end, the combination of pasta and creamy buffalo chicken wouldn't seem like a barely-passable kitchen mash-up, it would actually work. It worked well, in fact. It worked so well that I made it twice more in the course of two weeks.
Someone please remind me again why I took so damn long for me to actually make my One Pot Buffalo Chicken Pasta dreams a reality?
By the way, if you're new to one pot recipes, they are the best. You cook the pasta right in the sauce (yes, no separate boiling!) so that it absorbs some of the flavor, lends some starch to thicken up the liquids, and best of all, requires no extra dishes to wash. I repeat, NO EXTRA DISHES TO WASH! It's like music to my ears.
If you don't have leftover shredded chicken laying around, you can make that in the same pot too, just place your chicken in the pot, cover with water, and bring to a boil over medium-high heat. Then reduce to a simmer, cover, and cook until the chicken is no longer pink on the inside, about 8-10 minutes. Remove the chicken, pour out the liquid, shred the chicken up using two forks, and you are good to go!
Everything else is just simmered and melted together into one big, delicious, warm and indulgent pot of love.
I think you get the picture. (But just in case, "the picture" is that you need to make One Pot Cheesy Buffalo Chicken immediately, as in right now, as in this very second get up from the computer and why are you wasting your time reading this when you could be making and eating that?)
Oh, and when you do make it, don't forget to take a photo and tag #hostthetoast on Instagram or Twitter to show it off. I can't wait to see yours!
Print
One Pot Cheesy Buffalo Chicken Pasta
---
Author:

Total Time:

30 minutes

Yield:

4

-6

1

x
2

cups

chicken broth, plus more as needed

½

cup

buffalo sauce (such as Frank's buffalo sauce), plus more to taste

1

pound

uncooked penne or ziti pasta

1 ½

pounds

(2-3) boneless skinless chicken breasts, cooked and shredded

8

ounces

(1 package) cream cheese

1

cup

half and half
Kosher salt and black pepper, to taste

4

ounces

(1 cup) shredded meltable cheese (such as mozzarella, american, or pepper jack), divided

3

sprigs green onion, sliced,
Blue cheese crumbles, to top, optional
---
Instructions
In a large, heavy bottomed pot or skillet, heat the chicken broth and buffalo sauce over medium-high heat. Stir in the dry pasta, making sure that the liquids just barely cover the pasta-- if not, add a bit more chicken stock. Bring to a low boil and cook until pasta is nearly al dente, about 15, stirring often. The wider the pot or skillet, the quicker the pasta will cook, so be sure to test it occasionally.
Reduce to low heat and stir in the half and half, cream cheese, shredded chicken, and half of the shredded cheese. Mix well and allow the cheese to melt into the sauce. Continue to simmer for 5 minutes, checking the pasta to get to your desired consistency. Stir in half of the green onion; and salt, pepper, and additional buffalo sauce, to taste.
Sprinkle the remaining shredded cheese over the top and allow to melt. Top with green onion and blue cheese, if desired. Serve warm.
Prep Time:

10 mins

Cook Time:

20 mins