Want to bring your Fall treats to the next level? Don't look any further than these creamy Pumpkin Cheesecake Truffles, featuring all of the tastiest autumn flavors in adorable, bite-sized packages.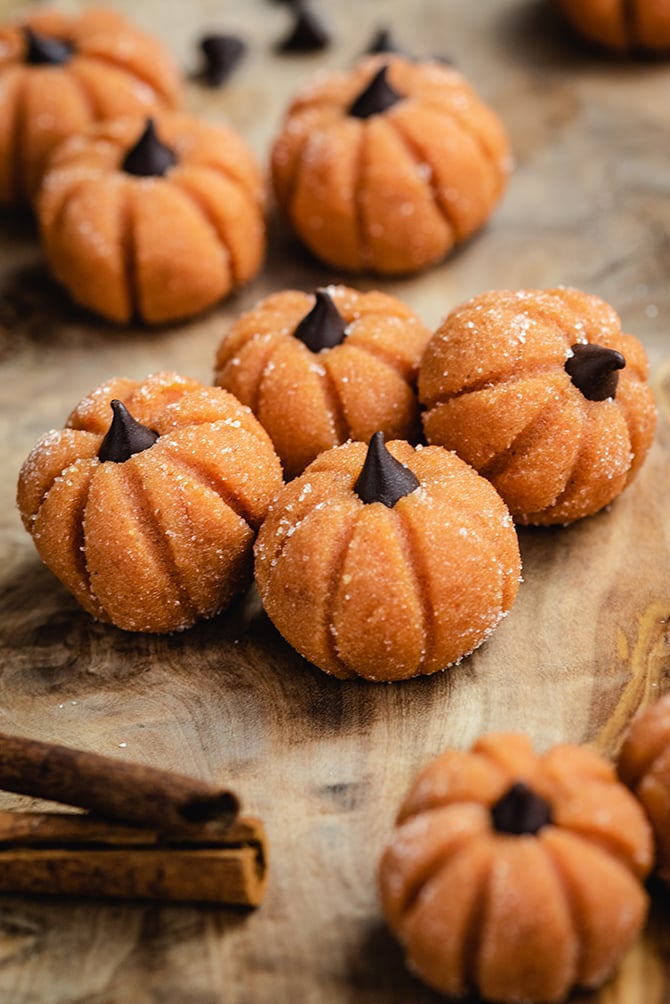 So let me start off by saying that every baker worth their salt knows about a secret war going on-- The war against beautiful recipes that taste straight up offensive.
I'm looking at you, fondant. I see you, chalky piped sugar cookies.  You deceptive little devils, you.
Well, I have good news: This is not one of those recipes.
You don't have to worry about your friends biting in to one of these tiny truffles and uncovering a playdoh-textured hellscape. These Instagram-worthy treats are actually good.
How good, you ask?
Think of the perfect bite of pumpkin cheesecake.
The rich and velvety pumpkin-flavored filling.
The kiss of sugar and perfectly balanced spices.
The tangy cream cheese.
The buttery graham cracker base.
And then imagine it wrapped up in itty-bitty pumpkin-shaped packages. Imagine them at your Halloween party, or-- even better-- on the Thanksgiving dessert table. I'm telling you, pumpkin pie is tasty and all, but it doesn't have anything on these babies. You can quote me on that.
WHAT ARE THESE MINI PUMPKINS ACTUALLY MADE OF?
If you've ever seen my recipe for Slow Cooker Pumpkin Cheesecake, you'll notice a lot of the same ingredients here: canned pumpkin, cream cheese, sugar, pumpkin spice, a bit of butter...
But there a couple of new ones that are integral to making these pumpkin truffles as amazing as they are without having to pop anything into the oven. The most important of which is sweetened condensed milk.
Sweetened condensed milk is the secret to a Brazilian treat called brigadeiros. The most common ones are made with cocoa powder to create a ridiculously fudgy truffle base, then rolled in chocolate sprinkles for extra oomph. However, there are other flavors that are just as delicious if not just as popular-- including a pumpkin version that inspired these truffles. (You can thank Chocolate Cacao for introducing me to them!)
Not only does the sweetened condensed milk adds sweetness and creaminess to the recipe, but --when heated on the stove-- it also allows the pumpkin cheesecake mixture to thicken into a loose dough that can later be molded into those cute pumpkin shapes. 
For further stability and flavor, I also add graham cracker crumbs and a bit of white chocolate. I'll be honest, I'm not the hugest fan of white chocolate in general, but its flavor is mostly masked in these truffles, while it works wonders for binding everything together and keeping the texture on point.
And, while it's totally optional, I like to add a few drops of food coloring just to enhance that orange pumpkin color.
HOW DO YOU MAKE PUMPKIN CHEESECAKE TRUFFLES?
Putting everything together is actually surprisingly easy. First you heat the pumpkin puree, cream cheese, butter, pumpkin pie spice, and sweetened condensed milk in a skillet or saucepan over medium-low heat. You have to be sure to stir constantly (I mean it!) and the mixture should become mostly smooth and begin to thicken after just a few minutes.
Then, add in the white chocolate and graham cracker crumbs and keep stirring until your mixture begins to pull away from the edges and bottom of the pan. You want it to be at least as thick as you see in the recipe video here. If you're unsure, just keep going. It can get quite thick and that makes it even easier to roll.
Don't forget to add a little food coloring at this stage, if you so choose. And once everything is looking nice and even and smooth, go ahead and remove your pan from the burner. You're going to want to chill the dough now so it can be rolled into truffles.
Some people simply pop their pan into the fridge or throw the dough into a bowl before sending it to the freezer for a few minutes, but I've learned that the best way is to spread it over a buttered baking sheet so that there's more surface area (which allows it to cool and solidify in the fridge much faster).
After at least two hours in the fridge, your truffle base should be ready to go. Use a spoon (or your hands!) to take a small portion and roll it into a ball. If you're having issues with the dough sticking to your palms, it helps to rub your hands all over with butter before rolling.
Once a truffle is formed, you can immediately roll it in granulated sugar to coat the outside. This will give your truffles a sparkle, but also helps add the perfect amount of sweetness to the outside.
And then it's time to decorate! Believe it or not, it couldn't be easier. All you need to do is create lines on the pumpkin truffle by pressing in the side of a toothpick all around, and then top your truffle off with a chocolate chip "stem".
Viola! You've got pumpkins. You can either eat them immediately, or place them in the refrigerator until they're ready so serve.
WATCH THE PUMPKIN CHEESECAKE TRUFFLE VIDEO
Print
Pumpkin Cheesecake Truffles
---
Author:

Total Time:

45 mins

Yield:

2

0

1

x
Description
Adapted from Chocolate Cacao's recipe
---
1 tablespoon

butter

4

ounces

cream cheese, softened at room temperature

½

cup

canned pumpkin puree

1

(14-ounce) can sweetened condensed milk

1 ½ teaspoons

pumpkin pie spice

½

cup

graham cracker crumbs

⅓

cup

white chocolate chips
Orange food coloring (or red and yellow food colorings), as needed, optional
Granulated sugar, as needed, for rolling
Chocolate chips, for topping
---
Instructions
Combine the butter, cream cheese, pumpkin, sweetened condensed milk, and pumpkin pie spice in a skillet over medium heat. Stir constantly until thickened and well-combined. Stir in the graham crackers and white chocolate chips until melted and smooth. Add a few drops of food coloring if desired.
Continue to stir until the pumpkin cheesecake mixture releases from the sides and bottoms of the pan when stirred. (If it doubt, cook a bit longer-- it's better to the thicker than too thin.)
Pour over a butter-greased baking sheet. Spread into an even layer and refrigerate until firm, about 2 hours, or overnight.
Rub butter on your hands to prevent sticking and then roll the chilled pumpkin cheesecake dough into small balls.
Pour granulated sugar into a shallow bowl and roll the truffle balls in granulated sugar to coat.
Using a toothpick, make ridges along the sides of the pumpkin truffles. Top with chocolate chips to look like stems. Serve immediately or refrigerate until ready to serve.
Prep Time:

30 mins

Cook Time:

15 mins