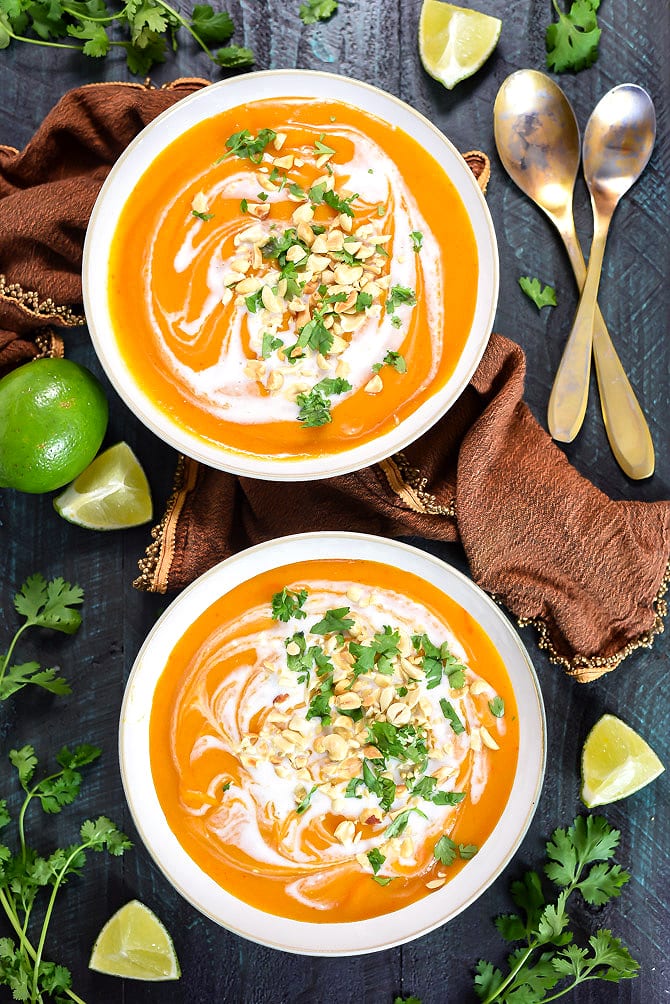 Usually I'm pretty convinced that "make it in the slow cooker" is all I have to say in order to turn some heads around here, but it tends to take a lot more to coerce James and Mike into trying a recipe without ruling it out before they take a bite. Include anything that even mildly resembles coconut or squash and it becomes incredibly difficult. Refuse to "balance those ingredients out" with bacon and it's practically impossible. So I generally wait to save those recipes, like this Thai Coconut Curry Butternut Squash Soup, for days when I'll be home alone and don't have to exhaust myself through the just try its and I think you'll be surprised you like its, and I can simply enjoy the comforting way that all of those flavors come together and make me want to curl up into a ball of contentedness.
Since James was on a business trip this past week I had the souppertunity-- that's a super soup opportunity-- to make Thai Coconut Curry Butternut Squash Soup again. I say "again" because this recipe isn't a new one for me-- not even close. I've been making it for years every time it begins to get cold out and the frigid fall weather leaves me craving something to combat the chill. The fact that this soup is both warm (obviously) and has a bit of a kick to it makes it perfect for the job. And even though we're still experiencing end-of-summer weather here in New Jersey, I'd been patiently waiting for soup season more than long enough.
This time around was the first time I ever tried making this soup in the slow cooker, in an attempt to make my already easy recipe even simpler and more hands-off. It was just as good as ever, and I also got the bonus perk of being able to smell the nutty squash and fragrant spices as they slow cooked throughout the day. I think, in the future, I'll stick to the slow cooker method, but if you don't have one or simply don't have the time to wait, don't worry. I'm keeping the directions for the stovetop version up here as well so you can choose whichever way works best for you.
The only downside to making the recipe in the slow cooker was that I had more unoccupied time, AKA time to think about how it was weird that James wasn't here, since we haven't spent much time apart ever since he also started working from home. It's funny how quickly you can get used to seeing someone damn near constantly. Just 2 years ago, we were living an hour and a half away from each other and only seeing each other on the weekends. This week he was in North Carolina for 3 days and I practically keeled over from boredom. Don't get me wrong, I do enjoy my space a lot, and the fact that I have a housemate (Mike) means that I still have someone to talk to when he's not working or running around, but I still wished James would have been home to hang out with me while I ate about a billion bowls of soup.
Apparently James felt the same way, except he wished he was here to eat a bowl of soup as well? I have to include a question mark because I'm not sure what happened to the man that I used to know who would screw up his face at the idea of any meal that sounded even remotely like it couldn't be sold at a local pizza place, or who aggressively hated coconut, or who refused to touch squash. Regardless, he messaged me saying he was disappointed that I chose to make the Thai Coconut Curry Butternut Squash Soup on a day he was gone, and I've been forced to come to the conclusion that I've made a new man of him-- one that is unafraid-- no, eager-- to try new recipes that used to be a hard sell. I knew his palate had expanded a lot since we first started dating like half a decade ago, but this one was a shocker. I made sure to save some soup for him, and he surprisingly did enjoy it. I think the peanuts on top played a large part in that, though. The man loves peanuts.
I've got to admit, it was a little disappointing that he liked it enough to finish his whole huge bowl, because I'd hoped he would try it, say it wasn't for him, and then let me finish off the last of the soup. What can I say? I really love this soup.
I'm not the only one who is obsessed with this soup, by the way. Ever since I first made it a few years back, it's been a regular in my mom's kitchen, a favorite among my friends, and a popular go-to for readers as well. It also happens to be a vegan recipe (as long as you make sure that your Thai red curry paste is vegan-friendly-- I personally use Thai Kitchen brand which you should be able to find in the International aisle at your local grocery store, and that contains no animal products), and is therefore dairy-free as well, not to mention that it's also gluten-free, so it's really a great option to serve when you've got people with different dietary needs to feed. Maybe that's why so many people love it. I personally think it has more to do with the layered flavors of buttery, nutty squash, creamy coconut milk, savory Thai curry, lime juice, cilantro, and peanuts, but really either reason is a good one to make it again and again.
I always serve mine with an extra drizzle of coconut milk on top because I love the look of the swirls, and I usually actually eat it with naan... which is in no way, shape, or form traditionally paired with Thai food, but it's still great for dunking into this smooth and soothing soup. And since we're on the subject of pairing this soup with other types of foods, I should mention that the Thai curry flavor isn't too overpowering in this recipe to serve it alongside traditionally fall-flavored dishes. I've actually made it for Thanksgiving a few times now, and it's a wonderfully unique way to break up the same seasonings that are used throughout most Thanksgiving recipes, while still fitting into the spread.
Print
Thai Coconut Curry Butternut Squash Soup
---
Author:

Total Time:

50 minutes

Yield:

4

1

x
Description
Adapted from http://www.myrecipes.com/recipe/thai-butternut-soup
---
1 tablespoon

canola oil (if cooking on stovetop)

2

cloves garlic, minced

1

small yellow onion, diced

1 teaspoon

ginger, freshly grated

2 tablespoons

Thai red curry paste

2

cups

chicken or vegetable broth

1

medium-sized butternut squash, peeled, seeded, and cut into 1" cubes (about

4 cups

)

1

(15-ounce) can coconut milk, divided
Juice of

1

lime

½ teaspoon

salt, plus more to taste

¼ teaspoon

freshly ground pepper, plus more to taste
Sriracha to taste, optional

⅓

cup

cilantro, chopped, to garnish

⅓

cup

unsalted, dry-roasted peanuts, chopped, to garnish
Naan, to serve, optional
---
Instructions
If using the stovetop method: Heat the oil in a large soup pot over medium heat. Add in the garlic and onion, and saute until soft and fragrant, about 3 minutes. Add in the ginger and curry paste and stir to combine with the onion and garlic. Cook for 3 more minutes, stirring often. Add in the raw butternut squash cubes and slowly pour in the broth, stirring to combine. Season with salt and pepper. Bring to a boil and then reduce heat to a simmer and cover. Cook for 20 minutes, or until butternut squash is tender. Remove from heat and let cool for a few minutes.
If making in the slow cooker: Add butternut squash, garlic, onion, ginger, Thai curry paste, broth, and salt and pepper to the slow cooker. Stir to evenly distribute. Cover and cook on low for 6-8 hours, or high for 3-4 hours.
Pour the soup into a blender in batches and blend until smooth, or use an immersion blender to blend in the pot or slow cooker. Before serving, remove the soup from the heat or turn off the slow cooker and mix in the coconut milk (saving a few tablespoons to garnish) and lime juice (if using). Mix well. Season with additional salt and pepper, if desired, and add sriracha to taste for extra spice, if using. Pour into bowls and drizzle the remaining coconut milk on top. Swirl the coconut milk with a spoon. Sprinkle with chopped cilantro and chopped peanuts. Serve warm with naan bread.
Prep Time:

15 mins

Cook Time:

35 mins