This blog post has been compensated by Borden® Cheese. All opinions are mine alone. #BordenCheeseLove #CollectiveBias #Ad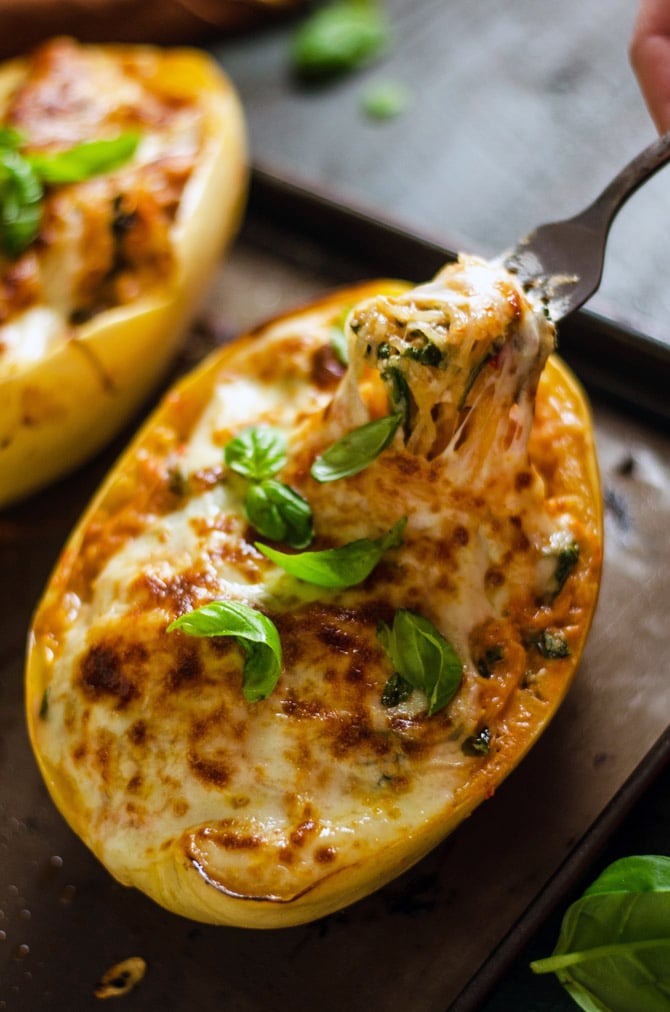 I've been promising myself for months that I would start sharing (and making) better for you, easy to make meals more often. We're just about a month into the new year, and while you all are "new year, new you"-ing, I've been over here devouring decadent, cheesy, flavor-packed recipes. Whoops.
Well, I'm finally ready to turn over a new leaf, too. So today, I'm going to share... another decadent, cheesy, flavor-packed recipe. But wait, wait wait. This time, it's better-for-you-eater approved! That's right, check out this Cheesy Tuscan Spaghetti Squash!
And you know, if you can get that sort of cheese pull by sticking your fork into a diet-friendly recipe, you've struck gold.
Spaghetti squash has been all over the web for quite some time now, but no matter how many recipes I've come across swearing that it's the greatest thing to happen to the low-carb crowd,  I've been a spaghetti squash skeptic. "It's not going to be a good substitute. I'd just miss my beloved pasta," I'd think as I walked past it in the grocery store.
That is, until a few weeks ago, when I (dubiously) decided to try it. You know, for science's sake. I eyed it suspiciously as I pulled it from the oven after roasting it with a tiny bit of olive oil, salt and pepper. I pessimistically pulled the strands of squash with a fork and took a tiny taste test. And then another. And next thing I knew I was taking a bite between every spoonful I'd scoop out. I was completely wrong about spaghetti squash.
Did it taste like pasta? No. Well, at least not to me, though James insists that it's "very close to al dente pasta." But the squash flavor was mild, nutty, and ever so slightly sweet. It wasn't roasted to mush-- it maintained the perfect amount of crunch. I'm telling you, it was not at all the bland and lifeless diet dish I expected.
When mixed with seasonings and sauce, it gets even better. Case in point: this Cheesy Tuscan Spaghetti Squash. A creamy tomato-based sauce spiked with plenty of basil is mixed with wilted spinach and roasted garlic, gooey Borden® Cheese Mozzarella Shreds, and roasted spaghetti squash. Then, it's stuffed back into the squash skin, covered with Borden® Cheese Smoked Provolone Slices, and broiled until bubbly and melted. One squash half is SO MUCH food, but clocks in at around just 500 filling calories. Whaaaat!
This is the sort of dish that makes you realize that you don't need a ton of carbs to make a satisfying dinner. You don't even need meat (although you're free to mix in some chicken or ground beef to this recipe, if you're so inclined). All you need is a few pantry staples, some affordable produce, and yes, ooey, gooey, melted cheese.
That cheese is really the element that transformed this dish from something that might only be appealing to the better for you eaters out there to something that your whole family-- from picky partners to fussy kids-- would enjoy. It brings love and comfort to the recipe, and skyrockets it to "repeat ASAP" territory. The Borden® Cheese melted beautifully (as you can tell) and was so flavorful, even against the bold tastes of the garlic and tomato. Generic packaged cheeses ain't got nothin' on these.
They were also so easy to find, thanks to the store locator. There were plenty of varieties in the dairy aisle at my local ShopRite, with their bold, red packaging. You know what that means. Plenty of recipes loaded up with Borden® Cheese to come. As I always say here, you can never have too much cheese. Or at least I can't.
And truthfully, you can never have too much Cheesy Tuscan Spaghetti Squash. In fact, I'm eating some leftovers as I write this, and I'm loving every bite. You will too, once you make it! By the way, when you do make this Cheesy Tuscan Spaghetti Squash, don't forget to take a picture and tag #hostthetoast on Instagram. It'll show up on the You Made It page, so you can show it off right here on the Host the Toast website. I can't wait to see yours.
Print
Cheesy Tuscan Spaghetti Squash
---
Author:

Total Time:

1 hour

Yield:

4

1

x
2

medium spaghetti squash
Olive oil, for brushing
Kosher salt and black pepper

1

whole head garlic

1

can (15 ounces) crushed tomatoes

½

cup

chicken or vegetable stock

3 tablespoons

prepared pesto

1

cup

plain Greek yogurt

1

cup

(4 ounces) Borden® Cheese Mozzarella Shreds

5

ounces

fresh baby spinach
Salt and pepper, to taste
Red pepper flakes, to taste

8

slices Borden® Cheese Smoked Provolone Slices
Basil leaves, to top
---
Instructions
Preheat the oven to 400°F.
Carefully cut the spaghetti squash in half, lengthwise. Scrape out the seeds and the gooey flesh surrounding it, leaving the denser flesh intact. Transfer the squash to a large rimmed baking sheet, and brush the inside of the squash lightly with the olive oil. Season with plenty of salt and pepper. Flip the squash over, so that the cut side faces down.
Remove the excess papery exterior from the head of garlic, but keep the remainder of the head intact. Cut the top off of the head of garlic to expose the tops of the individual cloves. Place the garlic head on a piece of aluminum foil and drizzle the exposed cloves lightly with olive oil. Wrap the garlic in the foil and place on the baking sheet with the squash.
Roast the squash and garlic until tender, about 35 minutes. Once roasted, allow the squash to cool for 5-10 minutes before handling.
Flip the squash over so that the cut side is facing up. Scoop the spaghetti squash from the skin and place in a large bowl. Set aside.
In a medium-sized pot, heat the crushed tomatoes and stock over medium heat. Bring to a boil. Squeeze in the roasted garlic and mix well. Reduce heat to medium-low. Add in the pesto and yogurt, stirring to combine. Stir in the Borden® Cheese Mozzarella Shreds and baby spinach. Continue to stir until the cheese is melted and the spinach is wilted.
Mix the scooped out spaghetti squash into the sauce. Season with salt, pepper, and red pepper flakes, to taste.
Divide the saucy spaghetti squash evenly amongst the spaghetti squash skins. Cover with the Borden® Cheese Smoked Provolone Slices and broil the squash until the cheese melted and beginning to brown in spots. Top with fresh basil leaves and serve warm.
Prep Time:

25 mins

Cook Time:

35 mins