This Easy Chickpea curry is the perfect weeknight dinner: it's quick and easy to make, it comes together in one pot, and it uses staple pantry ingredients so you can make curry any time the craving hits. By the way, this recipe packs in some serious flavor, but it doesn't require any hard-to-find spices, and it's loaded with protein and fiber! Even the most adamant carnivores won't miss the meat in this vegan-friendly dish.
Apparently, shutdown grocery trips have meant one thing for me: buying another couple of cans of crushed tomatoes, another couple of cans of chickpeas, maybe even a bag of chickpeas for good measure, and grabbing whatever other odds and ends I can think of-- an onion here, a few heads of garlic there, maybe some pasta, a bag of pretzels, some bell peppers, iced tea...
But man, at some point, you'd think I would have thought, "I don't ever need-- nor want-- to buy chickpeas again." Perhaps after I made Pasta e Ceci for the fifth time. Maybe after I more hummus than one human being should consume in a decade. Definitely when I ran out of room in the pantry.
And I was almost there, honestly. Then, out of desperate need to switch-up my chickpea game (and make some space), I made this Easy Chickpea Curry. Let me tell you, I was back on the chickpea train so quick. 
Because here's the thing: This Chickpea Curry is one of those recipes that you actually can make on a whim. You don't need to defrost the meat in the freezer. You don't have to run out for fresh and fast-spoiling veggies. You just have to grab some cans from the pantry, add a few other staple ingredients you likely have lying around, and you have an actually delicious dinner in under an hour.
I should emphasize the delicious part. 
It's creamy, tomatoey, and heavily spiced. It's rich and velvety and satisfying. It's a recipe that will fill you up on the first serving, but you'll go back for seconds anyway because you can't help yourself. 
A SPIN ON MY FAVORITE TIKKA MASALA
If you're reading the ingredients and you're thinking, "this sounds an awful lot like your Easy Chicken Tikka Masala recipe", you're right. This recipe was born from that recipe, but even faster and even easier (and vegan approved).
While I love making my own spice mix for the perfect balance of flavors, I wanted this version to be super simple and not require any difficult-to-gather ingredients, so I stuck with pre-blended curry powder and additional cumin. I also ditched the marinade (not necessary for chickpeas!) and opted to go without ginger as I don't always have it on-hand.
You can, of course, always opt to spice things up with your own spice mix (simply follow the Easy Chicken Tikka Masala recipe if you'd like to make your own), or add in additional vegetables or aromatics.
Just like the Chicken Tikka Masala, this recipe is best served with basmati rice, some fresh lime wedges, and plenty of naan to scoop up all of that sauce. The sauce is the best part!
HOMEMADE GARLIC NAAN
Pre-packaged naan from a grocery store will work in a pinch, but there's nothing better than warm, fresh, buttery naan. If you want to make your own, this recipe for Homemade Garlic Naan is a must!
Tip: Make the dough ahead, separate it into balls, and freeze them individually to defrost later and make fresh naan any time you make curry!
SO IS THIS RECIPE CHANA MASALA, THEN?
It depends on who you ask. Some people will tell you that becuase there are so many varieties of Chana Masala, any dish consisting of chickpeas in a heavily-spiced onion and tomato sauce will count. Others will tell you that if you use curry powder it doesn't count as Chana Masala because curry powder and garam masala are very different in flavor. And even more have a list of other criteria a dish has to meet to count as Chana Masala, like using a certain type of chickpea, or including green peppers. So I'll just stick with calling it curry.
But the honest truth is, whatever you call it, it's an simple, delicious recipe inspired by authentic Indian flavors but with some corner-cutting for weeknight ease.
HOW TO MAKE EASY CHICKPEA CURRY
This pantry Chickpea Curry recipe is a simplified version of the more classic Chana Masala, made to come together in under an hour and require no soaking of the chickpeas or complex blend of spices.
Instead of including a long list of ingredients, this recipe makes sure to pay special attention to the few "must have" components. For example, to begin, we cook the onions and garlic on medium-low heat. While we want to make this recipe fast and easy, it's important that we get a good, golden color on the onions before we continue. This brings out some of the sweeter and more subtle flavors of the onion and garlic, prevents any bitterness from cooking too fast, and allows the onions to sort of melt into the sauce a bit as we continue to cook. 
We also add in the crushed red pepper flakes with the onion and garlic. This allows the flakes to toast first, and then, as the onions release their juices, to re-hydrate a bit. You can also opt to omit the crushed red pepper flakes and use fresh red hot peppers if you have them on hand, or simply add a squirt of sriracha or a different chili sauce towards the end, to taste, if you prefer.
Next, we add the curry powder and cumin. We mix it all up and let it get toasty before moving on. Usually, for Indian food, you'd want to toast whole seeds for optimal results. But even toasting ground spices can bring out subtle tastes like a slight extra nuttiness, while mellowing some of the harsher flavors.
Now it's time to make the sauce. First, we add crushed tomatoes or canned tomato sauce and mix well, gently scraping up any toasted spices on the bottom of the pot. Then, we add in full fat coconut milk, which gives this recipe its creamy consistency. Avoid low-fat alternatives as they tend to be too thin for a good sauce.
Finally, it's time to add the stars of the recipe: the chickpeas! It's best to drain and rinse them first, as it decreases the sodium in the recipe and makes the chickpeas easier to digest and less gass-producing.
And all we have to do is wait for those chickpeas to warm through and soften just a bit to the perfect tender consistency, and for the sauce to thicken slightly.
At this point, we adjust our seasonings to taste (and add salt and pepper!) and sprinkle over a little chopped fresh cilantro, if we have some on hand. Now it's time to serve!
EASY CHICKPEA CURRY VIDEO
Print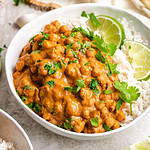 Easy Chickpea Curry
---
Author:

Total Time:

40 mins

Yield:

6

servings

1

x
2 tablespoons

vegetable oil or coconut oil

1

medium onion, sliced

3

cloves garlic, minced

¼ teaspoon

crushed red pepper flakes

1

-

2

tablespoons curry powder

1 teaspoon

cumin

1

(15 ounce) can crushed tomatoes

1

(13.5 ounce) can coconut milk

2

(15 ounce) cans chickpeas, drained and rinsed
Salt and pepper, to taste
Chopped fresh cilantro and lime wedges, for garnish (optional)
Naan bread and rice, to serve (optional)
---
Instructions
In a large, heavy bottomed pot or high-walled pan, heat the oil over medium-low. Add the sliced onion, garlic, and crushed red pepper to the pot. Cook, stirring occasionally, until the onion is softened and deep golden, about 15 minutes. Add a tablespoon of water at a time if the onions get dry.
Increase the heat to medium. Add the curry powder and cumin and stir until toasted, about 1 minute. Add the crushed tomatoes and gently scrape the bottom of the pan with a wooden or rubber spoon to release the any browned spices or onions stuck to the bottom.
Pour in the coconut milk and add the chickpeas the pot. Stir and reduce to low heat. Let simmer until the sauce is thickened and the chickpeas are slightly softened, about 10 minutes, stirring occasionally. Season with salt and pepper to taste, and adjust other seasonings as necessary.
Garnish with chopped cilantro and serve with lime wedges over basmati rice and/or with naan.
Prep Time:

10 mins

Cook Time:

30 mins