If you're looking for a great easy appetizer, try Garlicky Feta Dip. This simple, creamy dip is tangy, flavorful, and always a crowd-pleaser.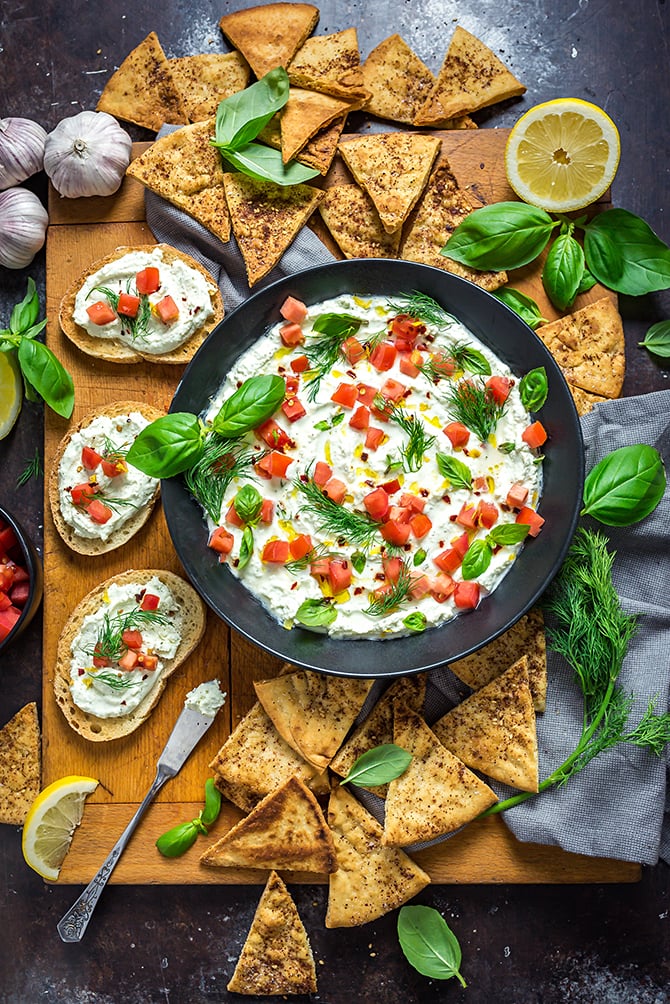 James now calls this "Trust Your Gut Dip", which is probably a catchier name for it, truth be told.
The story behind it is that I've been making this Garlicky Feta Dip for years-- I first posted it back in 2014-- and because my friends have eaten it so many times, I was asked to bring it along with me to a big birthday party. Take a mental note: If you do make this dip for your friends, you will probably be asked to make it again. Often.
Luckily, the dip is incredibly easy to whip together (literally the ingredients are whipped together in the food processor), so it's a relief when people request it rather than one of my more involved recipes. And they do request it enough that I've made it countless times now, and it's always a hit. There really was no reason I should ever mess with the recipe.
But of course I did anyway.
I bought a ridiculous amount of feta cheese because I wanted to make a massive bowl of whipped feta dip, complete with homemade za'atar topped pita chips and bruschetta. It would be the star of the party and take me under an hour to prepare, including making the chips and toasting the bread. That's the best kind of recipe, isn't it?
Except this time, I figured I'd try using olive oil instead of Greek yogurt to get the dip to the right consistency. One less ingredient to pick up from the store! I'd read other recipes that used olive oil from some well-respected chefs and foodies, and even though I was hesitant about it, I was sure that "the experts" wouldn't lead me astray. It'd all be great.
Narrator: It would not be great.
When made with olive oil, my normally delicious and creamy feta dip took on an oily texture (surprise, surprise) and the flavor of the olive oil overpowered the feta. And instead of testing a small batch first like a logical woman, I wasted all of my ingredients by making the whole huge amount at once.
Luckily I was able to run to the grocery store, totally restart, make the dip and the chips, get ready, and still leave for the party with time to spare. Like I said, it's a good thing that this dip is so easy and quick to make!
But before all that, I definitely was panicking a bit. Apparently I kept mumbling "I should have trusted my gut" under my breath. I knew I should have just stuck with the Greek yogurt from the get-go! Anyway, that is how this Garlicky Feta Dip earned the nickname of Trust Your Gut Dip.
Moral of the story: If it ain't broke, don't fix it. Oh, and trust your gut.
WHAT TO SERVE WITH GARLICKY FETA DIP
Speaking of guts, you're going to want to fill yours with an insane amount of this dip. I usually serve it with pita chips, crackers, and pretzels, but I also love to spread it on toasted bread or bagels.
Seriously, if you have any leftovers and you get the opportunity to smear it on a warm everything bagel the next morning, it's like heaven. Especially if you're a huge feta fan like me. And there's cream cheese in here too, so it's like your familiar spread with some exciting additions.
HOW TO MAKE GARLICKY FETA DIP
Aside from the feta, Greek yogurt, and cream cheese, the Garlicky Feta Dip also features plenty of garlic (obviously), lemon juice, and fresh dill in the mixture. Add it all to your food processor and blend until smooth... and voila. You've got feta dip.
I like to top my Feta Dip with additional dill and some other herbs like basil or parsley, as well as lemon zest for added brightness, chopped roma tomato, the tiniest pinch of crushed red pepper flakes for heat, and a little drizzle of olive oil. The olive oil might not have been a great replacement for all of that greek yogurt, but a drizzle on top is the perfect addition!
WATCH THE GARLICKY FETA DIP VIDEO
Print
Garlicky Feta Dip
---
Author:

Total Time:

5 minutes

Yield:

4

-6

1

x
6

ounces

feta cheese, crumbled

4

ounces

cream cheese, softened

⅓

cup

Greek yogurt

3

cloves garlic, minced

¼

cup

chopped fresh dill, or to taste

1 tablespoon

lemon juice, plus lime zest, to top
Kosher salt and black pepper, to taste

1

Roma tomato, diced

1

pinch of crushed red pepper, to top (optional)
Fresh herbs, to top
Olive oil, to top
Pita chips, pretzels, bruschetta, or crackers, to serve
---
Instructions
Combine the feta, cream cheese, greek yogurt, garlic, dill, and lemon juice in the bowl of a food processor or blender. Taste and season with Kosher salt and black pepper, as desired.
When well-combined, scoop into a bowl and top with lemon zest, tomato, a pinch of crushed red pepper, fresh herbs, and a very light drizzle of olive oil.
Serve cold with pita chips, pretzels, bruschetta, or crackers, to dip.