Rich and hearty Guinness Beef Stew is a classic that you'll find at pubs and family dinner tables all across Ireland. This version features ultra-tender meat, deep flavors, and Cheddar Herb Dumplings that will make you swoon. It's the ultimate comfort food.
It's been cruelly cold and frosty for the past couple of days up here, which means I had a choice to make. With a forecasted foot of snow on the way, I could either prepare myself to spend a couple of hours struggling to make a dent with my super-sad shoveling skills, or I could cook up a post-snowpocolypse dinner for the guys and try to subtly avoid going out in the cold. Is it even a slight mystery as to what I decided to do?
Ah, my cursed predictability. Yes, I made Guinness Beef Stew with Cheddar Herb Dumplings again.
Since I first published this recipe in 2014, it's grown to be pretty popular-- both on the internet and in my home.
I've made this stew at least a dozen times to get James and I through the winter's chill, and always have enjoyed a bottle or two of the leftover Guinness to reward myself for a job well done. Because at the risk of coming off a bit conceited here, I've gotta say that I'm always proud of myself when I make Guinness Beef Stew with Cheddar Herb Dumplings.
There's something so gratifying about making a dish that's filled with deeply flavorful vegetables, unbelievably tender meat, and an incredibly rich gravy.  And when you throw some cheesy dumplings on top, it just gets that much better.
Not to mention it got me out of having to shovel, so that's an accomplishment in its own right. The guys didn't seem to mind at all when there was a big bowl of warm beef stew waiting for them when they came back inside.
But enough about me. Let's get down to business.
WHAT'S IN THE STEW?
LET'S START WITH THE MEAT.
It's not uncommon for stews to feature lamb, especially Irish stews. However, this one features beef. Beef tends to be more accessible for feeding a family as it's less gamy, but you can substitute lamb if you'd prefer.
As far as what cut of beef to use, I always reach for the boneless beef chuck, or chuck roast, as it's also often labelled. There are a two main reasons for this.
This cut is not a naturally tender cut-- it's a well-worked muscle with a lot of connective tissue. It might seem like that would result in tough meat, but when cooked slowly, as you do in a stew, the connective tissue breaks down, melts, and releases gelatin into the meat, making it moist, rich, and, yes, ultra-tender. Fork tender. Falling apart tender.
Because it's not an inherently tender cut (as mentioned above) it's actually very inexpensive. There are a lot of ingredients in stew, but none of them should be expensive ingredients. It's more about developing flavor than it is starting with top-of-the-line, expensive stuff.
And we can't forget the bacon. Yes, there's also bacon! Why bother adding bacon to this recipe? Well, it's optional, but we already talked about the beef chuck's connective tissue breaks down and that gelatin keeps the meat moist right?
The thing about that-- the good thing about that, really-- is that it doesn't release a whole ton of fat into the stew. And while we don't want our stew to be swimming in grease, we do want our vegetables to have a great meaty flavor.
By cooking bacon, searing the beef in the rendered fat, and then cooking the onions, carrots, celery, and garlic in the rendered fat as well, you're getting significantly more meaty, deep flavor infused from the get-go.
That being said, you can opt to leave the bacon out and cook in oil or butter if you'd prefer.

HOW ABOUT THE VEGGIES AND AROMATICS?
When it comes to produce, you can get creative, but I try to stick to traditional ingredients. As I mentioned above, I include onions, carrots, celery and garlic, to start.
Onions, carrots, and celery (together known as a mirepoix) are often included in stews, soups, and stocks because they create an aromatic flavor base. Garlic is another aromatic ingredient that will deepen the final flavor of the stew. 
Another ingredient I sometimes add for extra flavor is mushrooms-- but they are completely optional.Mushrooms add extra meaty, earthy, savory flavors that make them great for stews, but if you're not a fan, this stew won't suffer without them. In fact, I only include them when cooking for certain people-- my mom and brother love them in this stew, for example, while James and housemate Mike aren't fans of mushrooms so I leave them out.
I also add extra root vegetables for substance, such as potatoes, parsnips, and turnips. I might not use all three, but I do use a lot-- they're great for adding texture and those starchy carbohydrates that balance out all of the meat.
LET'S TALK SAUCE
While soups have broth, a good stew has more of a sauce or gravy-- it's thick, it's comforting, and it's rich. And man, is it delicious.
For this one, you'll need the following ingredients:
Tomato paste. Tomato paste adds concentrated umami quality, which gives your stew extra savory, almost meaty flavor.
Guinness beer. Beer adds extra richness and depth, and Guinness is especially great for this!
Worcestershire sauce. We keep talking about building depth, because that's what stew's about, baby. Worcestershire sauce also lends a tiny bit of tang, too.
Low sodium chicken broth. Not beef broth?! I know. But chicken broth tends to have better flavor overall, while beef broth can get metallic and lend off-putting flavors. Trust me, you'll get plenty of beefy flavor from the actual beef here.
Cornstarch. A good stew should be plenty thick, and cornstarch will do the trick. At the very end, adding a slurry with cornstarch will get you to your desired consistency, if your gravy doesn't thicken up fully on its own.
Herbs. A good stew is seasoned with herbs. This one's got bay leaf, thyme, and is sprinkled with fresh parsley at the end.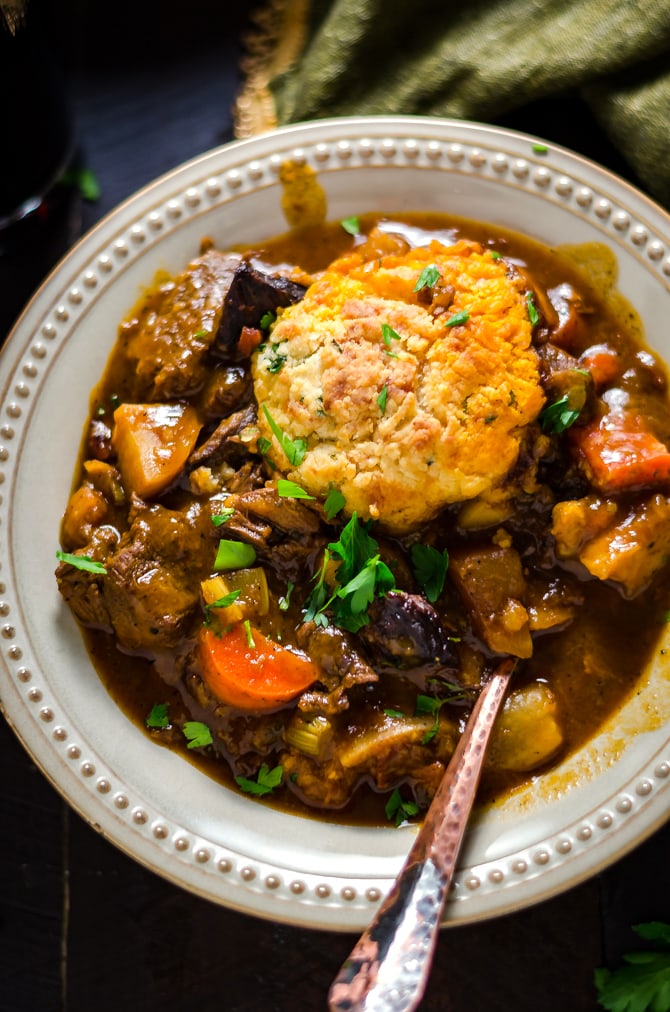 HOW ABOUT THOSE DUMPLINGS?
Ah, the dumplings. I'm almost tempted to call them my favorite part, but let's be serious, there's that stew to consider.
The dumplings come together in a flash. Mix together the following ingredients:
Self-rising flour
Garlic powder
Shortening
Sharp Irish cheddar
Milk
Fresh herbs
And dollop them on top of the stew before transferring to the oven to bake.
Once they're browned and cooked through, you're good to dig in.
HOW TO MAKE IT -- THE GUINNESS BEEF STEW VIDEO
MORE IRISH RECIPES TO LOVE
Print
Guinness Beef Stew with Cheddar Herb Dumplings
---
Author:

Total Time:

3 hours 30 minutes

Yield:

6

servings

1

x
For the Stew:
¼

pound

bacon

2

pounds

boneless beef chuck, chopped into bite-sized pieces
Kosher salt and black pepper

4

sticks celery, chopped

3

large carrots, chopped

1

large onion, chopped

4

cloves garlic, minced

2

large potatoes or parsnips, diced

1

turnip, diced

3

ounces

tomato paste

1

(12 ounce) bottle Guinness

4

cups

low sodium chicken broth

2 tablespoons

Worcestershire sauce

1

bay leaf

3

sprigs thyme

1 tablespoon

cornstarch, or as needed

½

pound

cremini mushrooms, sliced (optional)
Chopped parsley
For the Cheddar Herb Dumplings:
1 ½

cups

self-rising flour

½ teaspoon

garlic powder

⅓

cup

shortening

¾

cup

shredded Irish sharp cheddar

⅔

cup

milk

2 tablespoons

mixed fresh herbs such as parsley, chives, and thyme, chopped
---
Instructions
Cook the bacon in a large, oven-safe, heavy-based pot or high-walled saute pan over medium heat.
Remove the bacon, crumble, and set aside, but leave the bacon fat in the pot. Season the beef with salt and pepper and fry in the bacon fat until browned on all sides. Remove the beef from the pan and set aside.
In the same pot, fry the onion, celery, and carrots until soft and fragrant, adding a little oil if necessary.
Add garlic and fry for another 30 seconds. Stir in the tomato paste.
Pour in the Guinness and Worcestershire sauce. Allow to come to a simmer and stir with a wooden spoon, scraping up the browned bits from the bottom of the pot.
Add the beef back to the pot and pour in the chicken broth. Add the bay leaf and thyme.
Reduce to a simmer and cover. Simmer for 1 ½ hours. Add the potatoes or parsnips and the turnip. Simmer for another ½ hour, or until the vegetables are tender.
Remove the bay leaf and thyme branches. If the stew is still thin, mix a tablespoon of cornstarch with a tablespoon of cold water to form a slurry. Mix the slurry into the stew and bring the mixture to a boil. Reduce to a simmer again, stirring occasionally, and add in the mushrooms if desired. Cook for 10 minutes, uncovered, until the stew thickens and the mushrooms are cooked through. Stir the bacon back in. Preheat the oven to 350°F.
Stir together the self-rising flour and garlic powder in a medium bowl. Cut in the shortening until mixture resembles coarse crumbs. Stir in the cheddar cheese, then add the milk and stir until the dry ingredients are moistened.
Make small balls with the dough and place them on top of the stew, leaving them room to expand-- they grow a lot as they cook. Place the stew in the oven uncovered and bake until the dumplings are browned and cooked through, about 30 to 40 minutes.
Garnish the stew with parsley and serve.
Prep Time:

30 mins

Cook Time:

3 hours