Say hello to your new favorite flavor-booster: Hot Honey. This simple, 4-ingredient recipe takes no time to make, is fully customizable to your preferred heat level, and can be drizzled on everything from pizza to fried chicken. Soon you'll be swapping out all of your old peppery sauces for this sweet, spicy, and just slightly tangy condiment.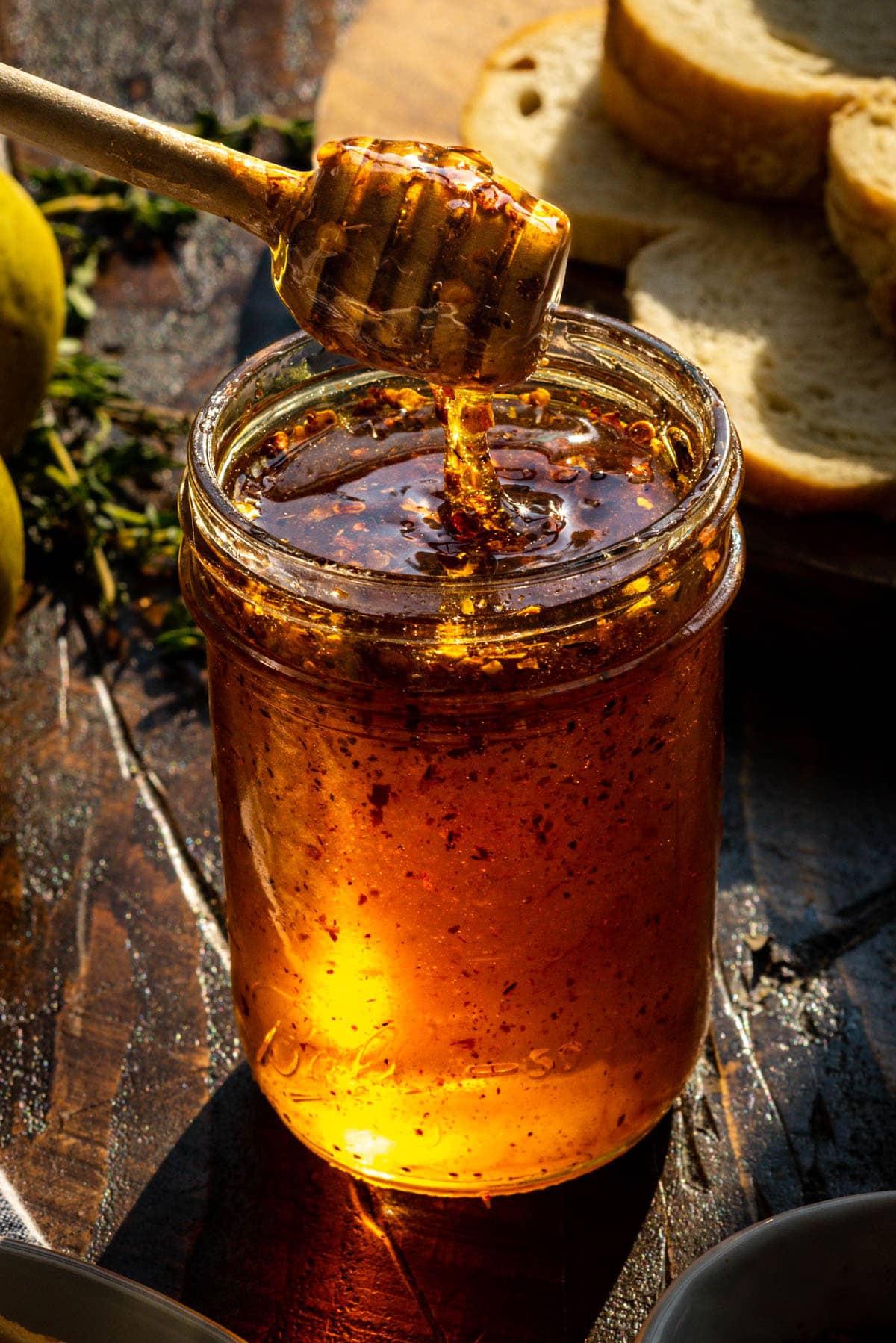 What is Hot Honey?
Hot Honey is pure magic. Or, okay, maybe it would be more helpful to say: Hot Honey is honey that has been infused with fresh chili peppers or dried chili pepper flakes. The resulting syrup is a sweet-and-spicy lover's dream. Can you imagine how many meals you can make instantly better with just a little drizzle of sweet heat? The breakfast sandwiches... my goodness. Think of the breakfast sandwiches.
You've likely heard people sing the praises of hot honey on pizza, biscuits, chicken wings, and more by now. And I do mean a whole lot more-- just about anything you can imagine has a recipe iteration out there, somewhere in the vastness of the internet, that's doused in the stuff. Personally, I love to use it in my Charred Broccoli Salad with Hot Honey Dressing and Hot Honey Garlic Sweet Potato Bake, drizzled over baked or whipped brie, or even on eggs.
For years, I bought my Hot Honey from the store (with several pare bottles lined up in the pantry to prevent the tragedy of running out without a backup). These days, though, I make it myself. Homemade Hot Honey is just as delicious as the store-bought version, but with the added bonus of total control over the spice level, flavor, and even presentation. Why strain out the chili flakes when they look so pretty in the honey, right? And even better, it is almost laughably easy to make yourself using ingredients that you most likely already have on hand.
Why You'll Love This Recipe
For such a simple condiment, there's a lot to love. My top 3 reasons I keep a jar of hot honey on hand at all times would have to be these:
QUICK AND EASY. With just 4 simple ingredients and minimal prep time, this recipe is a breeze to make and have ready as soon as the craving strikes.
YOU CHOOSE THE HEAT LEVEL. Are you more of a fire-breathing-dragon type or do you want just a hint of heat? Adjust the amount (and type!) of chili flakes to fit your tastes.
USE IT ON EVERYTHING. Hot honey is a versatile sauce that can be used on pizza, roasted vegetables, meats, sweets, and more. You'll find a million recipes that can be made more delicious with just a drizzle.
Ingredient Overview
No need to run to the grocery store-- this spicy honey recipe is made with pantry staples, so you can whip it up on a whim. Here are the ingredients you'll need:
Honey. The star of the show, honey provides obvious sweetness here. I tend to use wild clover honey, but different types of honey lend different flavors-- consider orange blossom honey, mesquite honey, or avocado honey for some subtle variations!
Chili Peppers or Chili Flakes. How you add your heat is really up to you-- I almost always use dried chili flakes that I got from my local Asian market (which I find to be a bit more powdery and flavorful than the chili flakes that come in spice shakers), but you can use any sort of chili flakes, dried chilis, or even fresh chilis. Want to use jalapenos? Simply chop them up and let them soak in the honey until the flavor has been infused, then strain out the pieces!
Cayenne or Hot Sauce. For added heat and flavor, a little cayenne powder or hot sauce can make a big impact. These will lend a different type of heat than your chili flakes, making for a well-rounded Hot Honey sauce.
Apple Cider Vinegar. Like most hot sauces, this honey benefits from a little vinegar for tang. This will make it taste more like the famous "Mike's Hot Honey", if that's the flavor you're looking to replicate!
How to Make Homemade Hot Honey
Making hot honey is a simple process that requires just a few steps:
Combine the sweet and spicy.

Mix the honey, chili flakes, and cayenne in a small saucepan and heat over medium-low heat.

Let time do the work.

Allow the honey and chili flakes to simmer for 10 minutes, stirring occasionally, until the honey has infused with the chili flakes and taken on their flavor.

Taste and adjust the heat level.

Once the honey has been infused with spice, taste and adjust the heat level to your liking by adding more chili flakes or honey if necessary. Remember that it will get spicier as it sits.

Strain (or don't!) and serve.

Strain the honey to remove the flakes (or peppers and any seeds) if desired, and store it in a jar at room temperature. Drizzle it on your favorite foods and enjoy!
FAQs
Q: How long does hot honey last?
A: Hot honey can last for several months if stored in an airtight container in a cool, dry place.
Q: Can I use fresh chili peppers instead of chili flakes?
A: Yes, you can use fresh chili peppers instead of chili flakes. Simply chop the peppers and add them to the honey mixture before cooking, and strain out the peppers and seeds after.
Q: Doesn't heating honey negate its health benefits?
A: If you're worried about the impact of the heat on your honey, feel free to heat this over low heat for longer to infuse the chili flavor instead. Low heat will not be an issue (or even abnormal, as honey normally can reach decently high temps on warm summer days in the hive.) There is a tradeoff in the depth of flavor here, but hot honey made this way will still be delicious!
Ideas for How to Use Hot Honey
Now that you know how to make hot honey, you're probably wondering how to use it. Here are a few ideas to get you started:
Use it as a glaze: Brush hot honey on grilled meats, such as chicken or pork, for a flavorful glaze.
Mix it with mayonnaise: Mix hot honey with mayonnaise or sour cream for a spicy dipping sauce.
Stir it into cocktails: Hot honey can be used to add a spicy kick to cocktails. Simply stir it into your favorite cocktail recipe for a unique twist.
Drizzle it on pizza: I'm kind of a pizza purist but if you like some sweetness with your pizza (hello, Hawaiian pizza fans), you will LOVE this.
Go the breakfast route: Bacon or sausage with a slick coat of hot honey? Egg-topped toast with a drizzle on top? Fluffy waffles with fried chicken and some sweet heat? Count me in for all of 'em.
And these are just a few examples of my favorite ways. Don't be shy, feel free to share your favorite ways to use it!
Print
Homemade Hot Honey Recipe
---
Author:

Total Time:

15 minutes
1

cup

honey

2 tablespoons

chili flakes, or to taste

½ teaspoon

cayenne pepper, or to taste (optional)

1 tablespoon

apple cider vinegar
---
Instructions
In a small saucepan, combine honey, chili flakes, and cayenne pepper (if using).
Heat the mixture over medium heat until it comes to a simmer. Reduce heat to low and simmer for 5-10 minutes, stirring occasionally.
Once the mixture has infused with the chili flakes, remove it from the heat and let it cool for a few minutes. Stir in the apple cider vinegar.
Pour the hot honey through a fine mesh strainer to remove the chili flakes, if desired. Store in a clean jar or bottle and keep at room temperature.