Perhaps the easiest and tastiest St. Patrick's Day treat, Irish Potatoes are a no-cook candy that features cinnamon, coconut, and cream cheese. They're great for making with kids, giving as gifts, or devouring yourself (because let's be honest, you can't eat just one).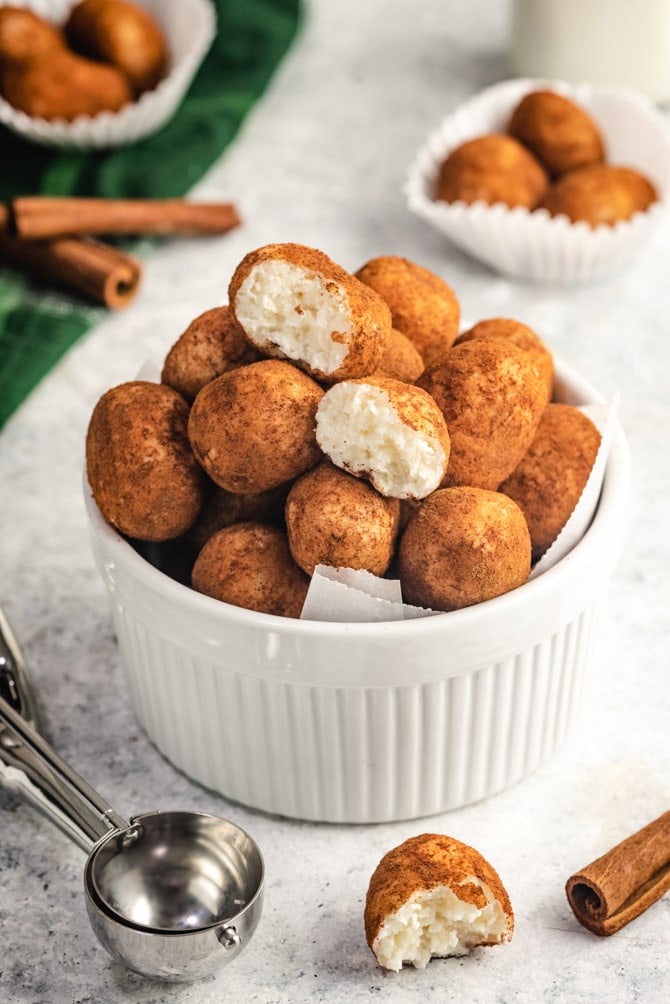 WHAT ARE IRISH POTATOES?
Let's get this out of the way: Contrary to their name, Irish Potatoes aren't Irish. They also aren't potatoes.
So what are they?
Irish Potatoes are Philadelphia candy that resembles potatoes. Very tiny potatoes, I should say. They're made of a sweet coconut cream which is rolled into bite-sized ovals, and they have a dusting of cinnamon outside, giving them a potato-like appearance.
If you grew up in the greater Philadelphia area like I did, you probably grew up with some teacher or sweet lunch lady bringing these in to share once March rolled around. While they're most usually made and eaten for St. Patrick's Day, you can find them year-round at many Philadelphia-area candy shops and even convenience stores. (Woo, Wawa!)
WHAT DO THEY TASTE LIKE?
Irish potatoes are similar in flavor to the inside of an Almond Joy or Mounds bar, but with a slight added tang from the cream cheese and a strong cinnamon kick. Because they're sweet and dense, it's important not to make them TOO big, or they can be overwhelming. Think of them as little coconut truffles!
HOW TO MAKE IRISH POTATOES
You have to do absolutely no baking or boiling or anything of the sort to make Irish Potato Candy. It's a simple, no-cook confection.
Here's how you do it.
Make the base. To do this, mix together butter, cream cheese, vanilla extract, and a bit of salt until fluffy. Add a whole lot of powdered sugar (AKA confectioners' sugar) and mix until it's even. You can do this all in a stand mixer or with a hand mixer if you've got one. You can even do it by hand but it's quite the arm workout!
Add the coconut. And now to add what is perhaps the most important ingredient-- shredded coconut! You need a lot of coconut to give these candies good texture and balance out all of that sugar. Traditionally people use sweetened shredded coconut, but trust me when I say that there is already PLENTY of sweetness from all of the powdered sugar, so go the unsweetened route! Mix until an even dough forms.
Refrigerate. This step makes the coconut mixture so much easier to roll. A 30 minute chill is really all it takes to firm everything up enough.
Scoop. Use a small cookie scoop or tablespoon-- or heck, just your hands-- to scoop up a bit of the dough. Roll in your hands to mold the dough to roughly the size and shape of a robin's egg. It doesn't have to be perfect, potato shapes rarely are.
Coat in cinnamon. Pour ground cinnamon in a shallow bowl or small plate and roll the candy in the cinnamon. Use enough to coat all over but try not to make the coat too heavy or the cinnamon can be overwhelming. Some people add cocoa powder to their cinnamon coat as well, which is also delicious.
Serve. And they're done! You can either eat them as-is or save them for later in the refrigerator. Remember, they have cream cheese in them so you don't want to leave these candies sitting out overnight.
WATCH THE VIDEO
Print
Irish Potatoes (Candy)
---
Author:

Total Time:

1 hour

Yield:

32

candies

1

x
4

ounces

(½ package) cream cheese, softened at room temperature

4 tablespoons

(

½

stick) unsalted butter, softened at room temperature

1 teaspoon

vanilla extract

¼ teaspoon

kosher salt

4

cups

powdered sugar

2

cups

shredded, unsweetened coconut

1 tablespoon

ground cinnamon
---
Instructions
In the bowl of a stand mixer or in a large bowl with a hand mixer, beat together the cream cheese, butter, vanilla extract, and kosher salt until smooth and fluffy.
Add in the powdered sugar and mix again until smooth. Then, mix in the coconut until evenly distributed. Refrigerate for 30 minutes.
Pour cinnamon into a shallow bowl. Separate a section of the coconut mixture using your hands or a small cookie scoop. then roll into a ball roughly the size of a robin's egg. Roll the ball in cinnamon to lightly coat, then set aside on a large plate or baking sheet. Repeat until all of the coconut mixture is used up.
Serve immediately or refrigerate for up to one week.