Korean-Inspired Crispy Tofu Tacos. Learn the secret to making the best crispy tofu and serve it in flavor-packed tacos with crunchy slaw and quick pickles.
This recipe for Korean-Inspired Crispy Tofu Tacos has also been featured on Serious Eats.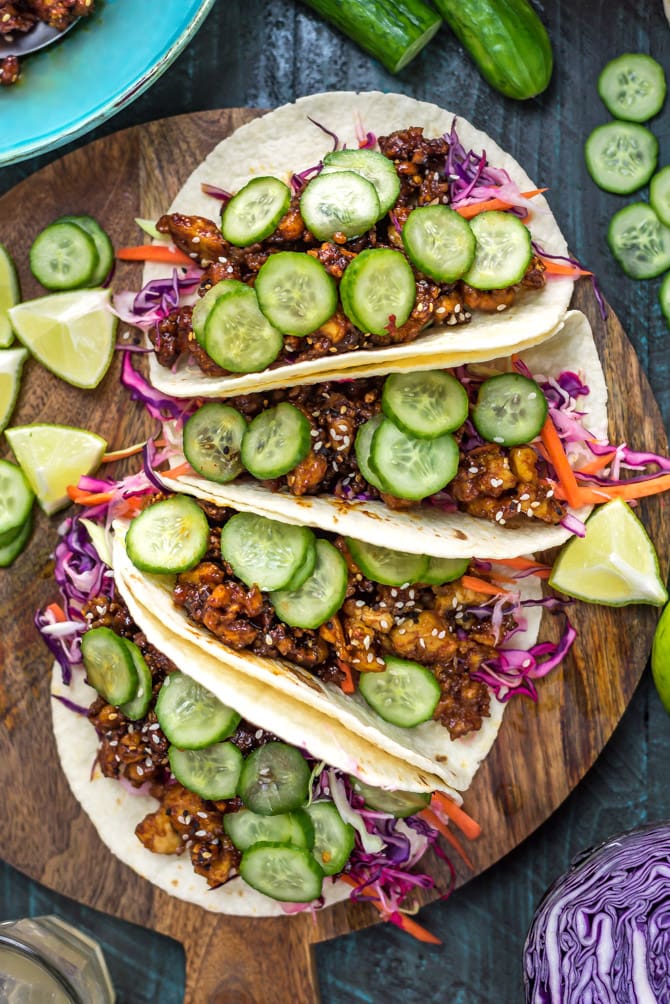 I'm not sure if, between all of ground beef and chicken breast recipes recipes I've posted here, I've found a chance to tell you about the years of my life that involved no meat at all. Actually I'm almost positive I haven't. Probably because the only way to do so is to simultaneously admit that I broke my vegetarian streak with a meat-binge of epic (and probably scary) proportions, but yeah, that all happened. It's no secret that I eat meat now-- I've got a few hundred posts chronicling it. However, I still do try to incorporate plenty of meatless meals into my weekly menu.
Especially
ones that involve tofu.
Tofu doesn't have the greatest reputation in this country. And that's not because of its mismarketing as a "hippie food" or "meat replacement" (though those certainly don't help), it's because it's damn near always done wrong. Soft. Spongey. Brutally underseasoned. I've had tofu many times, and trust me when I say I've had some of the worst. But if there's one thing I learned from my few years of meat-free eating, it's that tofu, when prepared well, is none of those things. It's got a tender center with a crisp exterior, takes on flavor beautifully, and, in the most ideal of scenarios, is coated in a delicious sauce that clings to every bit of the crust. Case in point: These Korean-Inspired Crispy Tofu Tacos.
In order to get the maximum surface area for that aforementioned crust and sauce coating, I crumble the tofu before coating it in cornstarch and cooking. Or rather I should say I press all of the moisture out of the tofu,
then
I crumble it and toss it in cornstarch. It's as easy as that. The sauce for the Korean-Inspired Crispy Tofu Tacos is, as the name suggests, Korean-inspired. Gochujang (Korean chili paste) is the key. And even though it might sound difficult to get, you likely won't even have to go to a specialty Asian market to get it. Usually, you can find it in the international aisle of your local grocery store. If not, they even sell it on Amazon. Oh, the convenience of living in modern times.
A crunchy cabbage slaw and a quick pickled cucumber topping will take just minutes to throw together, and they're the perfect way to finish off your tacos. If you've ever eaten from a Korean BBQ truck, you know what I mean. If not... well, you're in for a treat. And speaking of those Korean BBQ trucks, they're probably key in serving these Korean-Inspired Tofu Tacos to your meat-eating pals. Drop a name like Kogi or Mogo or whatever Korean fusion you've got in your neck of the woods, and suddenly you'll see that people are awfully receptive. That's at least how I got the guys to try 'em. That, and I didn't mention the word tofu. You'd be amazed at how much tofu-naysayers will rave about a recipe without knowing that what they're eating is, indeed, tofu. "I thought it was chicken," James said. And now I get to make tofu regularly without any groans of discontent. In fact, I've got James even
looking forward
to our meatless meals.
Yeah, these tacos really are that good. For vegetarians, vegans, and even meat-eaters who are just trying to switch things up a bit.
Print
Korean-Inspired Crispy Tofu Tacos
---
Author:

Total Time:

1 hour 15 minutes

Yield:

6

tacos

1

x
One

16

-ounce block extra-firm tofu

1

cup

shredded purple cabbage

1

cup

shredded green cabbage

½

cup

shredded carrots
Juice of

2

limes, plus lime wedges for serving
Kosher salt and freshly ground black pepper

1 cup

thinly sliced mini cucumbers

2 tablespoons

granulated sugar

¾

cup

rice wine vinegar, divided

½ teaspoon

Korean red pepper flakes (gochugaru) or crushed red pepper flakes (optional)

2 tablespoons

cornstarch
Canola oil or vegetable oil, for sauteing

1 tablespoon

grated peeled fresh ginger

1 tablespoon

minced garlic (from about

3

or

4

medium cloves)

½

cup

gochujang (Korean chili paste), or to taste

½

cup

light brown sugar

¼

cup

soy sauce
Toasted sesame seeds, for garnish

6

flour tortillas, warmed, for serving
---
Instructions
Line a rimmed baking sheet with paper towels. Rinse the tofu, slice it into 1-inch-thick slabs, and lay them on the prepared baking sheet. Top with more towels. Press the tofu by placing a heavy book or cast iron skillet on top. Set aside for 30 minutes.
Meanwhile, in a large bowl, combine the red and green cabbage with the carrots and toss with lime juice. Season with salt and pepper. In a separate small bowl, combine the cucumber slices, sugar, ¼ cup of the rice vinegar, and red pepper flakes (if using). Cover both bowls and refrigerate for at least 30 minutes or until ready to serve.
Using your hands, crumble the tofu into a medium bowl. Add cornstarch and toss until evenly coated. Heat a thin layer of oil in a large wok or skillet over medium-high heat until shimmering. Add the tofu and cook until browned and crispy all over, turning and breaking up the pieces with a wooden spoon as it cooks. Use a slotted spoon to transfer the tofu to a plate.
Add more oil to the pan, if necessary, and briefly sauté the garlic and ginger until fragrant, about 30 seconds. Stir in the gochujang, brown sugar, soy sauce, and remaining ½ cup rice wine vinegar. Cook until the sauce is thick enough to coat the back of a spoon, about 2 minutes. Add tofu back to the pan and stir until well coated. Sprinkle sesame seeds on top.
Top each tortilla with cabbage slaw. Spoon the tofu over the slaw and top with the pickled cucumbers. Serve.
Prep Time:

1 hour

Cook Time:

15 mins