This One Pot Creamy Hummus Pasta takes only a few simple ingredients, one pot, and 20 minutes to prepare! The instant silky sauce is so satisfying and full of flavor, you'll have a hard time believing you whipped it up yourself.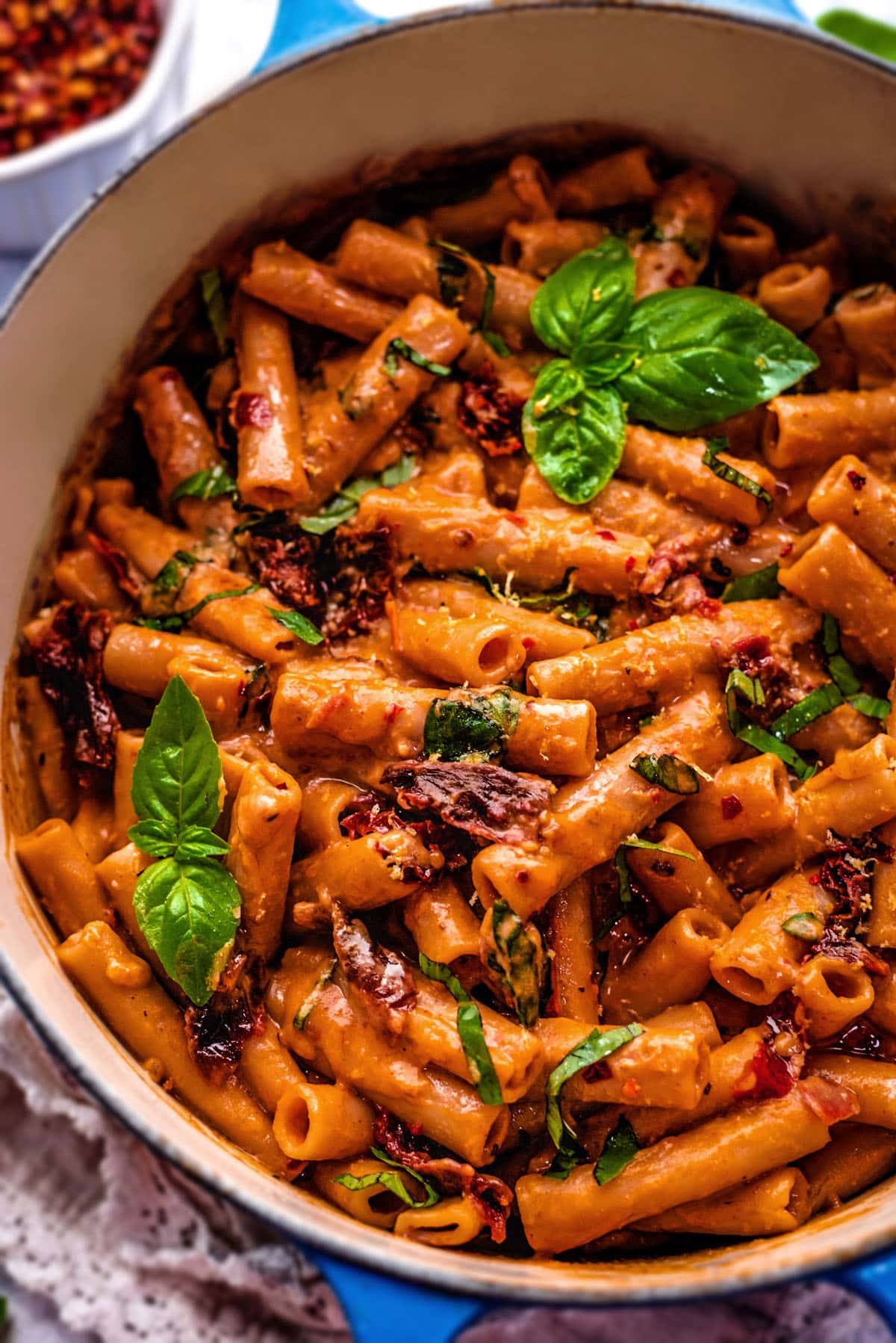 As someone who must, at all times, have a gargantuan tub of hummus within arms' reach, I've come up with a lot of ways to use the stuff. I've made deviled eggs with it, I've made salad dressings with it. Heck, I've even have made Hummus-Crusted Chicken many a time.
But I've got to say, everyone has to draw the line somewhere, and I drew the line at pasta sauce.
Drew. Past-tense, as you can tell since you made it here.
This was all until a friend let me know about her "famous" hummus pasta-- a vegan-friendly pasta recipe she'd adapted from Tiktok that involved using baked hummus as a delicious, filling, and protein-packed base for her creamy pasta sauce. It was so easy to make, she said: Simply boil the pasta, bake the hummus with tomatoes and spinach, mix it all together, and add your seasonings. Voila, dinner is served.
And as great as that sounded, I couldn't help but think, I bet that can be made even easier. Even tastier. 
By transforming the recipe into a one-pot pasta recipe, there was no need to heat up the oven, no need to use multiple pots and pans, no need to drain and reserve pasta water to thin the sauce, and the flavors from the sun-dried tomatoes --which, as a bonus, you can keep on hand much longer than fresh produce-- can infuse with the pasta as the pasta boils.
WHAT I LOVE ABOUT THIS HUMMUS PASTA
You can make it in

one pot

-- no pre-boiling the pasta, no draining necessary, and the starch from the boiling pasta helps to bind the sauce together.

It's a

raid-the-fridge

recipe that involves ingredients you can keep on hand for whenever the craving strikes. You also can

easily adapt the recipe

to feature flavors or ingredients that work best for you. 

It's

quick and simple

to make. From start to finish, it takes only 20 minutes to make this filling dinner recipe!

It's vegan

. Creaminess comes from hummus, making it a great

dairy-free

,

nut-free

alternative to traditional rich sauces.
HOW TO MAKE HUMMUS PASTA
To start, sauté the aromatic ingredients. Cooking them in oil first will deepen their flavors and allow them to infuse into the pasta as it boils and the sauce as it comes together. You can use as many or as few aromatics as you'd like, but I opt for:
Fresh garlic
Sun-dried tomatoes
Tomato paste
Smoked paprika
Dried thyme
Red pepper flakes
These ingredients add bold, bright, zesty, sweet, smoky, and spicy flavors; and there's nothing you have to worry about expiring quickly-- you can store them in the pantry, fridge or spice cabinet to keep on hand for whenever the craving strikes. You can also consider using onion, shallots, peppers, or other spices for different flavor variations.
Add the dried pasta and water. This is a one-pot recipe, so you don't have to cook the pasta separately! Using less water ensures that the liquid will absorb as the pasta cooks, and the remaining water will contain starches from the pasta that will help to thicken the sauce. Gently boil until the pasta is al dente. 
Mix in the remaining ingredients. Now you add the hummus, lemon juice and zest, parsley, and salt and pepper to taste. The hummus and pasta water will transform into a velvety, creamy sauce. 
TIPS, TRICKS, & NOTES
I most often use homemade easy ultra-smooth hummus for this recipe-- I tend to make it in large batches and love to find ways to use it up while it's fresh. However, it works just as well with store-bought hummus, so feel free to take advantage of whatever you have lying around in the fridge.
The most commonly flavored store-bought hummuses will all pair well with this recipe, so if you're rocking with a tub of, say, the roasted garlic variety, don't hesitate to use that to craft your hummus pasta sauce. However, if you're unsure about the tomato backbone to this dish's flavor profile, feel free to mix things up. Ingredients such as caramelized onions, mushrooms, or chipotle peppers can even be used to form the flavor-base for the hummus sauce-- or simply allow the hummus to do all of the heavy lifting without any added frills.
And since we're on the subject of versatility, it's worth noting that this pasta tastes great when served warm or at room temperature a la pasta salad. In fact, mixing in a bit of peppery arugula with the leftovers and eating it right from the fridge is a go-to of mine!
Basically, the possibilities are endless and it's very easy to enjoy this dish year-round. Especially because you can serve it warm or chilled!  It's more reminiscent of a cream-based sauce when warm, but I also enjoy it as a hearty "pasta salad" when cold. The sauce helps to keep the pasta saucy without drying out, so it keeps well for picnics or meal prep.
Print
One Pot Creamy Hummus Pasta
---
Author:

Total Time:

30 minutes

Yield:

6

1

x
⅓ cup

oil-packed sun-dried tomatoes, roughly chopped, oil reserved

4

-

6

cloves garlic, minced

2 tablespoons

tomato paste

2 teaspoons

smoked paprika

1 teaspoon

dried oregano

1 teaspoon

red pepper flakes

1

box (1 pound) pasta of choice

4 cups

water or broth, plus more as needed

1 cup

hummus, homemade or store-bought

½ cup

fresh basil, chopped

Zest and juice of 1 large lemon

Kosher salt
---
Instructions
In a large pot over medium-high heat, saute the sun-dried tomatoes and garlic until fragrant, about 1 minute. Add the tomato paste, smoked paprika, oregano, and red pepper flakes, and cook, stirring often, until the tomato paste is evenly distributed and beginning to darken, about 3 minutes.

Pour in the dry pasta and toss with the flavored oil. Cover with the water or broth, adding slightly more if necessary to ensure that the pasta is submerged. Boil until the pasta is al dente and the water is mostly absorbed, about 8-10 minutes. 

Mix in the hummus until the sauce is creamy and smooth, then add lemon juice, lemon zest, chopped basil, and salt, to taste. Serve warm and enjoy.
Prep Time:

10 mins

Cook Time:

20 mins