Quick and Easy Garlic Butter Stromboli Squares. This no-fuss party appetizer is loaded with mozzarella, salami, pepperoni, and ham, and topped with a garlicky butter and parmesan mixture.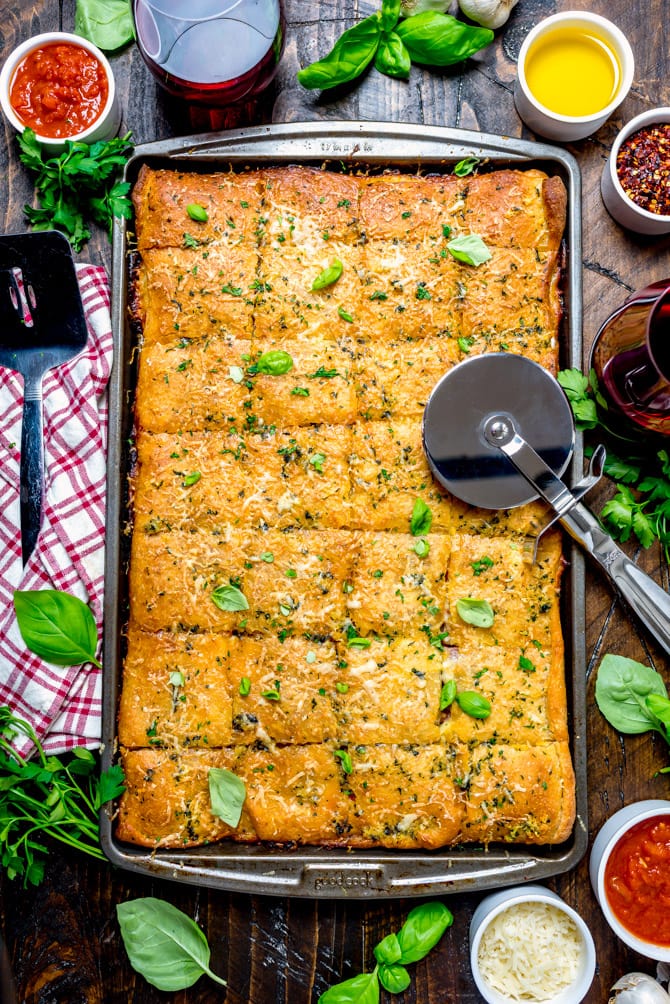 This is one of those recipes I talk about sometimes that almost doesn't make it to the blog because it's so simple that it's almost silly-feeling to call it a recipe at all. There's not a lot of "homemade" going on here-- it's mostly a common-sense combination of simple ingredients to create something better than the sum of its parts. But you know what? Sometimes we all need to take some shortcuts. Especially in the hectic holiday season when we've got a HUGE amount of entertaining to do and a TINY amount of time and energy. Especially when the final product is this delicious. Can I get an amen?
So, with that knowledge in mind (and at the insistence of James and Mike The Housemate), I decided to share these Quick and Easy Garlic Butter Stromboli Squares so that your friends can devour them at your next party just as happily as my hungry household did.
WHAT'S A STROMBOLI SQUARE?
Just like with regular stromboli, these Quick and Easy Garlic Butter Stromboli Squares are made of pizza dough, mozzarella, and a few meats for filling. And also like with regular stromboli, they don't have any sauce inside-- instead, it's served separately for dipping. However, the big difference is a simple one: stromboli are rolled up while these bites are left flat on the sheet pan. This allows for more pizza crust surface area (which means more crust to brush with garlic butter and sprinkle with parmesan) and it also allows for smaller, party-sized bites.
As far as the fillings go, I like to keep it simple and classic with a combination of pepperoni, salami, and ham. However, you can get creative with anything from buffalo chicken to sauteed vegetables. Any pizza creation you can imagine can also be made into Stromboli Squares-- the possibilities are endless.
A FEW STROMBOLI SQUARE MAKING TIPS
The recipe is pretty straightforward, but I do have a few tips to make it as easy and tasty as possible.
1. Don't be tempted to substitute crescent dough for pizza dough.
I see this all the time and trust me, pizza dough is the only way to go. Because there is both the butter and the oils released from the meats and cheese to take into consideration here, you want a sturdier dough that can support the fillings. Crescent dough is far too thin and flimsy, and it will get soggy and fall apart if used. Instead, make your own pizza dough, buy premade pizza dough in the refrigerated section of your grocery store and roll it out, or-- easiest of all-- buy therectangular refrigerated pizza dough (which will be by the biscuits and crescent dough, in one of the pop-open cans) that you can simply unroll onto a sheet pan.
2. Leave a border around the edges of your dough.
If you allow the fillings to reach the edge of the dough, the cheese and oils are more likely to seep out of the edges of the baking sheet. If you leave a slight border, the edges of the dough will bake together and prevent too much spillage.
3. Microwave the pepperoni.
Another way to prevent oil spillage (and excess greasiness in general) is to first microwave the pepperoni for 15 seconds. The pepperoni will begin to release some oils that you can absorb with paper towels so that they're not flooding the stromboli squares as they bake.
4. Don't use powdered parmesan.
The top of the dough is sprinkled with parmesan when it bakes, so you might be tempted to reach into the fridge and grab that big green container of the powdered stuff. However, powdered parmesan is extremely salty, and when combined with the already-salty pepperoni, ham, and salami, it's a bit too much. Pre-shredded parmesan (or of course, shredding your own) is a better pick, both for flavor and texture. Sure, it's a little pricier, but it's worth it.
5. Bake most of the way before brushing with the garlic butter and sprinkling with parmesan.
The real key to this recipe is topping it with garlickly butter, parmesan cheese,basil and parsley to transform the crust into something that's just as delicious as the fillings. In order to prevent the garlic and parmesan from burning but still ensure that it absorbs into the crust (and seeps down through the slices), I brush the crust with the butter mixture AFTER it's mostly cooked through. At this point, the crust is still a bit softer than it will be when fully cooked, which makes it easier to slice into bites, and only a few more minutes in the oven ensures that the flavor will infuse without risking bitter, burnt garlic.
CAN I MAKE THEM AHEAD OF TIME?
While these Quick and Easy Garlic Butter Stromboli Squares are best served fresh from the oven, they also reheat well. You can make them ahead, slice, and refrigerate in an air-tight bag to reheat in the oven the next day, or you can freeze them in an air-tight bag, thaw, and reheat at 350°F. Then all that's left to do is dunk 'em in marinara and enjoy!
Print
Quick and Easy Garlic Butter Stromboli Squares
---
Author:

Total Time:

40 minutes

Yield:

28

-

32

squares

1

x
Description
Adapted from Genius Kitchen
---
24

ounces

pizza dough (or 2 12-ounce cans refrigerated rectangular pizza dough)

1

pound

sliced mozzarella cheese

8

ounces

sliced pepperoni

8

ounces

sliced salami

8

ounces

sliced ham

6

cloves garlic, minced

4 tablespoons

unsalted butter

1 teaspoon

chopped fresh parsley

1 teaspoon

chopped fresh basil

2

ounces

parmesan cheese, freshly grated
Marinara, to dip
---
Instructions
Preheat oven to 350°F. Roll half of the dough (or one of the refrigerated cans) out evenly on a 13 x 9" nonstick baking sheet. Top with half of the mozzarella slices.
Microwave the pepperoni slices on a paper towel-lined plate for 15 seconds, or until the oils start to release. Use additional paper towels to blot up the excess oil.
Layer the pepperoni, salami, and ham on top of the mozzarella. Then top with the remaining mozzarella and the other half of the pizza dough. Spread the crust to cover.
Bake until lightly golden, about 25 minutes.
When the 25 minutes are nearly up, add the minced garlic and butter to a small, microwave-safe bowl. Microwave, loosely covered, until the butter is melted, about 30 seconds. Mix in the chopped parsley and basil.
Use a pizza cutter to cut the stromboli slab into rectangular pieces. Brush liberally with the garlic butter. Sprinkle with the parmesan cheese and continue to bake for 10 more minutes, or until golden and sturdy.
Allow to sit for 5 minutes to cool and firm. Serve warm with marinara.
Prep Time:

10 mins

Cook Time:

30 mins