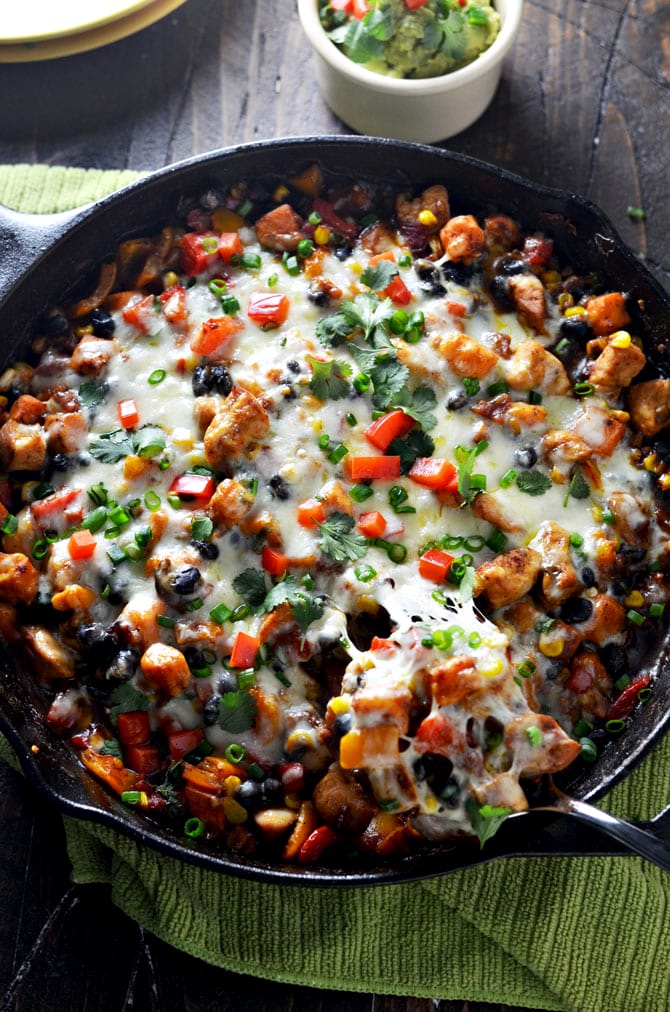 Have you been keeping up with things around here? If so, you already know that James and I moved in together last month, and so far it's been a meltdown-free experience so I'm going to label it a success. As I write this, I'm sitting on our nicely made bed with our new sheets, comforter, pillows, and blankets, leaned up against our freshly painted walls, trying desperately to avoid eye contact with the looming mountain of boxes stacked directly across from me, which encompass a solid half of the room. You can only be so productive.
But those boxes are whispering to me in the night. Mooooorgaaan. Unpaaaack uuus! And I'm like, "Guys, do you even know how much stuff I have to do? No." So there they remain, boxes upon boxes of what is mostly kitchen supplies, an eyesore of my procrastination. Still, instead of taking care of them, I'm pretending they don't exist and I'm sticking with simple meals using whatever cookware I can dig up. Most recently, it was my cast iron skillet, and thus Southwestern Chicken and Sweet Potato Skillet was born unto this undeserving world. What kind of miracle fashions such a tasty dish from nothing but pure laziness?
This skillet consists of chicken, sweet potato, bell peppers, tomatoes with green chiles, black beans, a heavy-hand of seasonings, and a generous amount of melted cheese.
While it might sound sinful, it's actually full of vitamins, fiber, and protein, and it's totally diet-friendly for those of you (okay, us) who've set a resolution to get into shape this year.
Isn't it the greatest when a recipe is easy, healthy, relatively inexpensive, and mouth-wateringly delicious? It's like winning the dinner lottery.
Try out the Southwestern Chicken and Sweet Potato Skillet, top it with guac, and take a picture to show off your dinner. Tag #hostthetoast on Instagram or Twitter so I can check it out and take a break from all of the sorting and organizing I've got ahead of me this week. Seriously, please, distract me. It's getting harder and harder to ignore at this point.
But maybe if I make another batch of this for dinner, no one will be able to blame me for not getting to those boxes today...
Yes, that sounds like a plan.
Print
Southwestern Chicken and Sweet Potato Skillet
---
Author:

Total Time:

55 minutes

Yield:

6

1

x
2 tablespoon

oil, divided

1

pound

boneless, skinless chicken breasts, cut into 1" pieces

1

large sweet potato, peeled and cubed

4

cloves garlic

2 teaspoons

chili powder

1 teaspoon

cumin

1 teaspoon

salt

½ teaspoon

paprika

½ teaspoon

dried oregano

¼ teaspoon

black pepper

¼ teaspoon

crushed red pepper

10

ounces

frozen corn, thawed

2

bell peppers, stemmed, seeded, and chopped

4

green onions, sliced, divided

1

(10 ounce) can rotel tomatoes with green chiles

1

-

1 ½

cups

low sodium chicken stock

1 tablespoon

cornstarch

1

(15.5 ounce) can black beans, drained and rinsed

¼

cup

fresh cilantro, plus more to top

1 ½

cups

shredded monterrey jack cheese
Guacamole, to top, optional
---
Instructions
Heat a tablespoon of oil in a large cast iron skillet over medium heat. Add the chicken to the skillet cook until browned but not cooked through, about 6-8 minutes. Remove the chicken from heat and set aside.
Heat the remaining tablespoon of oil in the skillet. Once hot, add in the sweet potato and brown, about 12-14 minutes.
Add the garlic, seasonings, corn, bell peppers, and half of the green onions to the skillet. Cook for 2 minutes, stirring. Add in the tomatoes with green chiles and 1 cup chicken stock. Return the chicken to the skillet and stir well to combine.
Cook for 5 more minutes. In a small bowl, mix together the cornstarch and a tablespoon of water to form a slurry. Add the cornstarch to the liquid in the skillet, mix in the black beans and cilantro, and cook until the sauce has thickened and the black beans are warmed. If the mixture is too thick, add up to ½ cup more of chicken stock.
Set oven to broil. Top the skillet with the shredded cheese and broil until the cheese is melted and just beginning to turn golden in spots.
Sprinkle the skillet with additional green onion and cilantro. Serve warm and top with guacamole, if desired.
Prep Time:

15 mins

Cook Time:

40 mins