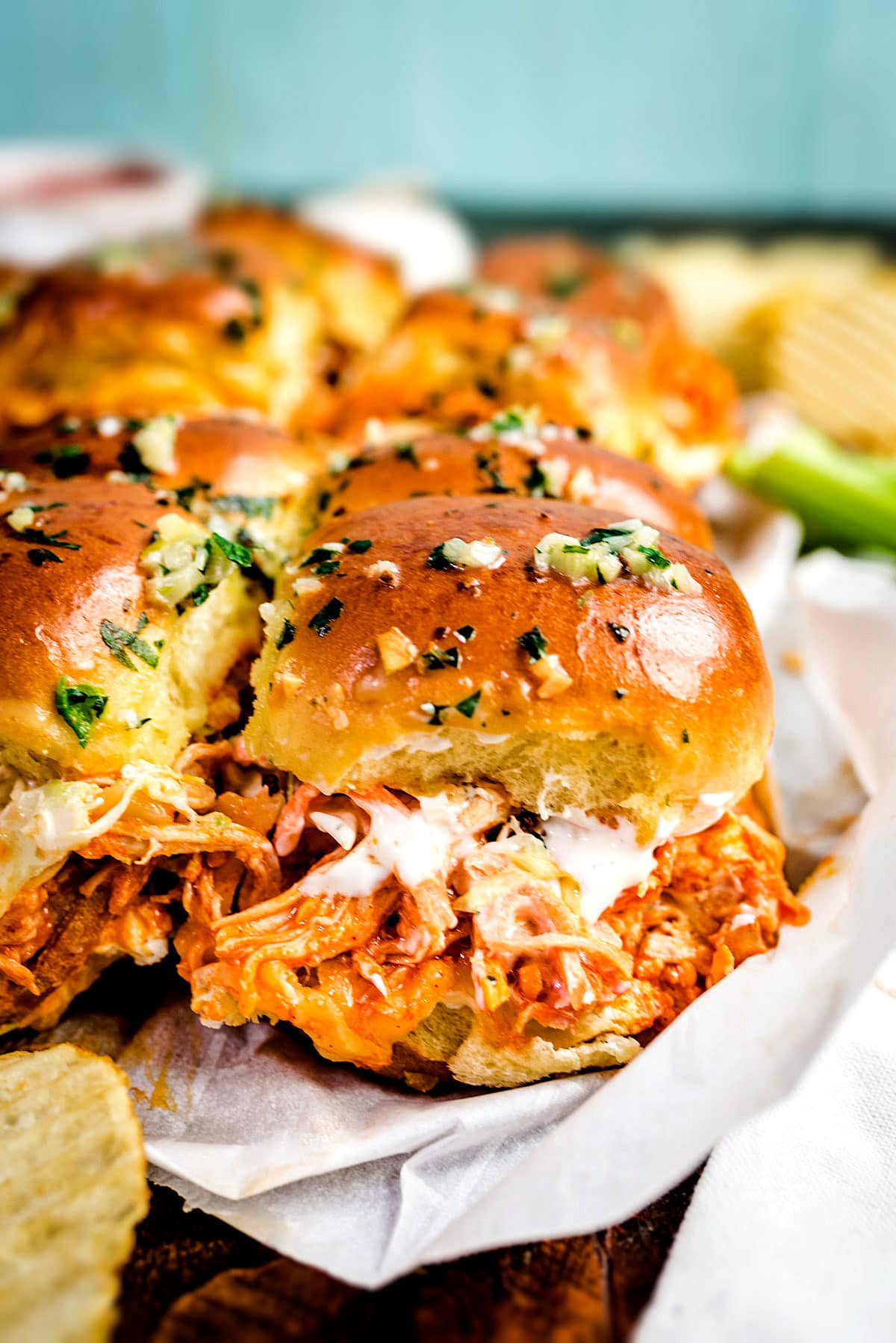 This post is sponsored by Heluva Good! Dips. All thoughts and opinions are my own. This post may contain affiliate sales links. Please see disclaimer policy for full details.
These Buffalo Chicken Sliders are loaded up with spicy buffalo sauce-tossed chicken, gooey melted cheese, and creamy ranch slaw, all nestled between garlic-butter brushed brioche buns. They're cool, crunchy, spicy, delicious-- and luckily-- extremely easy to make. This is one shareable and crowd pleasing snack you're definitely going to want to serve for game day.
Buffalo Chicken Sliders - Low Effort, Big Flavor Party Food.
Whether you're a football fan or just a football food fan, you already know that no game day is complete without buffalo chicken in the picture. I've been using sporting events as an excuse to chow down on Crispy Buffalo Chicken Wings and other buffalo-chicken-inspired concoctions since before I even knew what a check-down pass was.
...I still don't know what a check-down pass is.
But what I do know is that in all of my years of hosting parties, there has never been one where buffalo chicken-- in any presentation-- was not one of the first things devoured from the snack table. It's a quintessential fun-time food, I think we can all agree.
The only thing not fun about the whole ordeal is frying up chicken wings, dealing with sauce-covered fingers, and finding places to dispose of scattered wing bones. The better alternative? Make 'em into sandwich form. Sliders, specifically, which are easy to share and come in their own little conveniently portioned packages, with each bite having more flavor (and less fussing) than you could ever get with a pick-the-meat-off-the-bone wing.
Why You'll Love This Recipe
When it comes to these Buffalo Chicken Sliders, there's a lot to love. They're...
EASY TO MAKE. There's no fussing with a deep fryer here-- in fact, you don't even have to cook the chicken. Opt for shortcut ingredients like rotisserie chicken and Heluva Good! Buttermilk Ranch Dip for tons of deliciousness with a fraction of the time and effort.
FULL OF FLAVOR. Even snack recipes are all about balance, so the combination of spicy, tender chicken and cool, creamy, crunchy slaw automatically knocks this one out of the park. Or, maybe I should say stadium?
ALWAYS A HIT. Buffalo chicken is a party classic for a reason, so you know you never have to worry about disappointing a crowd when you serve up these sliders.
Talk about a recipe that checks every box for the perfect game day snack, right?
The Ingredients
This is a simple recipe, so you don't need to scramble for fancy, fussy ingredients. Here's what to throw in the shopping cart:
Slider Buns. You can use any variety of slider buns or even dinner rolls, but I love brioche slider buns (which are available at most grocery stores in the bakery department). They're soft, buttery, and slightly sweet, which makes them a great balance to the spicy chicken and crunchy slaw/
Buffalo Hot Sauce. You can't have buffalo chicken without buffalo sauce! This sauce gives the chicken its iconic bold and spicy flavor. You can choose to use your favorite brand or even make your own to customize the heat level.
Shredded Chicken. Shredded chicken breasts or thighs make this recipe far easier to prepare than the typical fried preparation. You can cook and shred the chicken yourself, or use rotisserie chicken to save on time.
Shredded Cheese. Gooey, melty shredded cheese will add creaminess and richness to the recipe and help to prevent the shredded chicken from falling out of the sliders. Monterey Jack is my cheese of choice, but feel free to substitute in cheddar, mozzarella, or even blue cheese crumbles if you prefer.
Buttermilk Ranch Dip. I use the dip as a spread at the base of the sliders, which combines with the cheese as it melts into the most magically creamy and delicious mixture, and I also use it to flavor the slaw that tops the buffalo chicken. Added bonus: If I have any left over, it's chip dipping time for the cook. (That's me.)
Garlic Butter. Butter, garlic, and parsley make for an amazing finish on the slider buns. It's not necessary for the sliders to be great, but this little touch definitely takes them to the next level in both flavor and presentation.
Shredded Veggies. Like most coleslaws, this slaw uses shredded cabbage for the base, but it also incorporates classic buffalo chicken side veggies: carrots and celery. They add crunch and coolness to the sliders, and feel right at home when blanketed in plenty of rich ranch dip.
Let's Talk More About Heluva Good! Buttermilk Ranch Dip.
If buffalo chicken is the #1 most essential snack for the Big Game, then dips are right at its heels.I wouldn't dream of hosting a party without a variety of dips at the disposal of my guests, and I can honestly tell you that Heluva Good! Dips are pretty much always amongst the ones I serve up. They're consistently delicious, boldly-flavored, rich, and most importantly, much-enjoyed.
So when I was considering adding a ranch component to these sliders, I knew that Heluva Good! Buttermilk Ranch would serve me well. This creamy, flavor-packed dip is made with real cream and spices so you're getting a deliciously creamy and great tasting dip without having to buy separate ingredients and assemble. The thing I really love about integrating this dip rather than, say, a looser dressing, is that it doesn't make the slider buns mushy. This dip is thick, and it stays that way when slathered on the buns and popped in the oven, and when tossed over freshly cut veggies. I love that it helps to hold the slaw together and really coats them with flavor!
You can find Heluva Good! Dips in the dairy aisle of your neighborhood supermarket, and while you're picking up this Buttermilk Ranch Dip, consider throwing a couple more into your carts. I personally am an especially big fan of their French Onion and Bacon Horseradish Dips.
How To Make Easy Buffalo Chicken Sliders
Making these sliders is as easy as 1, 2, 3.
Assemble The Sliders. Layer up bottom buns, buttermilk ranch dip, shredded cheese, buffalo chicken, top buns, and garlic butter in a baking dish or on a baking sheet. Pop 'em in the oven to warm through and let the cheese melt.
Prepare The Slaw. Combine the cabbage, shredded carrots, and shredded celery, and coat it all in a generous amount of the remaining buttermilk ranch dip. I like to use my food processor to shred the slaw veggies (which takes less time than the sliders do to bake!), but you can opt for a bag of slaw mix and add chopped celery instead, if you prefer.
Serve 'Em Up. Remove the top buns, top the buffalo chicken with the ranch slaw, place the buns back on top, and serve the sliders while they're still warm and the cheese is gooey. They're a little messy, but if that's not the mark of truly delicious game day food, I don't know what is.
FAQS
Q: Can I make the shredded chicken myself?
A: Yes! You can cook your chicken in a skillet, slow cooker, or even a pot of water before shredding it and tossing with the buffalo sauce. I find it's easiest to shred when the chicken has been cooked in liquid (ie: boiled or cooked in the slow cooker) but has better flavor when cooked in a skillet.
Q: Can I make these ahead of time?
A: You can make the buffalo chicken, ranch slaw, and garlic butter ahead of time. When ready to serve, layer up the sliders, microwave the garlic butter to re-melt, and proceed to follow the recipe as written.
Q: Should I serve these with dip?
A: These sliders are pleeeenty saucy, but it's never a bad idea to set out extra buffalo sauce or buttermilk ranch for the folks who want to add more. Plus, people can always use them as sauces or dips for other snacks!
Print
Easy Buffalo Chicken Sliders
---
Author:

Total Time:

45 minutes

Yield:

12

servings

1

x
2

cups

cooked, shredded chicken

⅓

cup

buffalo hot sauce

12

count brioche slider buns (or brioche dinner rolls, sliced in half)

8

ounces

shredded Monterey Jack cheese

1

(12 ounce) container Heluva Good! Buttermilk Ranch Dip, divided

3 tablespoons

unsalted butter

3

cloves garlic, minced

2 tablespoons

finely chopped flat-leaf parsley

1

cup

shredded cabbage

½

cup

shredded carrots

½

cup

shredded celery
---
Instructions
Preheat the oven to 350ºF. In a large bowl, toss the shredded chicken with buffalo sauce to coat. Set aside.
Place the slider buns in a small baking dish or baking sheet. Spread a thin layer of Heluva Good! Buttermilk Ranch Dip over the bottom brioche buns. Sprinkle with the shredded cheese and spoon over the shredded buffalo chicken. Smooth into an even layer, and cover with the top buns.
In a microwave safe bowl, melt the butter. Stir in the minced garlic and chopped parsley, and then brush the mixture over the top slider buns. Transfer to the oven and bake until the cheese has melted and buns begin to brown, about 12 minutes.
Meanwhile, prepare the slaw. Combine shredded cabbage, shredded carrots, and shredded celery in a medium-sized bowl and stir in additional buttermilk ranch dip to coat, as desired.
Use a spatula to carefully remove the top buns from the sliders. Spread the slaw mixture over the buffalo chicken and cover with top slider buns. Slice and serve warm.
Prep Time:

30 mins

Cook Time:

15 mins
Keywords: buffalo chicken, chicken, sliders, party, super bowl, sandwich, spicy, appetizer