These easy-to-make Oven Roasted Red Potatoes are tossed with garlic, herbs, and parmesan cheese, and then baked until beautifully golden and crisp. Serve them as-is. or finish with butter and extra fresh parsley for a truly decadent and drooled-over side dish.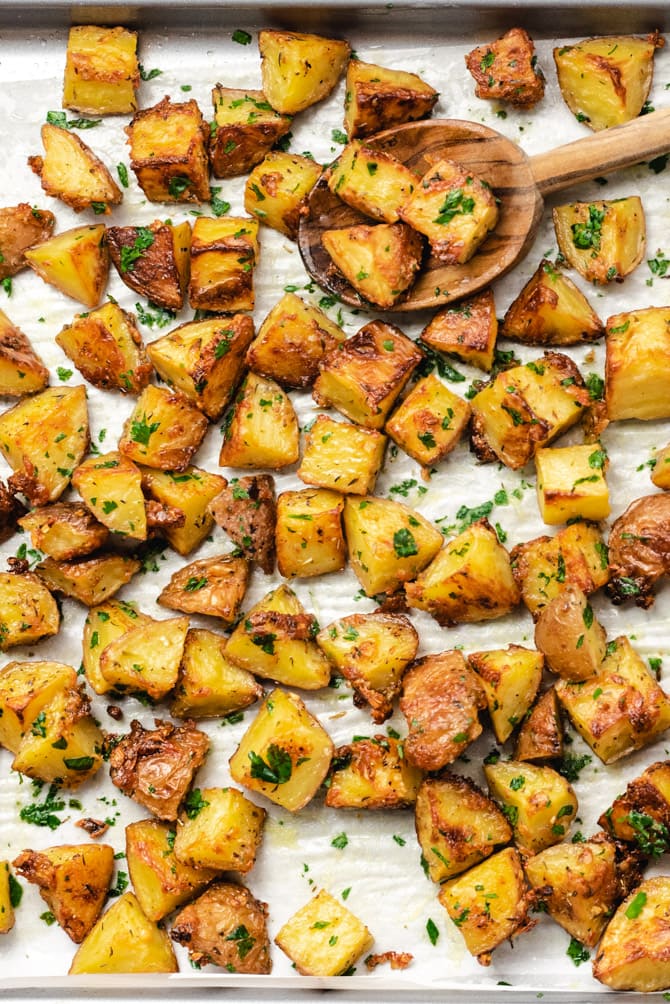 I'm not going to tell you that these are the perfect potatoes. Because in all honesty, who among us could ever pick between chips and wedges and fries and mashes and-- ?
But wait. If there was a perfect potato... you know, hypothetically... it just might be like these oven roasted potatoes.
Smothered in a garlic, herb and parmesan mixture.
Golden and crisped outside with the help of a sprinkling of cornstarch.
Creamy inside.
Tossed with melted butter.
Like I said, I won't say they're the perfect potatoes, but...
WHAT ARE RED POTATOES GOOD FOR?
When it comes to red potatoes, you can use them in almost anything.
They have higher moisture and lower starch content than russet potatoes, which gives them a creamier texture and allows them to keep their shape after cooking. They also have a thin skin that doesn't detract from the flavor or texture of the potatoes, so they're most commonly left unpeeled. Those qualities make them especially great for dishes like potato salads, salt potatoes, and braised potatoes.
It also makes them great for roasting, as they won't crumble apart if you cut them into small cubes or rounds. However, because of their low starch content, they can often not get as crispy as their starchier counterparts. An easy solution? Toss them in cornstarch!
Cornstarch will coat the exterior to form a crust and prevent moisture from pooling under the potatoes, and the interior will remain smooth and unbroken. That way, you get the best of both worlds! Crispy roasted potatoes with creamy interiors, yum.
HOW TO COOK RED POTATOES
To start, simply cut up your potatoes and soak them in water until ready to use, as this will prevent oxidation. If you're using them immediately, you don't need to soak. But if you prefer to do all of your prep work in advance, go on and chop those potatoes up! They can be cubed as much as 16 hours ahead of time.
Then drain and dry your potatoes, which will aid in crisping.
Toss the potatoes in cornstarch, oil, and seasonings. I like to use garlic, herbs, and parmesan cheese for mine!
Bake at 400°F until crisp. Using a parchment-lined baking sheet prevents sticking, and tossing halfway through baking ensures that the potatoes are well-browned all over.
While the sheet pan is still hot, add a few knobs of butter, chopped parsley, and salt and toss everything together. The butter will melt and the herbs and salt will coat the potatoes along with the butter. If you want a more diet-friendly side dish, feel free to skip the butter. But even a little bit can go a long way in taking these potatoes over the top!
CAN I ROAST POTATOES AT A LOWER TEMPERATURE?
Higher temps are ideal for crispy roasted potatoes, but you can roast at lower temps as long as you increase the cooking time accordingly. For every 25 degrees you decrease the temperature, expect to increase cooking time for about 10-15 minutes. You don't want to go below 350 though, as your potatoes will not be able to brown before they start to dry out on the inside.
CAN I COOK THEM FASTER?
I don't recommend increasing the oven temp by more than 25 degrees because your potatoes (and parchment paper!) will likely burn. However, the smaller you cut your potatoes, the faster they will cook.
You can also partially cook your potatoes in the microwave first to reduce overall cooking time. Cook the potatoes for 10 minutes in the microwave after draining and drying to get a head-start. They won't crisp up as beautifully in the oven, but you can always finish them off under the broiler at the very end to get a good browning!
CAN I CUT MY POTATOES INTO LARGER CHUNKS?
If you have small red potatoes (often called new potatoes), you can actually cut them into quarters instead of cubing them up. You can even use mini red potatoes and halve them instead, which I love to do in order to get a really deeply browned and crisped crust on the cut side. Just keep 'em cut side down the whole time you roast!
SWITCH UP THE SEASONINGS
Garlic, parmesan and herbs is my go-to combo, but that's not to say that you can't get creative with your seasonings! Some other ideas include:
Cajun seasonings. A Cajun blend usually consists of paprika, onion powder, garlic powder, cayenne pepper, oregano, thyme, salt, and pepper. It can give your roasted potatoes a nice kick of spice and color!
Greek seasonings. Add lemon to your potatoes for Greek-inspired flavor. You can soak the potatoes in a bit of lemon juice and add lemon zest to your seasoning blend, or simply opt for lemon pepper.
Moroccan seasonings. Cumin, cinnamon, paprika, and turmeric makes a warm and delicious blend for roasted potatoes.
MORE OF MY FAVORITE POTATO RECIPES
WATCH THE VIDEO
Print
Oven Roasted Red Potatoes
---
Author:

Total Time:

1 hour 10 mins

Yield:

8

servings

1

x
3

pounds

red potatoes. scrubbed clean

8

cloves garlic, minced

2 tablespoons

cornstarch

1 teaspoon

kosher salt, plus more to serve

1 teaspoon

dried thyme

1 teaspoon

dried oregano

½ teaspoon

fresh cracked black pepper

½

cup

freshly grated Parmesan cheese

3 tablespoons

olive oil or canola oil

3 tablespoons

butter, or to taste
Fresh parsley, to serve
---
Instructions
Cut the potatoes into small cubes and soak in cold water until ready to use to prevent browning.
Preheat the oven to 400ºF. Line a large sheet pan with parchment paper and set aside.
In a small bowl, add the garlic, cornstarch, salt, thyme, oregano, black pepper, and Parmesan cheese. Pour over the oil and stir to combine.
Drain and completely dry the potatoes. Add the seasoning mixture to the potatoes and toss to coat.
Spread the potatoes out around the sheet pan so they are in a single layer. Make sure to leave space so the potatoes can crisp-- if your baking sheet is too crowded, roast the potatoes on two separate sheets instead.
Bake until golden and crisp, about 50 minutes, flipping halfway through. Immediately after removing the potatoes from the oven, add the butter, fresh parsley, and extra salt, to taste, to the pan. Toss until the butter melts onto the potatoes and the parsley is evenly distributed. Serve warm.
Prep Time:

20 mins

Cook Time:

50 mins