Learn to make Homemade Pan-Fried or Baked Falafel so authentic that your friends will swear you had it flown in from Lebanon. Whichever method you choose, its vibrant fresh herbs, punchy seasoning blend, and crispy-yet-tender texture will be the star of any sandwich or mezze board.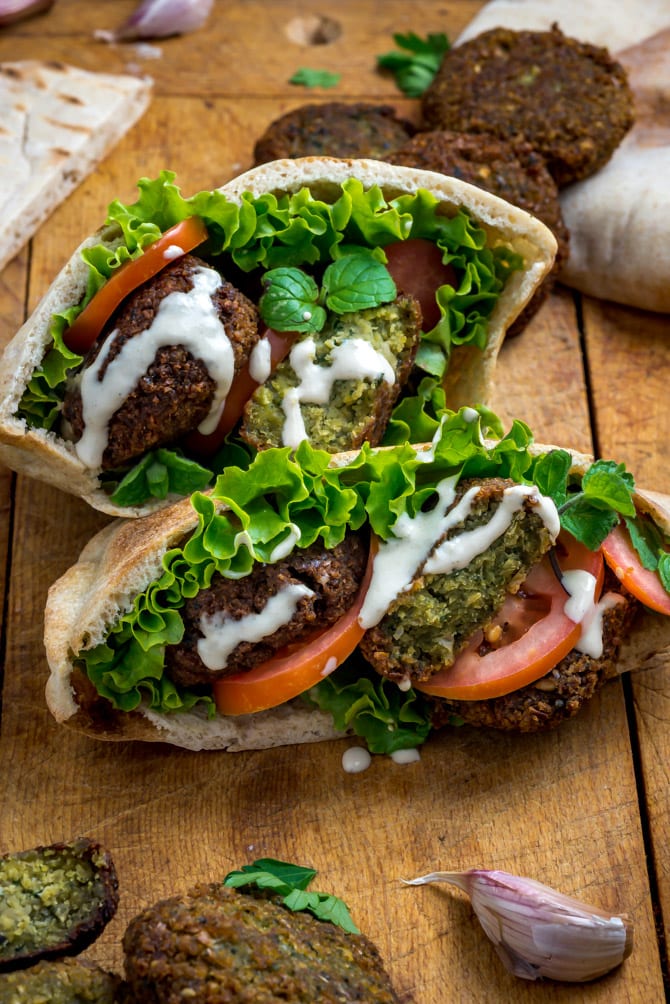 I've said it before and I'll say it again - Middle Eastern food is finally getting the attention it deserves. But years before za'atar hit grocery store shelves and muhammara became a household name, Americans were chowing down on falafel. The dish is so popular that it earned itself an obscenely cute Google Doodle this June. Adorable.
And because falafel is, as Google says, "the best thing that ever happened to chickpeas", I'm going to teach you to make the best, most flavorful version at home with an easy, choose-your-own-adventure recipe. Whether you love pan-fried or baked falafel, we'll go through all of the tips to give your finished product the same nuanced flavors and texture as your favorite food cart or Middle Eastern restaurant.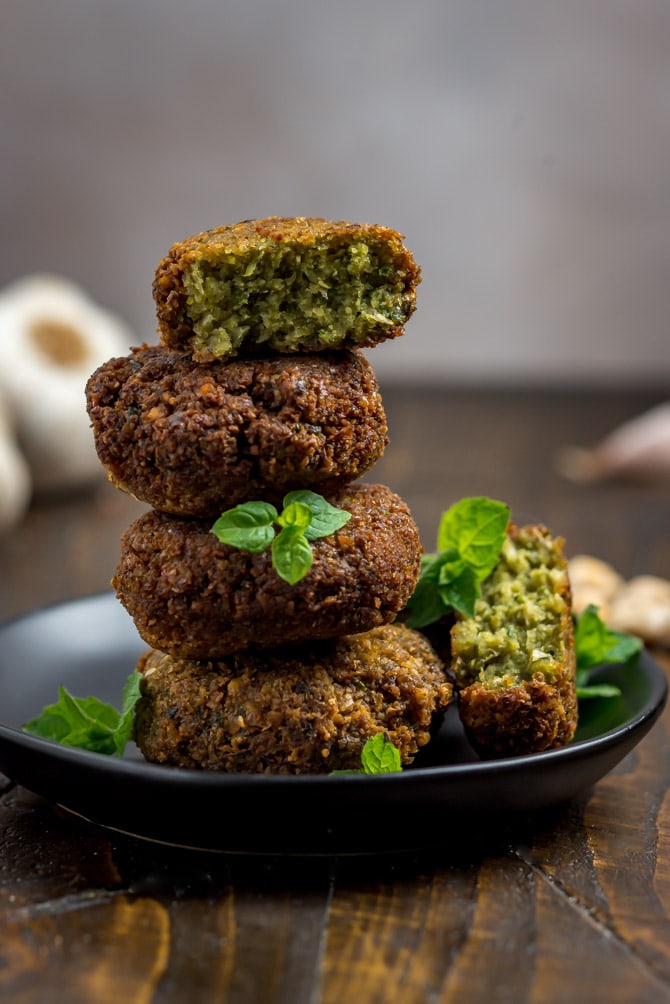 What Makes The Perfect Falafel?
Let's break down the anatomy of perfect falafel. Made from a base of partially pureed chickpeas, nailing the right texture and flavor really comes down to balance. 
When you bite into a ball of falafel, you want to feel the crack of a super crisp exterior followed by a moist and fluffy, yet almost meaty interior. The inside should never feel pasty or overly dense, while a weak or soggy outside is an insult to chickpeas everywhere. 
As for flavor, your tastebuds should be hit with a burst of fresh herbs, garlic, onion, and spices working in perfect harmony; no one component needs to outshine the others.  
It's a delicate balance for sure, and even most falafel carts can't hit all the marks. So how are we supposed to make truly great-- let alone perfect -- falafel at home? I'm so glad you asked. 
Can You Use Canned? No, You Can't.
I'm all about working smart not hard, so believe me when I say that I'd love to take a shortcut. I've read TONS of falafel recipes that endorse canned chickpeas, so it has to be decent, right? If only. 
Falafel, by definition, is a fritter of ground, raw chickpeas that have been soaked and rehydrated. Unfortunately the canned stuff has already been heated, so by the time your balls hit the frying pan or baking sheet the second cook will reduce them to crumbly pile of bean puree. This also means that you can't take a shortcut by boiling dried beans. Whether your chickpeas were cooked and canned or dehydrated then boiled, you'll meet the same fate.
Now if chunky bean mush sounds appetizing to you, go ahead and grab the Goya can. But since this is a falafel recipe, I'm guessing that isn't the case. 
TL;DR: For fully formed Homemade Falafel, always, always start with raw chickpeas and soak them overnight. 
Tips For The Best Homemade Falafel
Using raw chickpeas is a "must", but there are also several "shoulds". For the best falafel, I've found that:
Keeping half of the chickpeas finely chopped while pureeing the other half gives a better texture

and

a more full-bodied flavor by holding the mixture together without a binder. 

Adding baking powder to the chickpea mixture results in fluffier falafel.

Flattening the falafel into discs rather than balls makes for a more even fry or bake.

Refrigerating your mix for a few hours before baking or frying will prevent the fritters from falling apart as they cook.

More herbs = more layers of flavor. I always use parsley and cilantro, but mixing in mint and basil also can be great. Just make sure you must always choose fresh herbs, never dried!

If you're on the fence, pull out the fryer oil. Baked falafel is still delicious, but if you're craving that perfect crust, only fried will hit the spot.
How to Pan-Fry Homemade Falafel
Welcome to the dark side. And by dark, I mean beautifully browned.  
To pan-fry, you really don't need all that much oil. About an inch worth of oil in a large pan will do the trick. You'll be flipping the falafel halfway through, so it's okay if they aren't able to be fully submerged in the oil. 
After shaping the falafel (I use a cookie scoop or ice cream scoop to make sure they're evenly-sized), add them to the hot oil and let them fry until crisp and deeply browned on the bottom, which should take about 3 minutes. Then flip and continue to fry for 3 more minutes or so, until that brown crust extends all the way around. Remember, the falafel will continue to darken slightly after removing it from the fryer (as all fried foods do), so don't overdo it.
It's also important you don't overdo the amount of falafel you put into the pan at once. Overcrowding makes falafel harder to flip and lowers the temperature of the oil, so keep it to a max of 4-5 falafel at a time.
Once the falafel have been fried, transfer them to a paper towel lined plate or baking sheet. The paper towels will absorb any excess oil clinging to the falafel so they don't wind up tasting... well... oily. Finally, sprinkle them (pretty liberally) with kosher salt as they cool, and then you're good to go.
How to Bake Homemade Falafel
I've had baked falafel many times, and-- if I'm being honest-- 99% of the time it's sad and soggy. It's just one of the foods that typically doesn't lend itself as well to baking, because it truly needs that crisp crust to shine. However, there is a work-around that will help to achieve that golden brown goodness that you crave when dreaming of the perfect falafel: Generously oil and preheat the baking sheet.
When you fry, the exterior of the falafel is introduced to the hot oil and begins to crisp up before the heat of the oil travels to the inside, meaning that the outside is able to get really crispy while the interior doesn't overcook. By heating an oiled baking sheet in the oven before placing the falafel on the baking sheet, you get a similar effect.
For these falafel, you want to set your oven to 375°F, oil that baking sheet and place it in the oven to preheat with it, and then, once everything is hot, add your falafel and let them bake until crisp on the bottom, about 15 minutes, and then flip and continue to cook for another 10-15 minutes, or until crisped all over and cooked through.
Once they're done cooking, tranfer them to a paper-towel lined plate or baking sheet so that any excess oil is absorbed. Sprinkle them with salt and get ready to dig in!
How To Serve Falafel
You can eat falafel on their own as a snack, but typically you'll find them served inside of the pocket of a pita, wrapped in a flatbread, or set over a salad as part of a meal. Whether you eat them sandwich-style or salad-style, though, you can't forget the second best part: a generous drizzle of tahini sauce (and maybe some hot sauce, to boot)!
You also can serve your Homemade Falafel as part of a Mezze Platter, alongside other Mediterranean and Middle Eastern classics like hummus, tabbouleh, and marinated feta.
How to Make Fried Falafel Video
Print
Homemade Falafel (Pan-Fried or Baked)
---
Author:

Total Time:

1 hour

Yield:

6

1

x
1

pound

dry chickpeas

1

cup

fresh parsley, stems removed

1

cup

fresh cilantro, stems removed

½

small yellow onion, quartered

8

cloves garlic, peeled

1 tablespoon

ground cumin

2 teaspoons

kosher salt

1 teaspoon

baking powder

½ teaspoon

black pepper

¼ teaspoon

cayenne pepper
Canola oil, for frying
---
Instructions
In a large bowl, cover the chickpeas with 3 inches of water and let sit overnight. The chickpeas will double or triple in size.
Drain the chickpeas. Line a baking sheet with paper towels and spread the chickpeas on top. Top with additional paper towels and press gently to dry. Allow to sit for up to 3 hours to further dry.
Pulse the chickpeas in a food processor until finely chopped. Transfer half to a large bowl. Add the herbs, onion, garlic, and seasoning to the food processor with the remaining chickpeas and process until fully combined and pasty. Mix into the chopped chickpeas.
Cover the mixing bowl and refrigerate for 1-2 hours to allow the mixture to firm up. You can skip this step if desired, but the falafel will be more prone to breaking apart while they cook.
If pan-frying: Heat 1" of oil in a large skillet over medium-high.
Using a cookie or ice cream scoop, scoop out small balls of the falafel mixture, about 2 tablespoons in size. Once the oil is hot, add as many falafel to the pan as can easily fit without overcrowding-- usually 4-5.
Fry until crisp and deeply browned on the outside and cooked through inside, about 6 minutes, flipping once halfway through. Transfer to a paper towel lined plate to absorb excess oil and sprinkle with additional kosher salt before serving.
If baking: Preheat oven to 375°F. Generously oil a baking sheet and turn until fully covered. It should take about ¼ cup of oil. Place the baking sheet on the middle rack of the oven to heat as the oven preheats.
Using a cookie or ice cream scoop, scoop out small balls of the falafel mixture, about 2 tablespoons in size. When the oven is preheated, gently place the falafel on the hot baking sheet. Bake until crisp and deeply browned on the outside and cooked through inside, about 25-30 minutes, gently flipping once halfway through. Transfer to a paper towel lined plate to absorb excess oil and sprinkle with additional kosher salt before serving.
Prep Time:

30 mins

Cook Time:

30 mins