I'm not exaggerating-- Prepare to put Mojo Sauce on EVERYTHING. This version, called Mojo Verde, is a tangy, garlicky, herb and chile pepper sauce that adds fresh-flavored magic to all it touches. Added bonus: it only takes a few minutes to make.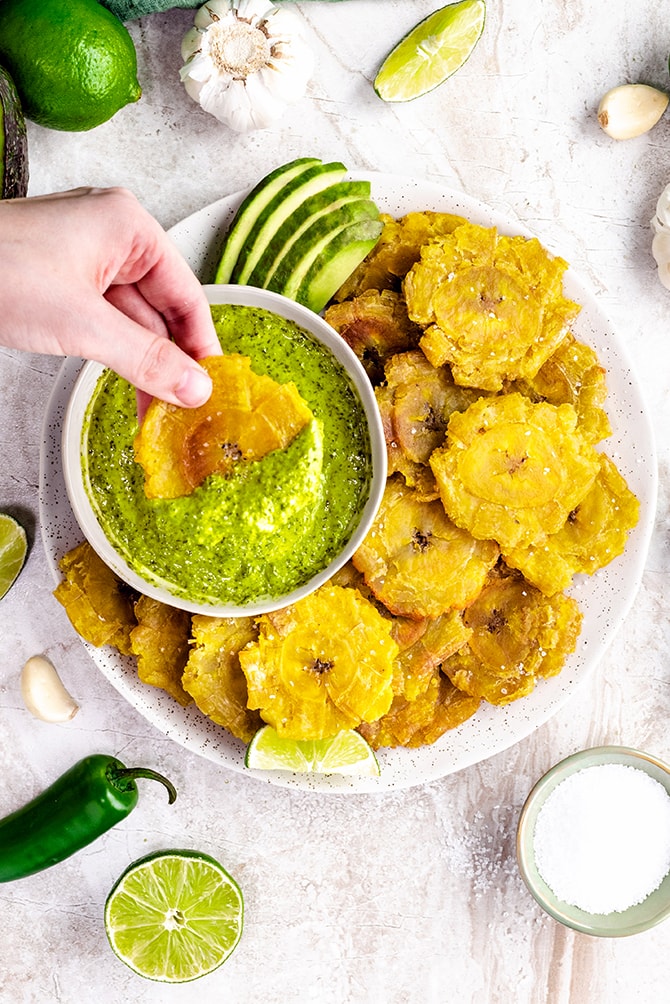 WHAT IS MOJO SAUCE?
Mojo is an uncooked, fresh and vibrant sauce that's used as a condiment, as a topping, or as a marinade for fish, chicken, vegetables, and more. 
There are many varieties of mojo-- if you were expecting a sauce that was yellow and chock full of orange juice, you might be thinking of the most widely-recognizable Cuban version, or if you imagined a thick, crimson, smoky mojo, you might have been remembering Mojo Rojo. (No, not the Powerpuff Girls' archnemesis, I'm talking about the red sauce. Yes, I'm aware that I'm really dating myself here.)
But my favorite type of mojo? That would probably have to be the gorgeously green variety, Mojo Verde, with its equally punchy, zesty, ultra-fresh flavor.
All Mojo Sauces have their roots in The Spanish Canary Islands, and Mojo Verde is no exception. In fact, Mojo Verde (literally "green sauce") is one of the region's most famous dishes, and is often served alongside another of its greatest hits, Papas Arrugadas (which literally translates to "wrinkly potatoes")!*
In the time since its creation in the Canary Islands, Mojo Verde has found its way around the world, especially to areas with heavy Canarian emigration like Cuba, Puerto Rico, and other parts of the Caribbean and broader Latin America. The first time I had Mojo Verde was actually not with Canarian food at all, but with Tostones (which are Caribbean fried green plantains), as you see here, and it continues to be my favorite way to eat them!**
SINCE WE'RE ON THE SUBJECT: 
* Speaking of which, are you craving Papas Arrugadas? Well, I just so happen to have a recipe for... Syracuse Salt Potatoes! Not Papas Arrugadas, true, but surprisingly nearly identical in both method of preparation and taste. Just leave off the melted butter and you can serve them with Mojo Verde, just like you would authentic Papas Arrugadas.
** Tostones are also frequently served with a type of Mojo called Mojo de Ajo or Mojito, which is more of a yellowish color and mainly features a generous amount of roasted garlic. While I love Mojo de Ajo as well, I personally prefer the balance that fresh herbs lend to the fried green plantains. Or, you know, both. Both is a good option, too. 
WHAT'S IN MOJO VERDE?
Just like there are a lot of variations of Mojo in general, there are a lot of ways to make Mojo Verde. Luckily, almost all of them are extremely simple! This one uses just 7 ingredients:
Cilantro
Garlic
Lime juice
Cumin
Jalapeno
White wine vinegar
Olive oil
POTENTIAL SUBSTITUTIONS
If you have the cilantro-tastes-like-soap gene, you can replace the cilantro with parsley. You can also feel free to do this if you don't have that gene, or feel free to do half-and-half. Like Chimichurri, Mojo Verde is all about being liberal with those fresh herbs.
Jalapeño is not traditionally used in the Mojo Verde you'd eat in the Canary Islands, but native Canarian green peppers simply won't be available if you're not in the area. You can also use green bell peppers if you'd like less heat, or you can remove the seeds from the jalapeno if you'd prefer.
HOW TO MAKE IT
Alright, get ready, because this gets tricky. You take the ingredients, you add them to your food processor or blender, secure the lid, and then...
You blend until smooth.
And, um, that's it. Man, I love a truly simple sauce recipe, don't you?
CHECK OUT THE VIDEO!
WHAT TO DO WITH YOUR MOJO
Now that your Mojo Verde's been made, what should you do? The possibilities are (nearly) endless, but here are some ideas.
Drizzle it on as a sauce. It works wonderfully as a finishing sauce on grilled meats and vegetables, roasted potatoes, or even eggs.
Marinate for extra flavor. Instead of only using it as a sauce, divide it up-- use half for marinating your meats first, then use the other half for serving and saucing after grilling. This is especially great for chicken thighs!
Get dippy with it. Mojo Verde makes a great dip for toasted bread, cocktail meatballs, tostones, and more.
Spread it on your sandwich. On its own or mixed with mayo, it will add tons of flavor to your regular ol' packed lunches.
Use it as a salad dressing. It also makes a great salad dressing, particularly for starchier salads like pasta salads and rice salads.
HOW TO STORE MOJO VERDE
So you've used your Mojo Sauce as planned but you still have leftovers-- not to worry.
Covered and stored in the fridge, the Mojo Verde will stay good for up to a week. Want to save it for longer? Not to worry! You can pour it into ice cube trays and freeze, then transfer to a freezer bag. That way, you can defrost individually whenever needed. Of course, Mojo Verde always tastes its absolute best when made fresh, but it holds up really well, so don't hesitate to save it if you have extra-- or to make a double-batch from the get-go.
MORE SAUCES TO LOVE
Print
Mojo Verde (Canarian Green Mojo Sauce)
---
Author:

Total Time:

5 mins

Yield:

1 ½ cups

1

x
1

large bunch cilantro, leaves and tender stems only

4

large cloves garlic, peeled

2

limes, juiced

½ teaspoon

cumin

1

jalapeno, stemmed

1 tablespoon

white wine vinegar

½

cup

olive oil
Kosher salt, to taste
---
Instructions
In the bowl of a food processor or blender, combine the cilantro, garlic, lime juice, cumin, jalapeno, white wine vinegar, and olive oil. Process until well-combined. Season generously with kosher salt and serve immediately, or cover and refrigerate until ready to use.