With classic fajita ingredients piled high in crispy cheddar-adorned tortillas and finished with a 3-ingredient chipotle crema, this recipe is bound to be your new Tex-Mex favorite. Crispy Cheddar Chipotle Chicken Fajitas make for an easy, flavor-packed, and picky-eater-approved weeknight dinner.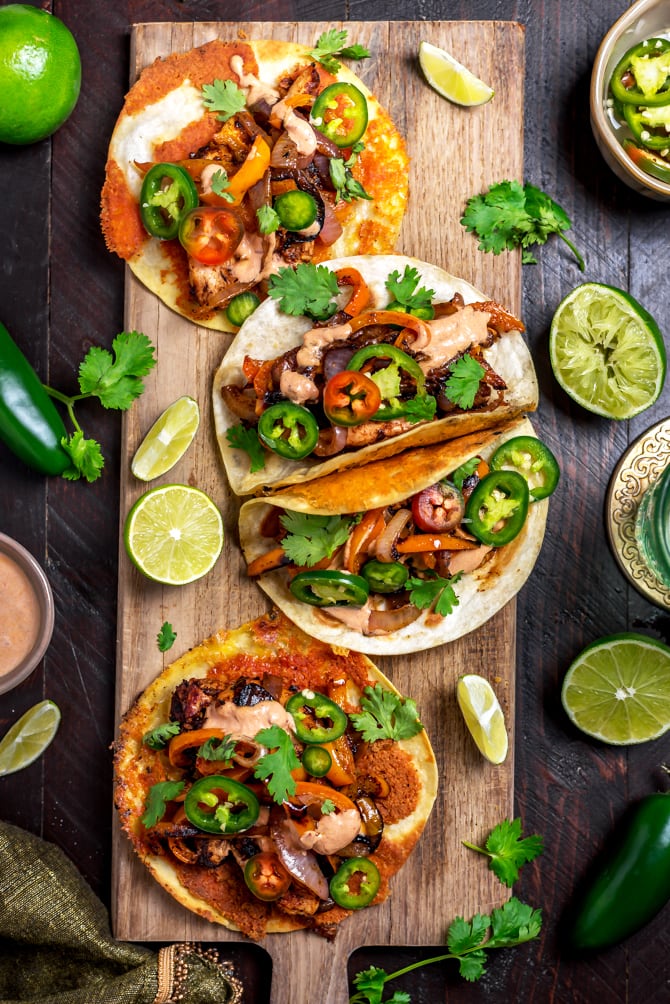 CRISPY CHEDDAR CHIPOTLE CHICKEN FAJITAS
I know that I do this whole food blogging thing for a living, but just like anyone else, I prefer not to spend the entirety of my weekdays making meals. To me, the perfect weeknight dinner should be easy, flavorful, fast, not too guilt-inducing (because I certainly can't be eating Loaded Juicy Lucy Sheet Pan Sliders every night...), and require very little clean-up. AKA I want a wonder-dish.
And if any recipe is a wonder-dish recipe, it's fajitas. Specifically, these Crispy Cheddar Chipotle Chicken Fajitas, which don't require a ton of prep or marination, and are made all in one skillet in less than an hour.
The seared strips of seasoned chicken, lightly charred bell pepper and onion, jalapeno slices, and a smoky chipotle crema all come together in crispy cheddar-crusted tortillas that your family will beg you to add to the weekly rotation.
(So much for Taco Tuesday, how about Fajita Friday, right?)
FRICO CHEESE TORTILLAS
The sauce, veggies, and chicken are all delicious, but the true star of this recipe is the "frico-style" cheese taco shells. 
Not sure what "frico" is? If you've ever made nachos in the oven, you know that the best part is the burnt cheese that drips off the tortillas and crisps up on the sheet pan. If you lust after that crispy cheese the same way I do, JUST IMAGINE making a huge circle of burnt cheese, peeling it off of the pan, and folding it into a taco shell. Ahh, heaven. I did pretty much exactly that in my Frico Egg Breakfast Tacos, and I use it as the basis of my cheddar shells here. However, this time, there's a tortilla thrown in for extra stability and substance. You can't have fajitas without warm flour tortillas, after all.
The best part is, the crispy cheddar shells take almost no extra effort. The Chipotle Chicken Fajitas are prepared the traditional way, but instead of simply scattering cheddar cheese on top, it's sprinkled directly onto the skillet, melted, and then topped with a tortilla that's pressed down until the cheese browns and adheres. The result is a crispy, chewy (not rubbery) tortilla with a crunchy layer of cheddar on top, which you can then top with the fajita ingredients or eat facing outward so you get a direct cheese-to-tongue connection.
CHIPOTLES IN ADOBO BRING THE HEAT (AND THE SMOKE)
The crispy cheese in this recipe isn't the only thing worth getting excited about. The serious flavor in these fajitas comes from another ingredient: chipotles in adobo. Chipotle peppers are dried, smoked jalapenos that add heat and, obviously, smokiness to Mexican and Tex-Mex recipes. They can be found canned in adobo sauce in the International aisle of most major grocery stores.
For this recipe, I finely chop a chipotle pepper and add it to the chicken for a good kick. Meanwhile, I take a couple of tablespoons of adobo sauce from the can and mix it with sour cream and lime juice to create a chipotle crema. Adobo sauce on its own is tangy and slightly sweet, but after canning with chipotles it takes on their heat and smokiness as well. All together the simple sauce adds layers of flavor to the finished fajitas!
MORE TEX-MEX RECIPES TO ENJOY

Print
Crispy Cheddar Chipotle Chicken Fajitas
---
Author:

Total Time:

55 mins

Yield:

6

fajitas

1

x
2 teaspoons

chili powder

2 teaspoons

smoked paprika

1 teaspoon

ground cumin

1 teaspoon

garlic powder

½ teaspoon

ground coriander

½ teaspoon

oregano

1

jalapeno, stemmed and thinly sliced (remove seeds for less heat if desired)
Juice of

2

limes

2 tablespoons

canola oil, divided

1

red onion, peeled, halved, and thinly sliced

1

bell pepper, stemmed, seeded, and thinly sliced
Kosher salt and black pepper, to taste

¼

cup

sour cream

1

chipotle pepper in adobo, chopped, plus 1 tablespoon adobo sauce from the can

1

pound

boneless, skinless chicken breasts, cut into thin strips

¾

cup

shredded cheddar cheese, divided

6

flour tortillas
Cilantro, roughly chopped, to serve
---
Instructions
In a small bowl, whisk together the chili powder, smoked paprika, cumin, garlic powder, coriander, and oregano. Set aside.
Place the jalapeno slices in a small bowl and squeeze the juice of one lime over the jalapeno. Set aside.
Heat a tablespoon of oil in a large pan over medium-high heat. Add the onion and bell pepper, and season with salt and pepper. Cook, stirring occasionally until softened and beginning to char in spots, about 5 minutes. Season with salt and pepper. Remove from pan and set aside.
As the onions and peppers cook, prepare the sauce. Combine the sour cream, juice of the remaining lime, and a tablespoon of adobo sauce and mix until well-combined. Add a tablespoon of water, to thin, and season with salt and pepper, to taste.
Drizzle another tablespoon of oil in the pan that the onions and peppers were cooked in. Add the chicken and chopped chipotle pepper and sprinkle with the remaining seasoning mix. Cook over medium-high, stirring occasionally until browned all over, about 4 minutes. Return the onions and peppers to the skillet and toss together. Continue to cook until the chicken is cooked through, about another 2 minutes.
Transfer the chicken, peppers, and onions to a bowl and wipe out the skillet. Reduce heat to medium.
Sprinkle 2 tablespoons of cheese directly onto the skillet in an even circle. Allow to melt and then place a tortilla on top of the melted cheese. Press down with a spatula and allow to cook until cheese and tortilla both crisp, about a minute. Gently use a spatula to release the cheese from the pan, then flip to crisp the other side. Cook for 1 minute. Set aside and repeat with remaining cheese and tortillas.
Spoon the chicken and pepper mixture onto the tortillas. Top with the lime-soaked jalapeno slices, chipotle crema, and cilantro. Serve immediately.
Prep Time:

30 mins

Cook Time:

25 mins