Upside-Down Tarts are taking the internet by storm, and for good reason. Just place your favorite fillings on a baking sheet, top with puff pastry, and bake 'til golden for the perfect party treats. Most often, you'll see tarts made this way using sweet ingredients like sliced fruit, but this version uses thinly sliced onion and gruyere for a cheesy, slightly sweet and savory appetizer. Your guests will never suspect that it only takes 6 simple ingredients and a few minutes of work to whip these together!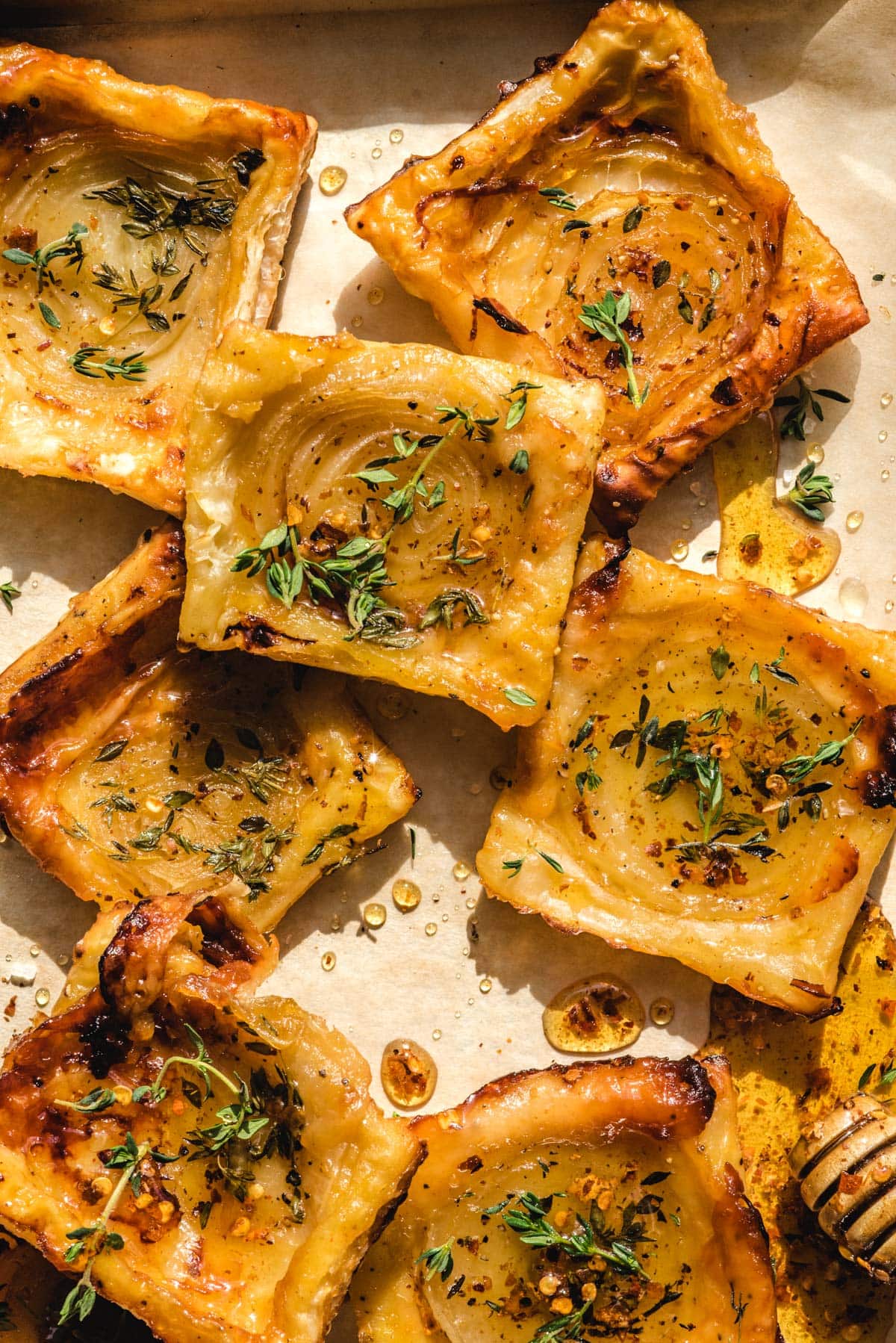 A Cheesy Onion Spin On The Viral Tiktok Trend
I'm not sure what the cap is on the acceptable number of French Onion Soup inspired recipes to live on one blog, but it seems I'm set on finding out. We've got French Onion Beef Stroganoff, French Onion Blooming Bread Bowl, French Onion Beef Sliders For A Crowd, Waffled French Onion Soup, French Onion Soup Sticks, and more-- now including these Upside-Down Onion and Gruyere Tarts.
What can I say? I love a cheesy, oniony, rich and deeply flavorful recipe. Especially one that manages to be this easy to throw together while still seeming fancy enough to serve at an upscale party.
But the simplicity-- well, I can't really take credit for that part. The idea of Upside Down Tarts has been taking off on platforms like TikTok. And while the majority of them seem to be featuring various fruits, they share a common thread with this version: the clever technique of layering ingredients on a baking sheet, placing puff pastry on top, baking, and then flipping them over before serving.
Or perhaps credit is owed to the real OG: Tarte Tatin, which also features caramelized fruit with a layer of pastry on top, which is flipped before serving. (By the way, if you're into the upside-down trend, Tarte Tatin also inspired this Salted Caramel Apple Upside Down Cake.)
Either way, a cheesy version of the mini puff pastry tarts is something I haven't seen yet, but one I could not wait to try. In this savory version, nutty gruyere cheese provides oozy gooey cheesy flavor without turning to a greasy puddle, while sliced onions soften, sweeten, and nearly caramelize when placed on top of a small dollop of honey. The combo is irresistible. Thank you, French Onion Soup and Tiktok, for coming in clutch with the inspiration yet again, and making me the star of my friends circle.
Why You'll Love This Recipe:
BIG FLAVOR IN A LITTLE PACKAGE: Sweet onions, nutty gruyere cheese, earthy fresh thyme, and hot honey combine to make some very flavorful bites in the form of a little party treat (with even littler effort required). Who doesn't love a sweet and savory combo?
QUICK AND EASY TO MAKE: There are only 6 ingredients necessary for this recipe, with beginner-friendly techniques. You won't have to work hard to make these, which somehow makes them taste even more delicious.
VERSATILE AND ADAPTABLE: These upside-down puff pastry tarts can be enjoyed as a party appetizer, a savory snack, or even as a light meal when paired with a fresh salad. They are perfect for any occasion, from casual get-togethers to elegant gatherings. And don't be afraid to mix up the ingredients!
The Ingredients
With only a few ingredients, it's hard to go wrong with this recipe. You can run to the grocery store and fit everything you need in a handbasket here! Go ahead and add these things to your shopping list:
Puff Pastry. Puff pastry serves as the base for these tarts, providing the flaky, buttery crust that supports the sweet and savory toppings. You can find it in the frozen section at most grocery stores-- it will most commonly be found near the frozen pies.
Onion. I'm weak for caramelized onions, and if you are, too, you'll love this recipe. While the onions don't technically fully caramelize (as that would require extra time in the oven, or a separate step beforehand), placing them on honey is a bit of a work-around, which allows for the onion to soften and taste significantly sweeter. For this recipe, I tend to use thinly sliced yellow onion, but any onion of your preference will do.
Honey or Hot Honey. I recently made Homemade Hot Honey, and I can't recommend it enough for this recipe. The hint of spiciness adds an additional level of flavor that takes these tarts to the next level. However, if you aren't a fan of spicy foods, regular honey works fantastically for onion tartelettes that are just as delicious.
Gruyere Cheese. Gruyere cheese brings a creamy, nutty flavor to the tarts, and helps to bind the ingredients together when it melts. Plus, who can resist gooey cheese? You can use shredded gruyere for this recipe, but I find it easier to simply slice of thin pieces from a block or wedge.
Fresh Thyme. There's a lot of richness in this recipe, which benefits from the green, earthy flavor of fresh thyme leaves. If you don't have fresh thyme, don't worry. A tiny sprinkle of dried thyme will do, or feel free to substitute other herbs of your preference!
Egg. Beaten egg wash will give the puff pastry a glossy, golden brown finish.
FAQ
Q: Can I make these tarts ahead of time?
A: While these tarts are best enjoyed fresh, you can make them ahead of time and reheat them just before serving. Place the cooled tarts in an airtight container and store them in the refrigerator for up to 2 days. To reheat, simply place them in a preheated oven at 350°F (180°C) for about 5-7 minutes or until heated through.
Q: Can I use a different type of cheese?
A: Absolutely! While gruyere cheese adds a unique nutty flavor, you can experiment with other cheeses to suit your taste. Sharp cheddar, fontina, or even goat cheese can be delicious alternatives.
Q: Can I caramelize the onions?
A: If you want fully caramelized onions, you'll want to lightly caramelize them in a skillet before assembling the tarts. When they're just beginning to lightly brown, you can spoon them over the honey and continue to prepare the tarts as instructed.
Recipe Tips and Suggestions for Perfect Upside-Down Puff Pastry Tarts
To ensure the success of your upside-down puff pastry tarts and elevate their flavors to new heights, here are some helpful tips and suggestions to keep in mind:
Thawing Puff Pastry: Make sure to follow the instructions on the puff pastry package for proper thawing. Thawing the pastry according to the recommended method will result in the best texture and ease of handling. Avoid rushing the process by leaving it at room temperature for too long, as this can cause the pastry to become overly soft or sticky.
Flavor Enhancements: If you want to infuse your upside-down puff pastry tarts with even more of the classic flavors of French onion soup, here's a secret tip: add a small amount of Better Than Bouillon beef base. This concentrated beef flavoring will provide a subtle umami boost that complements the caramelized onions and gruyere cheese perfectly. Remember to use it sparingly, as a little goes a long way.
Creative Toppings: While the recipe calls for gruyere cheese, feel free to experiment with different types of cheese to suit your taste preferences. Fontina, Swiss, or even a combination of cheeses can add their own unique flavors to the tarts. Additionally, you can sprinkle some fresh chopped herbs, such as parsley or chives, over the tarts after they are baked for a burst of freshness.
Presentation: To ensure a beautiful presentation, carefully flip the tarts over using a spatula once they are baked. Don't let them cool first, as you want the onion to sink down while the tarts are still hot. Drizzle extra hot honey over the tarts and sprinkle fresh thyme leaves for an enticing finishing touch.
Print
Upside-Down Onion and Gruyere Tarts
---
1

sheet of puff pastry, thawed

1

yellow onion, thinly sliced

3 tablespoons

honey or homemade hot honey, divided
Fresh thyme leaves, salt, and black pepper, to taste

18

pieces thinly sliced gruyere cheese, or as needed

1

egg, beaten
---
Instructions
Get Prepared: Preheat your oven to 400°F (200°C) and line a baking sheet with parchment paper.
Set the Sections: Drizzle small amounts of hot honey onto the parchment-lined baking sheet, creating 9 separate honey drizzles. Cut the thawed puff pastry into 9 equal rectangles.
Assemble the Tarts: Sprinkle fresh thyme leaves, salt, and pepper over each honey drizzle. Press a slice of onion on top of each honey drizzle, followed by 1-2 thin slices of gruyere cheese. Place a puff pastry rectangle on top of each onion and cheese stack.
Brush and Bake: Brush the top of each puff pastry tart with beaten egg wash. Transfer the baking sheet to the preheated oven and bake for approximately 20 minutes, or until the tarts are nicely browned and puffed up.
Finish and Serve: Once baked, remove the tarts from the oven and carefully flip each one over using a spatula. Drizzle additional hot honey over each tart and sprinkle with fresh thyme leaves. Allow the tarts to cool slightly before serving. They are best enjoyed warm.