They may be small, but these French Onion Beef Sliders will be a huge hit with the crowd at your next party. Seasoned and buttery buns are packed with caramelized onions, melted cheese, and flavorful ground beef to create the sort of appetizer that flies off of the plate. 
Daaaamn, Morgan! Back at it again with the white vans french onion soup spin-offs!
... Is what I imagine you're yelling at your screen right now. Because if there's one thing that I most certainly am, it's hip to the viral videos of 10 months ago. And if there's another, it's consistent. As in I'm consistently trying to figure out to infuse crazy beefy flavor, sweet caramelized onions, and gooey gruyere into as many dishes as one human can handle before literally morphing into a gigantic beef stock soaked crouton.
I've made a lot of french onion inspired recipes. For example, I've posted French Onion Soup Sticks, French Onion Beef Stroganoff, French Onion Drop Biscuits, and Waffled French Onion Soup. However, I'm pretty sure that this one right here is the reigning king of all things french onion. Friends, meet French Onion Beef Sliders.
HOW TO MAKE THE SLIDERS
Like all true sliders, these French Onion Beef Sliders are cooked with onions. However, this time, they've been lightly caramelized first, then mixed in with the seasoned ground beef as it cooks.
I'm also stretching the definition of sliders here a teeeeeny bit, because I don't press the beef into actual patties. In order to make these as simple as possible to cook for a crowd, I break apart the beef as it browns and then distribute the crumbles and onions evenly over a baking sheet full of mini bun bottoms. Once the gruyere I place on top melts, no one's the wiser!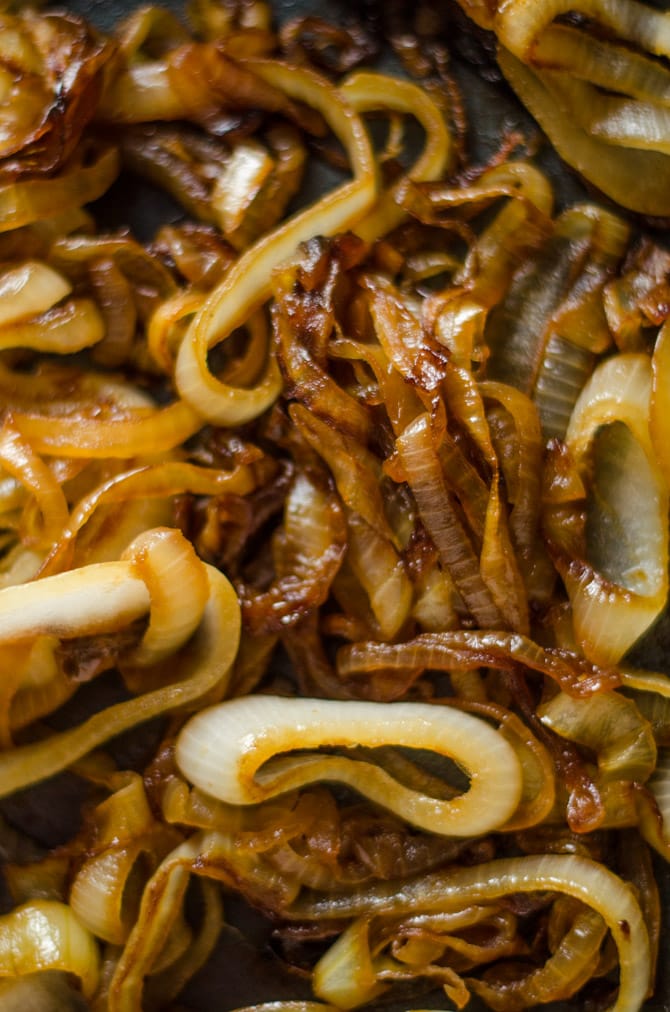 Speaking of which, I really LOAD on the gruyere. Not only does it help to hold the beef together in a faux-patty, but it really solidifies that french onion flavor. Plus, it looks super decadent when your guests pull them apart.
Exhibit A:
Or perhaps that's Exhibit B, since the first photo is also a pull-apart picture. But every time you see a picture of that gooey cheese, it feels like the first time, doesn't it?
It feels like the very first time.
You'd think that once I got the buns, beef, caramelized onions, and gruyere piled up, I'd be done, right? But there's another quick addition before popping these babies into the oven that makes all the difference in the world: the beefy butter.
I stir beef base (such as Better than Bouillon) into melted butter, along with a bit of Worcestershire sauce, and then I brush it all over the tops of the burgers. Right after brushing the butter on, I sprinkle the sliders with garlic powder, onion powder, fresh thyme, and sesame seeds. This small step really kicks things up a notch.
TIPS AND SUBSTITUTIONS
As written, these sliders are one of my favorite appetizer recipes. But that doesn't mean you can't switch things up a bit if you want. Here are some tips for troubleshooting and substituting so you can create the perfect sliders for your party.
What can I use instead of Gruyere? Gruyere is the cheese most commonly used in French Onion Soup, but it can be a bit pricey. I think it's worth it for the flavor, but if you'd like to cut the cost, feel free to substitute half-- or all-- of the cheese with swiss. While not tranditional for French Onion Soup, provolone is also a tasty option.
Can I substitute the ground beef? You absolutely can substitute the ground beef. Deli roast beef would be a great option (but keep in mind the added salt), as would chopped steak. You could go with non-beef options, but I wouldn't particularly recommend it for this recipe.
Can I make a lower-sodium version? Beef base tends to be on the salty side, but there are low sodium beef bases (like Low Sodium Better than Bouillon) that you can opt for instead. And as always, be sure to salt to taste!
Would this recipe work if I halved it? As the title of the recipe suggests, this recipe makes enough sliders for a crowd. However, you can absolutely make a smaller batch if you'd prefer. The recipe works perfectly fine when halved (or doubled, or tripled).
THE VERDICT
In the end, I have to tell you that these were one of the best-received appetizers I've ever made. Honestly!
I brought them to my friend Jackie's house for New Year's Eve, where they were obliterated within the first hour. Mind you, Jackie is the type of person who prepares thirty-five times too much food for the crowd she expects, and then worries that she still doesn't have enough, so she goes out and buys more. The food at this little get-together could have fed the people from every party in that whole town and she still probably would have had some leftovers. So obviously I was feeling pretty good as people were passing over the other (very delicious) appetizer options to grab their second slider. And even more so when they were running to tell other guests to try one before they were all gone.
WATCH THE FRENCH ONION BEEF SLIDER VIDEO
MORE PARTY APPETIZER RECIPES
Print
French Onion Beef Sliders For A Crowd
---
Author:

Total Time:

1 hour 20 minutes

Yield:

24

sliders

1

x
8 tablespoons

(

1

stick) butter, divided

2

large sweet onions, sliced

2

pounds

ground beef

2 tablespoons

beef base (such as Better than Boullion), divided

1 tablespoon

Worcestershire sauce, divided
Kosher salt and black pepper, to taste

24

slider buns

12

-

16

ounces

gruyere or swiss cheese, shredded

2 tablespoons

sesame seeds

1 tablespoon

fresh thyme

1 teaspoon

onion powder

1 teaspoon

garlic powder
---
Instructions
Melt 2 tablespoons of the butter in a skillet over medium heat. Add in the onions and reduce the heat to medium low. Cook, stirring occasionally, until lightly caramelized, about 25-30 minutes. If the onions start to look dry or burnt, add a tablespoon of water to the pan.
In a large bowl, mix the ground beef with half of the beef base and half of the Worcestershire sauce. Season with salt and pepper.
Add the beef to the skillet full of onions. Increase heat to medium-high and brown the beef, breaking it up and mixing with the onions as you go. Once browned, drain off excess grease.
Preheat the oven to 350°F. Lightly grease a large baking sheet. Separate the tops from the bottoms of the slider buns. Fit the slider bottom buns tightly on the baking sheet.
Evenly distribute the beef and onion mixture over the bottom buns. Top with the gruyere cheese. Cover with the top buns.
In a microwave safe bowl, melt the butter with the remaining beef base. Stir in the remaining Worcestershire sauce and continue to mix until well-combined. Using a pastry brush, brush the beefy butter mixture over the top buns. Sprinkle with the sesame seeds, thyme, onion powder, and garlic powder.
Bake the sliders until the cheese is fully melted and the tops of the rolls are lightly browned, about 20 minutes.
Prep Time:

20 mins

Cook Time:

1 hour